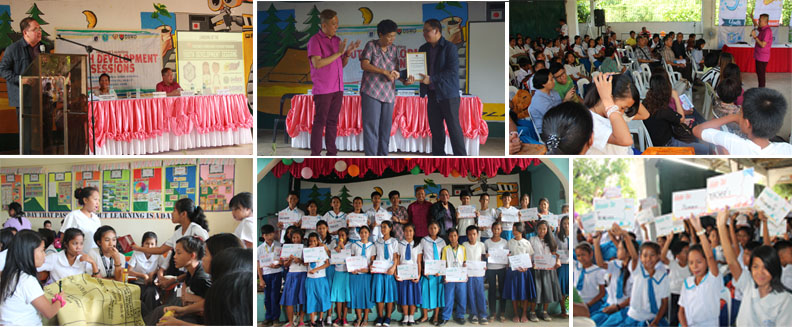 The Department of Social Welfare and Development (DSWD) Field Office V in partnership with National Youth Commission (NYC) recently launched the Youth Development Session (YDS) for high school beneficiaries held at Anislag National High School, Anislag, Daraga, Albay.
YDS is an intervention for high school beneficiaries of Pantawid Pamilyang Pilipino Program to aidthem in finishing secondary education and achieving holistic development.
According to Regional Director Arnel B. Garcia, YDS is crafted and designed by NYC, DSWD and Department of Education to enhance the self-esteem of high school beneficiaries by providing them basic knowledge, develop their positive attitude, and hone their skills in facing life challenges, helping them improved their full potentials and required skills to become more responsible, well- adjusted and well-rounded adolescents.
The YDS has rolled out in various regions such as National Capital Region, Cordillera Administrative Region, Cagayan De Oro, Davao, and Cebu including Bicol.
A total of 150 identified high school beneficiaries, media partners, civil society organizations, NYC and DSWD staff attended the said launching.
Also participated in the activity, are Rosy Llado, education supervisor of Department of Education, Albay Division; Percival Cendana, commissioner, NYC; Nina Abby Dulay, representative of Commission on Population; Gloria Lorena Senosin of Federation on Associations of Communities and Children Empowerment Inc.(FACE); Nimrod Sonio, Melchor Buenaflor, Alma Buenaflor of iHelp; Alex Basabe and Nina Yang of Universal Peace Federation; Jonelyn Ardales of Camalig Bank Foundation; Emma N. Lindio, municipal social welfare and development officer, Elmer Lodronio, barangay captain of Anislag and DSWD Staff Maricel Gomez, chief, institutional development division, Chok Reyes, project development officer III, Focal Persons of family development sessions of Regions 3 and CALABARZON, Ronsan Pelariza and Lorna Garces, respectively.
During the launching, high school beneficiaries indicated their dreams of who they wanted to be or what profession they aimed for through dream boards.
Aaron Lolor, 14, high school beneficiary aimed of being an engineer someday. His parents earned for a living through sewing and repairing clothes. "Nung nagkaroon po ng Pantawid, nabigyan po kami ng pag-asa na makakatapos po ako ng high school, kasi sila mama hindi na po sila na momroblema ng baon, at pambayad sa school projects naming magkakapatid. Kaya maraming salamat po sa Pantawid," he added.
Another high school beneficiary, Kathleen Loveres, 12, said she wanted to be a teacher to impart good values and character. "Marami po na kabataang katulad namin na maagang namulat at nag-asawa kaya po malaki po ang tulong nitong YDS para magabayan kami sa tamang direksyon," she stated.
The YDS will be implemented every month, nation-wide in all pantawid pamilya covered areas to all high school beneficiaries monitored by the program.
It will be conducted in school-based setting, which will fall on weekdays and during class hours.
The NYC representatives will serve as resource speaker during session. Some topics to be discussed will focus along adolescent dynamics, sexuality, career, life skills, teenage pregnancy, reproductive health, decision-making, peer pressure, dangerous drugs, pornography active citizenship for nation building, and other issues that will address the said challenges faced by adolescents.
According to Anilyn Bon, focal person of family development session, in Bicol Region, 12 volunteers are identified to facilitate the monthly session (two volunteers for each province).
Currently, a total of 378,680 households in Bicol benefitted through the cash grants provided by the program, of which 98,843 are beneficiaries aged 15-18.***GANLindio,IO-Pantawid