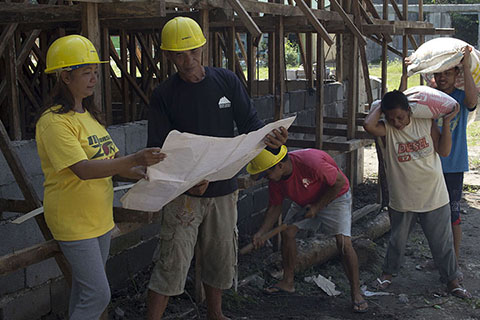 The remote agricultural village of Abucay in Pilar, Sorsogon gradually recognizes the role of women in the non-traditional work like construction, an opportunity that made one of its 3,058 residents revive her spirit to practice her profession again.
Gina Magdaraog, 44, thought she had everything she could ask for.
In 1997, she graduated with a degree in Architecture at the age of 26. Shortly after the graduation, she was employed as a designer and structural analyst for almost a year in Bicol then went to Manila with her classmates from college. But Gina had a different purpose. While her colleagues went to review for and take the board examination, she looked for a job and worked as kitchen designer and CAD operator in a manufacturing firm.
But after three productive years in Manila, she was diagnosed with Hemolytic Anemia due to lack of sleep and also developed poor eyesight. Ignoring her health moved her back to Bicol.
"Workaholic ako kasi wala naman akong pamilya na kasama doon. Halos apat na oras na lang ang tulog ko kasi palagi akong nasa trabaho (I am workaholic because I'm not living with my family. I barely sleep for four hours in a day because I'm always at work)," she explained.
She is the second of five children. During that time, her parents expected her to support them financially because she is the first of her siblings to graduate in college. Thus, she skipped the board examination.
Gina, a solo parent, raised her two children by running a sari-sari store. She focused on parenting when she moved back to Bicol in 2000.
"Nawalan na ako ng gana na i-practice ang profession ko kasi konti lang yung opportunities dito sa Bicol (I lost my interest to practice my profession because of limited opportunities here in Bicol," Gina added.
And then Kalahi-CIDSS- Kapit- Bisig Laban sa Kahirapan-Comprehensive and Integrated Delivery of Social Services (Kalahi-CIDSS), a DSWD program that seeks to help alleviate poverty through people participation, came to Abucay in 2015.
Men and women are given equal opportunities in paid labor for the construction of their Kalahi-CIDSS sub-projects. To date, there are 2,228 female paid laborers but Gina is the only known female project supervisor in Bicol.
After fourteen years of waiting for a chance to work, she was grateful that the community recommended her as the project supervisor for the construction of their evacuation center funded under Kalahi-CIDSS. The said building costs P2, 286, 890 with 17 direct household beneficiaries that will immediately accommodate displaced residents during typhoons.
Gina just like other project supervisor, studies and plots the plan, clears the site and manages the laborers during the construction work. She believes that both men and women are of equal capacity in leading the construction.
Jersalene Toledo, the Kalahi-CIDSS Technical Facilitator in Pilar, said that the project supervisor takes her place because she cannot personally monitor the ongoing construction every day. According to her, Gina performs her duty well because she follows the exact measurements based on the planned design and ensures that everyone is doing their assigned functions.
Though Gina was the second choice because the first lacks skills and little is known about her as an Architect, she proved that she is worth of becoming the project supervisor because of her work experiences and educational background.
"My great contribution to our community is to share my skills and knowledge," she said.
Some of her colleagues describes her strict because she reprimands slack workers but most of her 17 workers laud her as their project supervisor.
One of them is Felina Logenia, a female laborer, who said that Gina pays attention to every detail of the evacuation center's plan who
"Maray ang padalagan niya ning construction dahil tataw siya (Her management is good because she is knowledgeable)," Logenia said.
Mark Anthony Losito, a laborer for many years, said that there's no difference having a female project supervisor because he is used to encounter male ones.
For her, it was a challenge but she is proud of her achievement because other people recognized her capacity.
More than receiving a daily wage of P450, Gina is more gratified by the priceless experience in Kalahi-CIDSS because it opened better opportunities and gave her a new perspective in life.
"Naliwat su pagtubod ko na sa arog kaining edad, may opportunity pa para sako (My perspective change that I still have a chance even if I'm old)," she said.
On the other hand, curiosity led her to becoming a volunteer because she felt responsible to attend barangay assemblies.
Gina was elected as the Barangay Representation Team (BRT) head who represented their community during the Municipal Inter-Barangay Forum (MIBF), a municipal Kalahi-CIDSS activity that prioritizes, approves and funds proposed subprojects in front of all the barangays and its residents.
Rodel Cambe, a Kalahi-CIDSS employee assigned in Abucay, said that Gina is one of the most active volunteers who worked hard for their community sub-project.
Gina said that becoming a volunteer gave her the chance to know more about her community.
And every time Gina looks at the evacuation center, she said it symbolizes improvement.
"I'm happy to be part of this masterpiece that will be remembered for a lifetime," she said.