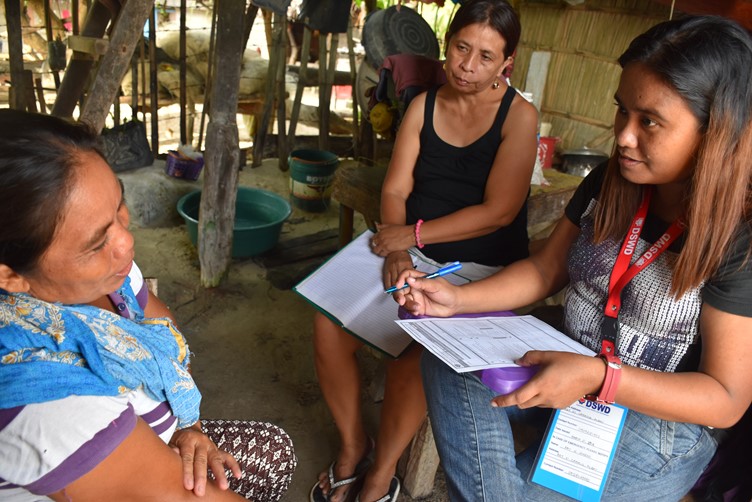 Legazpi City – The Department of Social Welfare and Development (DSWD) Bicol completed the validation of poor households under the Listahanan for inclusion in the government's Unconditional Cash Transfer Program (UCT).
DSWD Regional Director Arnel Garcia said that from the 147, 486 target households in the region, 124,374 has been validated and updated their family profiles while the remaining not validated households were unlocated,have transferred residence or vacant during the visit.
The validation, which was conducted from March to June this year, aims to ensure that households who will benefit from the UCT program belong to the poorest households and will physically receive the grant.
"The DSWD used the result of the Listahanan assessment conducted in 2015 as the basis for the validation in determining potential beneficiaries of the UCT", explained Garcia.
According to him, the validated households have been subjected to the Proxy Means Test (PMT), a statistical model that approximates family's income based on the observable and verifiable indicators as a result of the house to house interview.
He disclosed that based on the PMT result, there are 89,639 poor households in the region who will be eligible recipients of the program. Meanwhile, the registration will commence this month until August where beneficiaries will be enrolled for automated teller machine (ATM) card account opening in the Landbank of the Philippines (LBP) which the latter is responsible for the distribution of the cash grants. DSWD will administer the registration process and submit the details to LBP.
"We will be closely coordinating with the local government units for the registration schedule per municipality and to the Landbank of the Philippines (LBP) as our partner in the distribution of cash grants", said Garcia.
Beneficiaries will be notified about the upcoming registration schedule through their respective LGUs.
Garcia announced that during the registration, each beneficiary needs to bring the following documentary requirements:
 3 pcs. 2×2 photo  Photocopy of 1 valid government ID ( SSS, GSIS, PAG-IBIG, TIN, Philhealth, Passport, Driver's License, Postal, Voter's ID, Solo Parent ID, Senior Citizen's ID)
The agency targets to distribute the UCT cash grants for the Listahanan-identified poor in the third quarter of the year.
The UCT is the cash subsidy provision of the government to the poor who will be adversely affected by the rising prices of commodities brought out by the Tax Reform for Acceleration and Inclusion (TRAIN) law.
Formerly known as the National Household Targeting System for Poverty Reduction (NHTS-PR), Listahanan is an information management system that identifies WHO and WHERE the poor are in the country. It serves as the baseline for the identification of potential beneficiaries of the social protection programs.