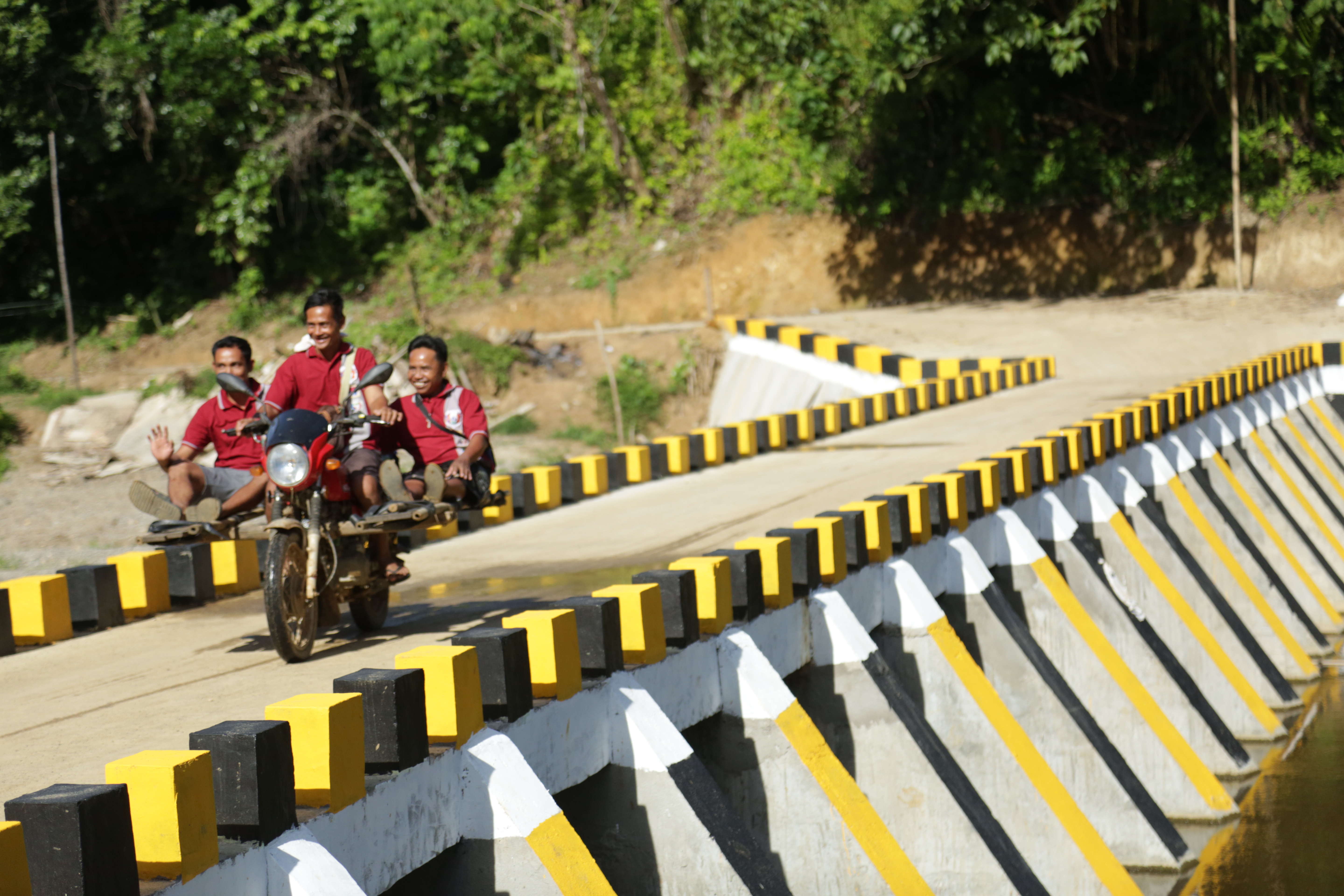 Labo, Camarines Norte – Motorcycle ride going to Barangay Cabatuhan is the most fulfilling experience for the residents. Every time passengers pass by the Busig-on river, they can't help but adore the majestic concrete spillway painted in yellow and black. Despite its magnificence, it wasn't easy for the community to complete a project in 223 days especially they have a deadline to meet.
This infrastructure project is a product of collective action or Bayanihan of the community. At the other end of the spillway, names of the people involved in the sub-project were written on the big concrete marking shaped in letter K that stands for Kalahi.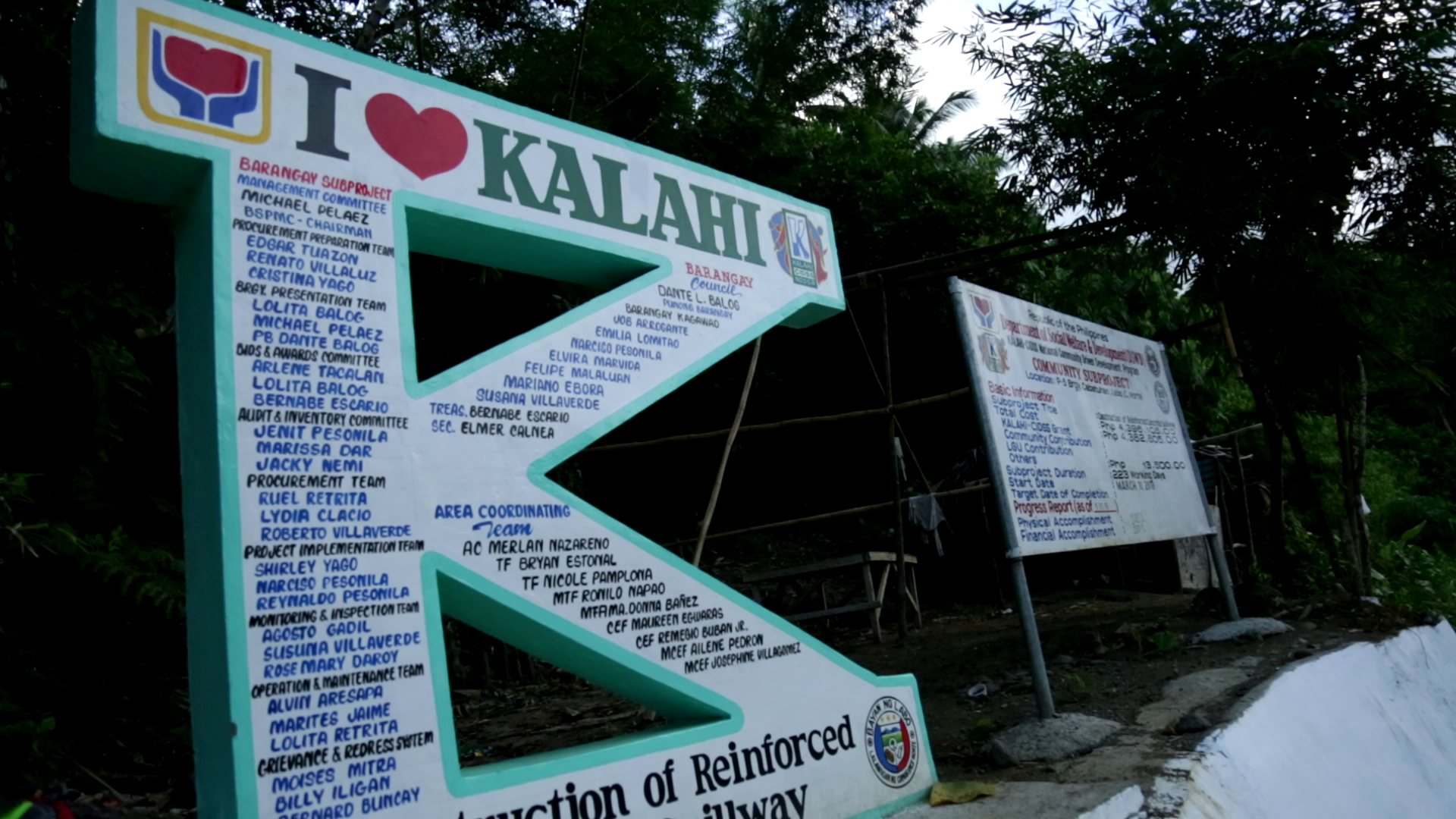 From the town of Labo, one must travel for 56.5 kilometers to reach the barangay proper. Before, traveling to Cabatuhan has never been easy because one must have the confidence to cross the river and muddy rocky path.
According to Barangay Captain Dante Balog, Cabatuhan is one of the poorest barangays. Its main livelihood is farming.
He also specified the three main problems that Cabatuhan has experienced which are education, lack of livelihood and accessibility.
To solve the community problems, the residents saw the need of constructing a spillway that will serve as bridge for the services they may acquire at the town proper.
Shirley Yago, 39, community volunteer shared her unforgettable experience when braving to cross the river.
"Noon, kapag tumatawid kami, inaabot kami ng gabi para lang humupa ang ilog kasi napakalalim ng tubig. May balsa naman po pero malakas ang agos ng tubig. (In the past, there are times we spent the night along the road waiting for the flood to subside. The raft cannot traverse because of the strong current)," Yago recounted.
"Muntik na rin ako mawalan ng buhay kasi nagbleeding ako noon hindi ko nga alam kung aabot pa ako kasi sa hirap tumawid (One time, I thought I was about to die because of excessive bleeding. I don't have any idea if I can still survive because of the difficulty to cross the river)," she added.
Balog also claimed how crossing Busig-on became life threatening.
"May nararanasan kami na mayroon kaming patay sa barangay na hindi mailibing kasi hindi maitawid ang bangkay sa ilog (There was an instance that we were not able to hold a funeral for the dead because of the difficulty to cross the river)," he said.
He also added that pregnant women are forced to give birth in their respective homes which is dangerous)," he added.
For the residents of Cabatuhan, the courage to continue for progress has been the most invaluable act of bravery.
With their participation for development, the spillway sub-project was prioritized under the Department of Social Welfare and Development Kapit Bisig Laban sa Kahirapan – Comprehensive and Integrated Delivery of Social Services (DSWD Kalahi-CIDSS).
The DSWD Kalahi-CIDSS is a program that helps in empowering communities to be part in decision-making, planning and project implementation, thus; reviving the Bayanihan spirit.
From 223 days to 83 days
The implementation of spillway has never been easy because the sub-project must be completed by May 2018 before the closing of Asian Development Bank (ADB) funded sub-projects.
According to its program of works, the spillway is expected to be finished in 223 days, but the construction started in March 10, 2018 which is beyond the prescribed deadline.
The community volunteers together with the barangay council come up with a plan that will ensure the speedy construction.
The barangay captain encouraged all skilled construction workers in their area to help in the sub-project.
"Ang aming manpower sa tulong ng volunteer at mga mamamayan ng Cabatuhan, ay nagawa itong mabilis dahil sa lahat ng aming skilled workers ay dito namin ipinokus maging ang aming ibang proyekto sa aming barangay pansamantalang itinigil upang ibuhos namin dito yung labor force (Our village's manpower with the help of volunteers and residents of Cabatuhan was able to meet the deadline. The skilled workers also prioritized the community project. We also paused the ongoing projects in the barangay to pour out the labor force for the sub-project.)," Balog explained.
The community also created two shifting system for the workers to cover all tasks needed to complete the construction.
According to Yago, community volunteer as well as laborer during the construction, they would work from 7:30 in the morning until 4:30 in the afternoon. Also, their two-shifting system were interchanged in two-weeks interval.
She also said that being a laborer made a great experience for her as a woman.
"Hindi ko malilimutan na nakaranas ako ng trabaho ng lalaki, na kaya pala ng babae (I won't forget working as a laborer which is believed to be exclusive only for men, but I was able to prove that women can also do the same," she stated.
With the efforts of the community, the concrete spillway was finished last May 31, 2018 in which it was completed only in 83 days. This is 140 days advance as compared to the expected days of completion.
It might be considered as work of miracle, but it is a real manifestation that there are many possibilities in the impossible.
Just like what Tommy Lasorda, well-known former manager of Los Angeles Dodgers had said that the difference between the impossible and the possible lies in a person's determination.
The will to continue despite facing big problems can be the best experience for a human that life isn't just filled with dreams and aspirations but a sack full of effort.
For Yago, it is the happiest moment for her to achieve something beyond from what she has expected.
"Napakasaya, napakagaan sa loob na nakikita na andiyan ang project. Nakikita ko rin yung pangalan namin na nakapaskil sa may spillway. Ito ay hindi lang sa akin pati rin sa mga anak ko (I felt so happy and fulfilled seeing the project. I am also proud to see my name painted along the spillway. This project won't be just for me but also for my children)," she said.
The hard work and willpower of the community members became their 83 steps to great fulfillment and start for new developments. /ramsertan/
About DSWD Kalahi-CIDSS
Camarines Norte has implemented Kalahi-CIDSS in 12 municipalities with a total implementation grant of PhP 487,952,930.00 and local counterpart contribution of Php 7,735,912.43 from barangay and municipal local government units (LGUs) to fund community-managed sub-projects.
DSWD had allocated Labo with PhP 60,000,000.00 with a counterpart from the LGU of Php 336,883.75.
The construction of concrete spillway has a total project cost of PhP 4,384,105.00 which will benefit 273 households.
For more details about DSWD Kalahi-CIDSS, follow this link:
http://ncddp.dswd.gov.ph/site/faqs