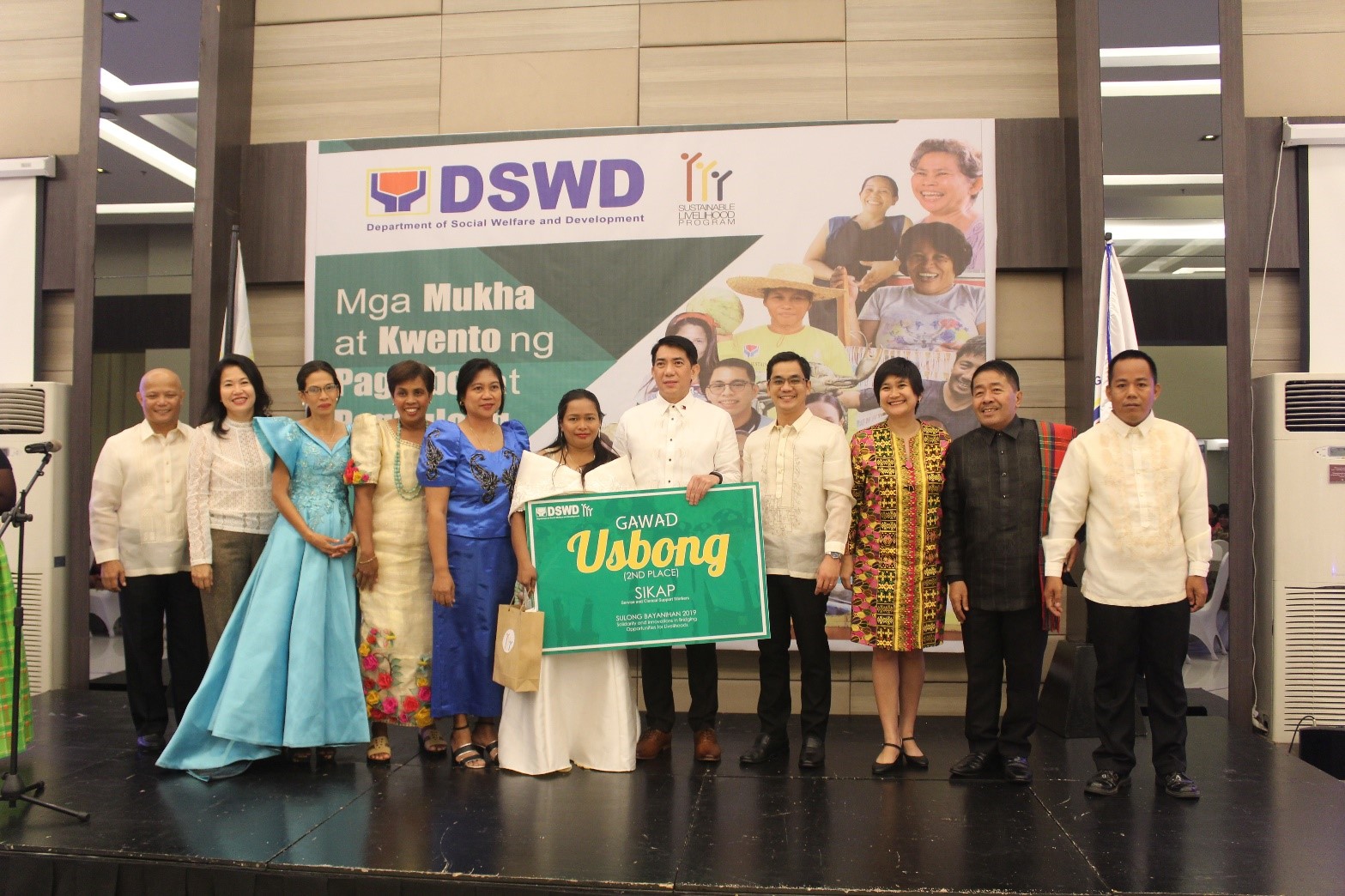 (Left to Right): USEC Glen Paje, ASEC Joy Segui, Churchill V. Lacang, President Rizal Vegetable Growers Association, Mary Jean Noleal, President-San Roque Handicraft Association, Violeta Lorilla, Treasurer- San Roque Handicraft Association, Editha T. Manlangit, Employment Facilitation grantee, USEC Mark Allan Jay G. Yambao, Earl Maximillan A. Cecilio, Regional Program Coordinator for Operations, ASEC Rhea Peñaflor, Dir. Restituto B. Macuto, National Program Manager, and Jose M. Mariñes,Employment Facilitation grantee.
The entry of the Department of Social Welfare and Development (DSWD) Field Office V was hailed as the second place winner for the Gawad Usbong for Employment Facilitation (EF)-Sikap category last June 19, 2019 at Sequoia Hotel, Quezon City.
Editha T. Manlangit, 36, from Bislig, San Andres, Catanduanes, received the Second Place National Gawad Usbong Award.
Editha used the assistance to complete the documentary requirements needed for a regular position as a Pharmacy Assistant in Citizen Drug and General Merchandise (Main), Concepcion, Virac, Catanduanes. It opens a lot of opportunities, career advancement and trainings that hones her personality to be a better worker. SLP provides an avenue to change her life, from a plain housewife to a pharmacy assistant.
Furthermore, EF-Sikap category is awarded for outstanding SLP beneficiaries on service and clerical support workers through SLP's Employment Assistance Fund (EAF) modality and Skills training.
EAF is a grant to acquire the employment requirements, such as legal documents, medical exams and licenses, as well as meal, lodging and/or transportation allowance within the first fifteen days of guaranteed employment. Each program participant may receive a maximum of Php 5,000.00.
Before, she was a casual employee who earned Php 250.00 daily but it's not enough to support her family needs. She dreamt of a better future for her family and decided to apply for a job abroad, but knowing the consequences outside the country she chose to stay in the province and hoping for a greener pasture through a gainful employment opportunity.
Working as pharmacy assistant for almost 6 years, her employer provides opportunities for career growth through trainings. She attended   two trainings in Legazpi City namely: (1) The Responsible Pharmacy Assistant Practical Training and (2) Professionalization of Pharmacy Support Workforce through Outcome-Based Learning. Likewise, she earned NC III and completed the competency requirements in Pharmacy Services through her employer and SLP.
According to her, she is very thankful to the program and she will continuously work harder to pursue her dreams to give a brighter future to her family.
Sulong Bayanihan 2019 is the main celebration of the Sustainable Livelihood Program's milestones in promoting and facilitating the continuous development and strengthening of efforts to solidify the convergence of families and communities towards identification and building-up of program champions and advocates.
With this year's theme: "Bayanihan ng Pamilya at Pamayanan,  Kampeon ng PagSibol at Kabuhayan", the SLP and its community of champions uphold the significance of sustainability in various initiatives for microenterprise development and employment facilitation. Through the unwavering support of SLP's partners and stakeholders, the essence of PagSibol and the stories of change and growth are rekindled and relived in the minds and hearts of the communities that DSWD serves.
Through parallel or break-out sessions, composed of the SIBOL Kabuhayan panelist, each of the national finalists for each category presented how their livelihood assets have grown through the SLP intervention, organizational development, contribution to local economic development, behavioral change, their business model viability, roadmap for diversification or expansion, and details of their employment success or endeavors.