23-year old volunteer leads the implementation of community project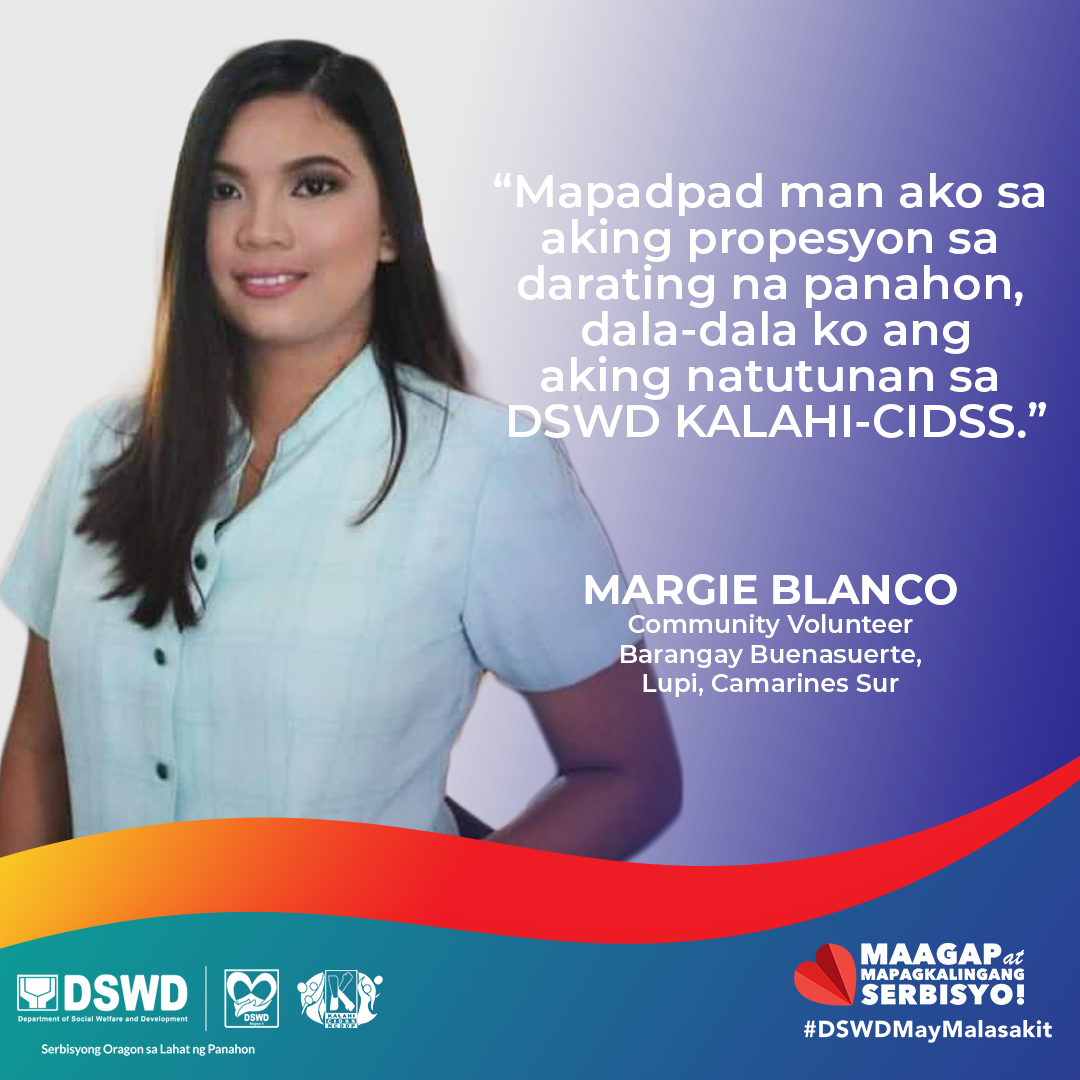 Margie Blanco is a 23-year old community volunteer in Barangay Buenasuerte, Lupi, Camarines Sur. She is a graduate of Bachelor of Elementary Education in Central Bicol State University of Agriculture last July 2020. 
At this age, leading a group of community volunteers to implement a sub-project is a new and very challenging journey for her. 
Margie recounted that she was once told by her mother, also a barangay councilor, that she was called by the council. 
"Ako ay kinakabahan dahil hindi naman ako para labas ng aming tahanan," she shared. 
(I got nervous since I don't usually go out of our house.)  
Margie was informed by the barangay council that she was designated as the Barangay Sub-Project Management Committee (BSPMC) chairperson for the implementation of sub-projects to be funded by the Department of Social Welfare and Development Kapit-Bisig Laban sa Kahirapan – Comprehensive and Integrated Delivery of Social Services (DSWD KALAHI-CIDSS).   
The BSPMC provides the overall management of the community-based subprojects and oversees sub-project implementation, monitoring, and completion. Knowing that she has to manage the whole implementation, Margie was uncertain to accept the responsibility considering that she was to review for the board exam last August 2020. She was encouraged by the barangay chairperson to accept the role since she will be guided by KALAHI-CIDSS staff and barangay council.   
"Kaya pumayag na rin ako dahil prebilihiyo na maging isang lider at may tiwala sa akin ang barangay," Margie said. 
(So I accepted the role since it's a privilege to be a leader and the barangay trusted me.)

The community proposed three (3) sub-projects which are: Cash-for-Work (CFW) for cleaning of public places, provision of Personal Protective Equipment (PPE), tools, supply for existing quarantine facility, and provision of sanitary kits for 156 affected families.

These sub-projects with a grant amounting to PHP163,204.74 were based on the needs identified by the community in response to COVID-19.

According to Margie, all the knowledge she learned in school significantly contributed coming up with the proposal of the sub-projects.

She also added that community volunteers often consult with the barangay council regarding the implementation. 
The teamwork of the community led to the completion of the sub-projects. 
"Natamo namin ang tagumpay na maisakatuparan ang aming proyekto at napapakinabangan ito ng mga mamamayan ng Buensuerte," Margie shared.  
(Our achievement is the completion of the project that benefits the community members of Buenasuerte.) 
Aside from the learnings she acquired in implementing community projects, treating others with respect and dignity, having empathy and sharing of knowledge with each other were the values she learned as a volunteer which will help her in her new endeavors.

"Mapadpad man ako sa aking propesyon sa darating na panahon, dala-dala ko ang aking natutunan sa DSWD KALAHI-CIDSS," she conveyed. 
(When I start practicing my profession; I know that I will still bring all the learnings I have obtained from DSWD KALAHI-CIDSS.) 
With report from Aldrean Fernandez

DSWD Kalahi-CIDSS is a poverty alleviation program that helps communities in poor municipalities to identify challenges on poverty and implement developmental projects using the CDD approach.

To hasten approval of community projects and implementation during the pandemic, the program used DROP, a simplified Community Empowerment Activity Cycle (CEAC) that still follows the principles of CDD.

In Camarines Sur, DSWD Kalahi-CIDSS implemented DROP in two (2) municipalities with a grant amounting to PHP21,398,733.12.

For more details about DSWD Kalahi-CIDSS, follow this link: http://ncddp.dswd.gov.ph/site/faqs