240 families in Bicol Region receive assistance from DSWD under BP2 Program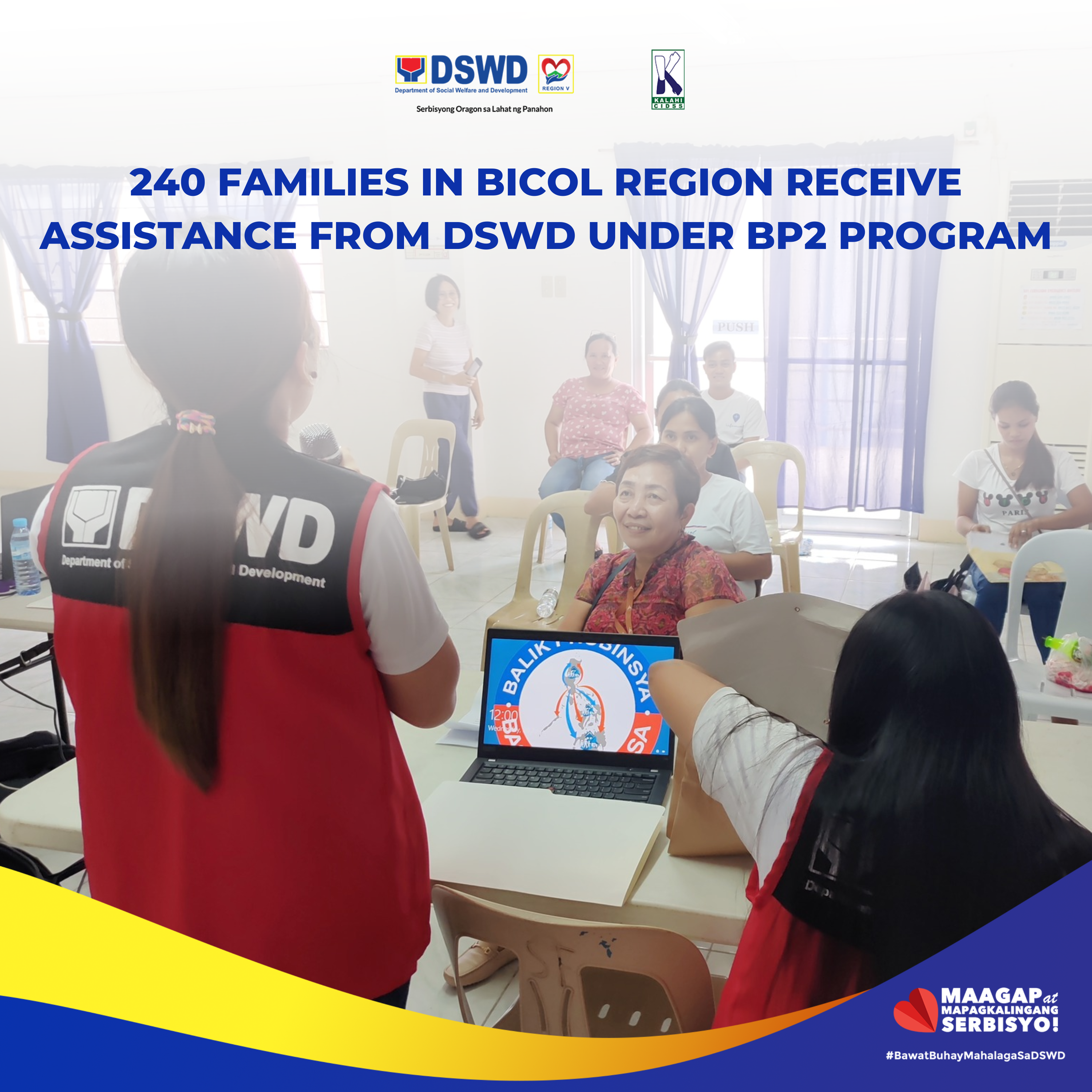 The Department of Social Welfare and Development (DSWD) through the Kapit-Bisig Laban sa Kahirapan – Comprehensive and Integrated Delivery of Social Services (KALAHI-CIDSS) provided Php 17,505,750.00 worth of assistance to 240 families in Bicol Region under the Balik-Probinsya, Bagong Pag-asa (BP2) Program from June 21, 2023 until June 30, 2023.
The awarding of Transitory Family Support Packages, Livelihood Settlement Grant and/or Transitory Shelter Assistance was conducted in three (3) provinces of Bicol Region particularly, 69 beneficiaries in Albay, three (3) beneficiaries in Sorsogon and 168 beneficiaries in Camarines Sur.
The Transitory Family Support Package is a financial support ranging from Php 10,000.00 to Php 50,000.00 to cover the food and non-food items needed by the family during the transition phase.
On the other hand, the Transitory Shelter Assistance serves as rental subsidy for beneficiaries who has no home in the community or has a place that needs renovation to be livable while the Livelihood Settlement Grant is a start-up capital for the establishment or continuity of livelihood and economic activities for eligible families.
"The dispatch families were assessed by the NHA and DSWD while the families who already returned home from March 2020 until present were endorsed by their respective Local Government Units (LGUs)," Katrina Maria Dagta, Social Welfare Officer III explained.
Dagta also clarified that each family beneficiary may receive differing amounts of Transitory Family Support Packages, Livelihood Settlement Grants and/or Transitory Shelter Assistance depending on the assessment of the social worker.
NEW PHASE
The COVID-19 pandemic has affected a lot of families including Daisy Cachuela and her family.
At that time, Daisy, a member of Person with Disability (PWD) sector, was pregnant with her daughter while her husband, Marco Morga lost his job in the aluminum and glass supply industry.
Considering the lack of job opportunities and increased health risks for pregnant women due to COVID-19, the family returned back to Del Gallego, Camarines Sur on June 10, 2020 from Lucena City.
Through the assessment of the Local Social Welfare and Development Office (LSWDO) and validation of the Department, the family received Transitory Family Support Package and Livelihood Settlement Grant amounting to Php 82,000.00 on June 27, 2023.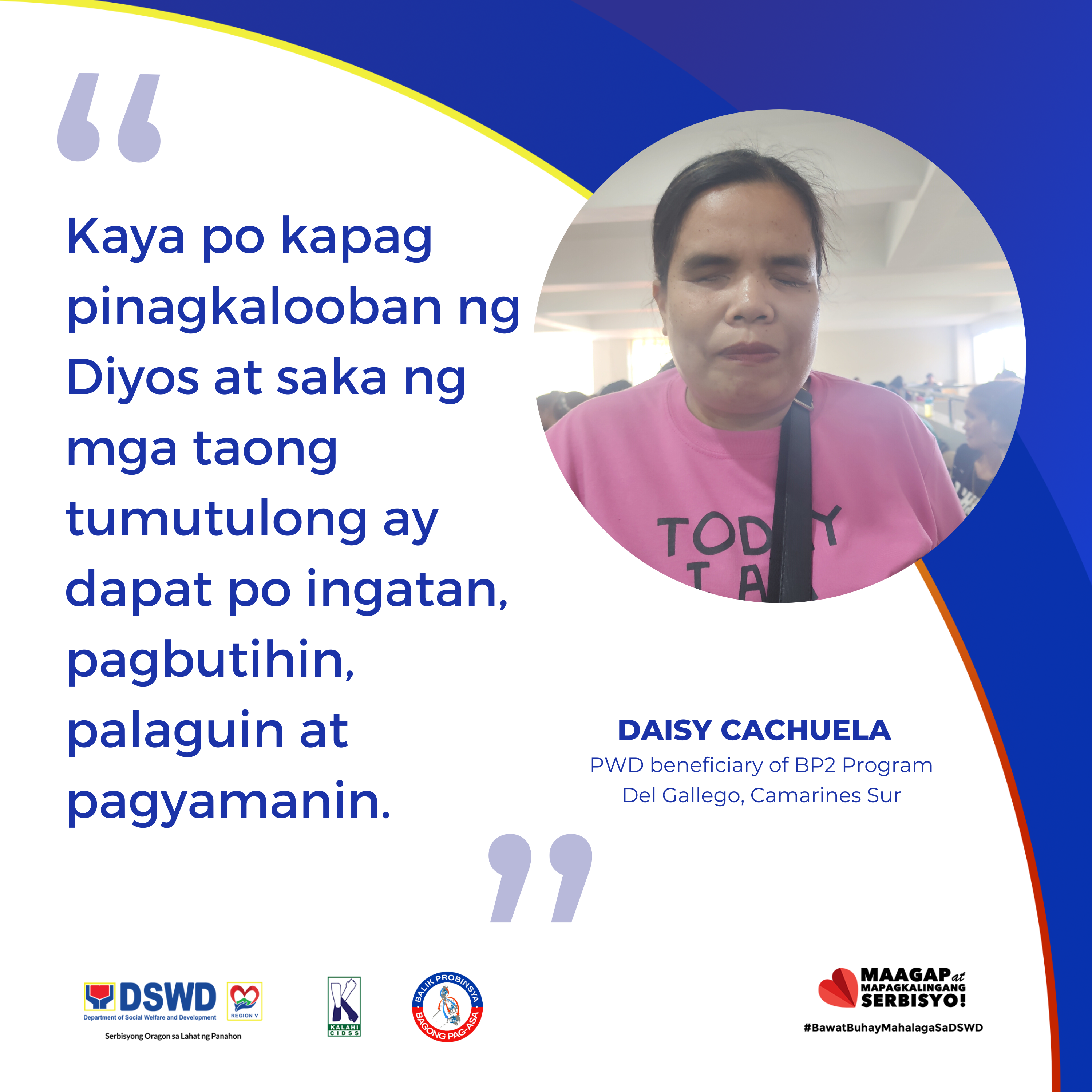 According to Daisy, she is grateful to the program for the assistance she and her family received because they are planning to establish a business as an additional income for their daily support. She also reassured that her family will be using the aid provided productively.
"Kaya po kapag pinagkalooban ng Diyos at saka ng mga taong tumutulong ay dapat po ingatan, pagbutihin, palaguin at pagyamanin," she said.
(If you have received blessings from God and people who helped you, you have to take care, improve, expand and enrich them.)
ABOUT THE PROGRAM
The BP2 Program is one of the support measures being implemented by DSWD KALAHI-CIDSS to decongest urban poor communities. It also aims to provide opportunities to families from urban areas who are affected by the pandemic, displaced workers, or those who are susceptible to health and safety risks and other environmental hazards.
The program provides transportation assistance, transitory family support package, livelihood settlement grants, transitory shelter assistance, and/or psycho-social support to family beneficiaries while community grants may be provided for LGUs with more than twenty (20) BP2 family beneficiaries.
Other National Government Agencies (NGAs), as members of the Regional BP2 Program Committee, also provides complementary assistance to eligible families.
Interested families or individuals may apply through the official website of BP2 program at www.balikprobinsya.gov.ph or visit the LSWDO for intake and assessment.