400 BP2 Program beneficiaries in Bicol receive the aid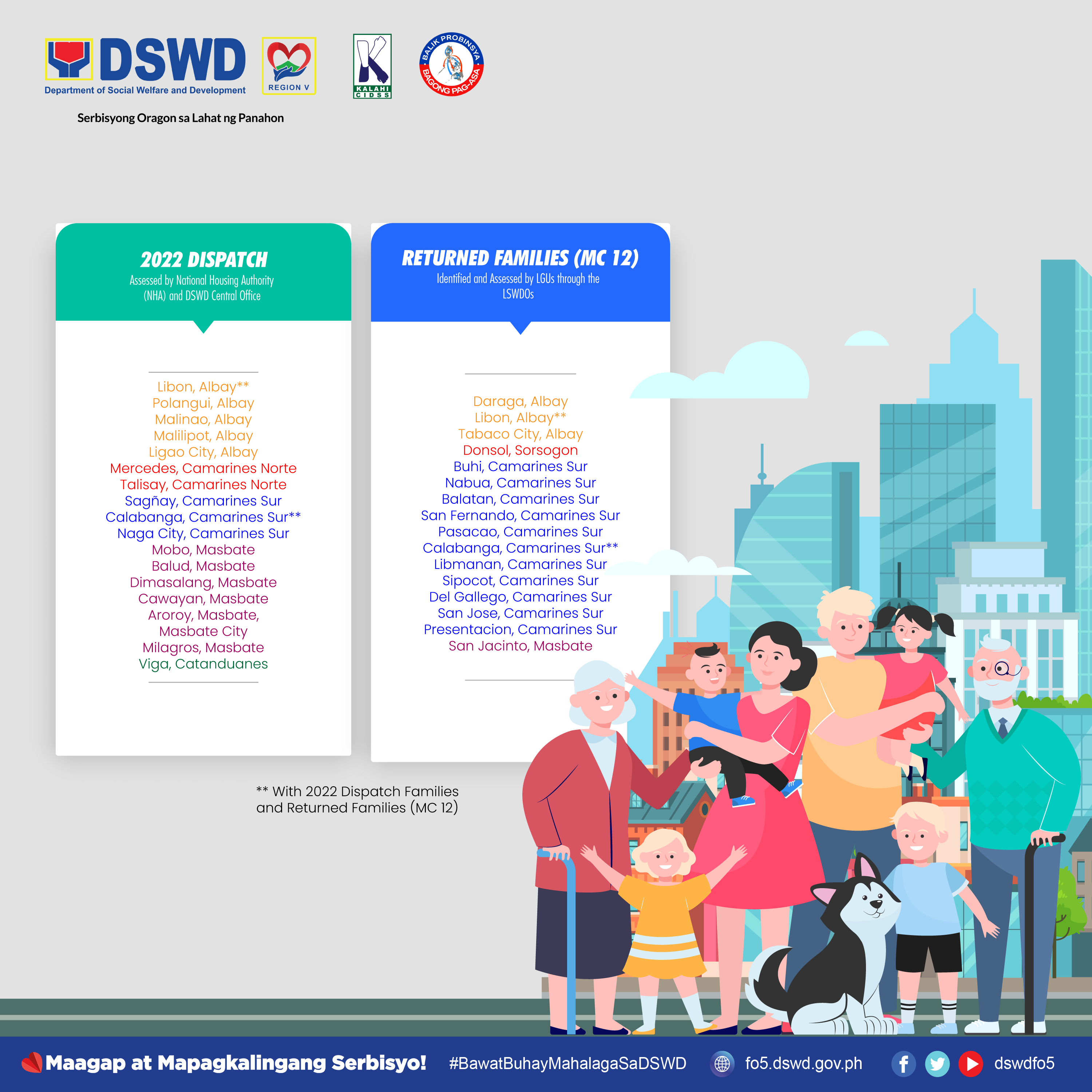 A total of 400 beneficiaries of the Balik-Probinsya, Bagong Pag-asa (BP2) Program in Bicol Region received the Transitory Family Support Packages amounting to Php 15,392,750.00.
The Department conducted payouts in 34 municipalities and cities from June 29, 2022 until July 27, 2022.
The Transitory Family Support Package is a financial support ranging from Php 10,000.00 to Php 50,000.00 that will cover the food and nonfood items needed by the family during the transition phase.
According to Katrina Maria Dagta, Social Welfare Officer III, the Regional Office conducted payouts to dispatch families that were assessed by the National Housing Authority (NHA) and Department of Social Welfare and Development (DSWD) Central Office and beneficiaries who have already returned from November 2019 until present that were identified by their respective Local Government Units (LGUs).
"The family beneficiaries may get different amounts of Transitory Family Support Packages depending on the number of family members and number of school children," she clarified.
Dagta also said that interested families or individuals may apply through the official website of BP2 program at www.balikprobinsya.gov.ph or visit the LSWDO for intake and assessment.
NEW CHAPTER
Vanessa Bermudo, a mother of three (3) children said that she and her husband, Jeffrie found it difficult to live
separately with their children as they work in Taguig City and Sta. Rosa, Laguna as a housekeeper and baker, respectively during the COVID-19 pandemic.
They decided to return to the municipality of Libon in Albay on September 15, 2020. Through the assessment of the LSWDO and validation of the Department, the family received Transitory Family Support Package amounting to Php 50,000.00 on July 8, 2022.
According to Vanessa, they will use the assistance for the education of their children as well as investment for farming.
"Habang wala pang pasok yung mga bata, may aanihin kami para pang-gastos sa araw-araw," she explained.
(While the children don't have classes yet, we have something to harvest to be used for daily expenses.)
Jeffrie is also grateful for the financial assistance they have received.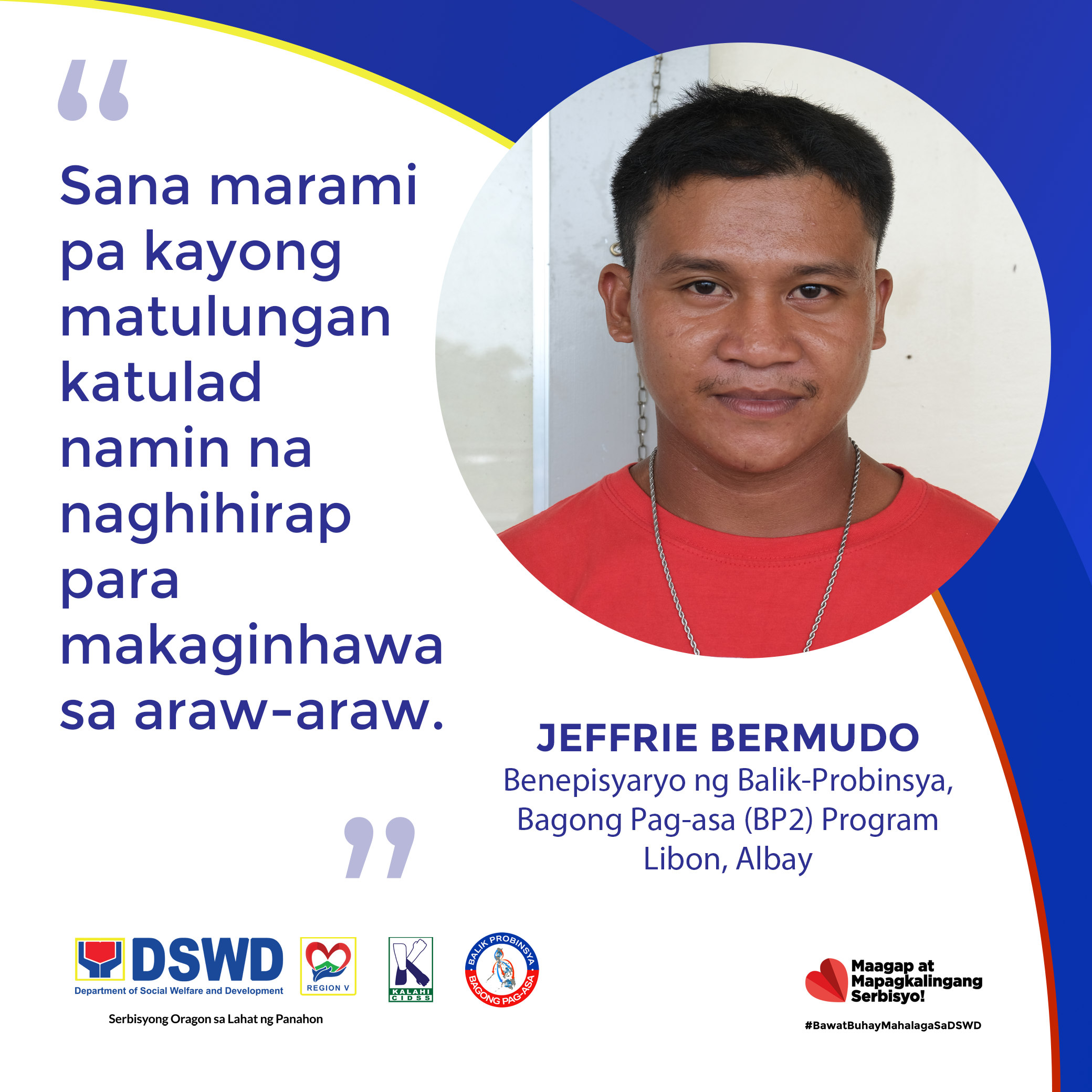 "Sana marami pa kayong matulungan katulad namin na naghihirap para makaginhawa sa araw-araw," he said.
(I hope that you will help more people to have a stable daily living like us who are indigent.)
ABOUT THE PROGRAM
The BP2 Program is one of the support measures being implemented by DSWD Kapit – Bisig Laban sa Kahirapan – Comprehensive and Integrated Delivery of Social Services (KALAHI-CIDSS) to decongest urban poor communities. It also aims to provide opportunities to families from urban areas who are affected by
the pandemic, displaced workers, or those who are susceptible to health and safety risks and other environmental hazards.
The program provides transportation assistance, transitory family support package, livelihood settlement grants, transitory shelter assistance, and/or psycho-social support to family beneficiaries while community grants may be provided for municipalities with more than twenty (20) BP2 family beneficiaries.
The assistance provided will be based on the assessment of the LGU social workers. Other National Government Agencies (NGAs), as members of the Regional BP2 Program Committee, also provides complementary assistance to eligible families.