60 munis in Bicol to benefit from P722.5-M nutrition-sensitive community sub-projects
The Department of Social Welfare and Development (DSWD) through the Kapit-Bisig Laban sa Kahirapan – Comprehensive and Integrated Delivery of Social Services (KALAHI-CIDSS) will be providing Php 722,595,000.00 worth of nutrition-sensitive community sub-projects to 60 municipalities in Bicol Region under the Philippine Multisectoral Nutrition Project (PMNP).
The project will be implemented in four (4) provinces of Bicol specifically, 30 municipalities in Camarines Sur, seven (7) municipalities in Catanduanes, 16 municipalities in Masbate, and seven (7) municipalities in Sorsogon.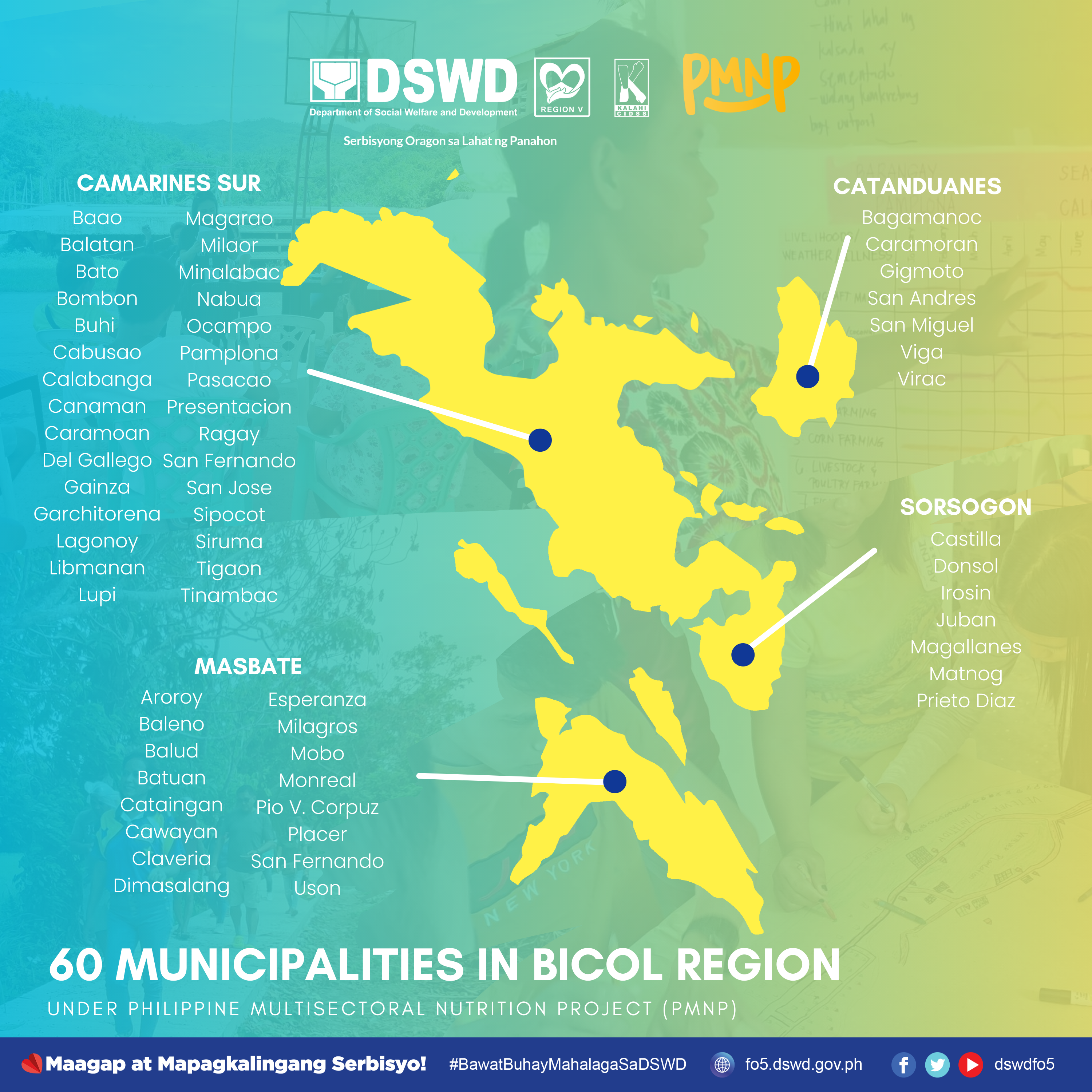 The municipalities were selected based on stunting rate higher than or equal to 17.5%, high poverty incidence rate equal or above 21%, experience in KALAHI-CIDSS implementation, and one of the priority areas of Human Development and Poverty Reduction Cabinet Cluster (HDPRC) or Philippine Plan of Action for Nutrition (PPAN).
According to Ms. Adelaida P. Escurel, Deputy Regional Program Manager (DRPM) of KALAHI-CIDSS Regional Program Management Office (RPMO), each municipality will be receiving a grant allocation ranging from Php 5 million to Php 28 million for the implementation of nutrition-sensitive interventions that will address the nutrition security of beneficiaries.
"The grant allocation was computed based on the data from Department of Health (DOH) on the projected number of stunted children multiplied by Php 3,400.00 subsidy per child per month and multiplied to 2.5 months intervention period," she explained.
DRPM Escurel added that the nutrition sensitive interventions eligible for funding are digging of small community wells, maintenance of community water sources, construction of community toilets, provision of nutrition learning materials, provision of technical support to integrate nutrition-focused child development activities and minor civil works for day care centers.
"Using the principles of Community-Driven Development (CDD), the communities will lead in the planning, implementation and sustainability of the identified interventions," she noted.
KALAHI-CIDSS is a poverty alleviation program of DSWD that uses CDD approach to help communities in poor municipalities to identify challenges, make informed decisions, and control resources to address poverty.