A closer look of CDD in action
The Department of Social Welfare and Development Kapit-Bisig Laban sa Kahirapan – Comprehensive and Integrated Delivery of Social Services (DSWD KALAHI-CIDSS) has championed Community-Driven Development (CDD) for 20 years. The CDD approach is anchored on the principles of Transparency, Accountability, and Participation.
Through the CDD approach, the projects were identified, implemented, monitored, and managed by community members with National Government Agencies (NGAs) and Local Government Units (LGUs) acting as technical
assistance providers.
To perform as the overall management committee during the implementation of community-identified projects, the communities form the Barangay Development Council – Technical Working Group (BDC-TWG) which consists of community volunteers elected by the expanded Barangay Disaster Risk Reduction and Management Committee (BDRRMC).
AT THE GRASSROOTS
The 11-kilometer journey from downtown Claveria to Barangay Taguilid is not that smooth because of its rutted dirt road. Regardless of the challenging travel, people are met with a candid sea view and effervescent smiles from the villagers.
Beyond their beams, the strong determination of the community for progress is also felt. With the assistance from DSWD KALAHI-CIDSS National CommunityDriven Development Program Additional Financing (NCDDP AF), the community resolutely identified the barangay road sub-project as their priority community project to settle their dilemma on accessibility.
The barangay road sub-project amounting to Php 965,086.20 was implemented by the BDC-TWG led by the Marites Berial. Completing the project is a grueling task but the community persisted because the barangay road will provide access to health, education, and economic opportunities.
When asked about their experience during the implementation, most of the barangay officials and community volunteers exclaimed, "Masarap kahit mahirap". (It's fulfilling despite the difficulties.)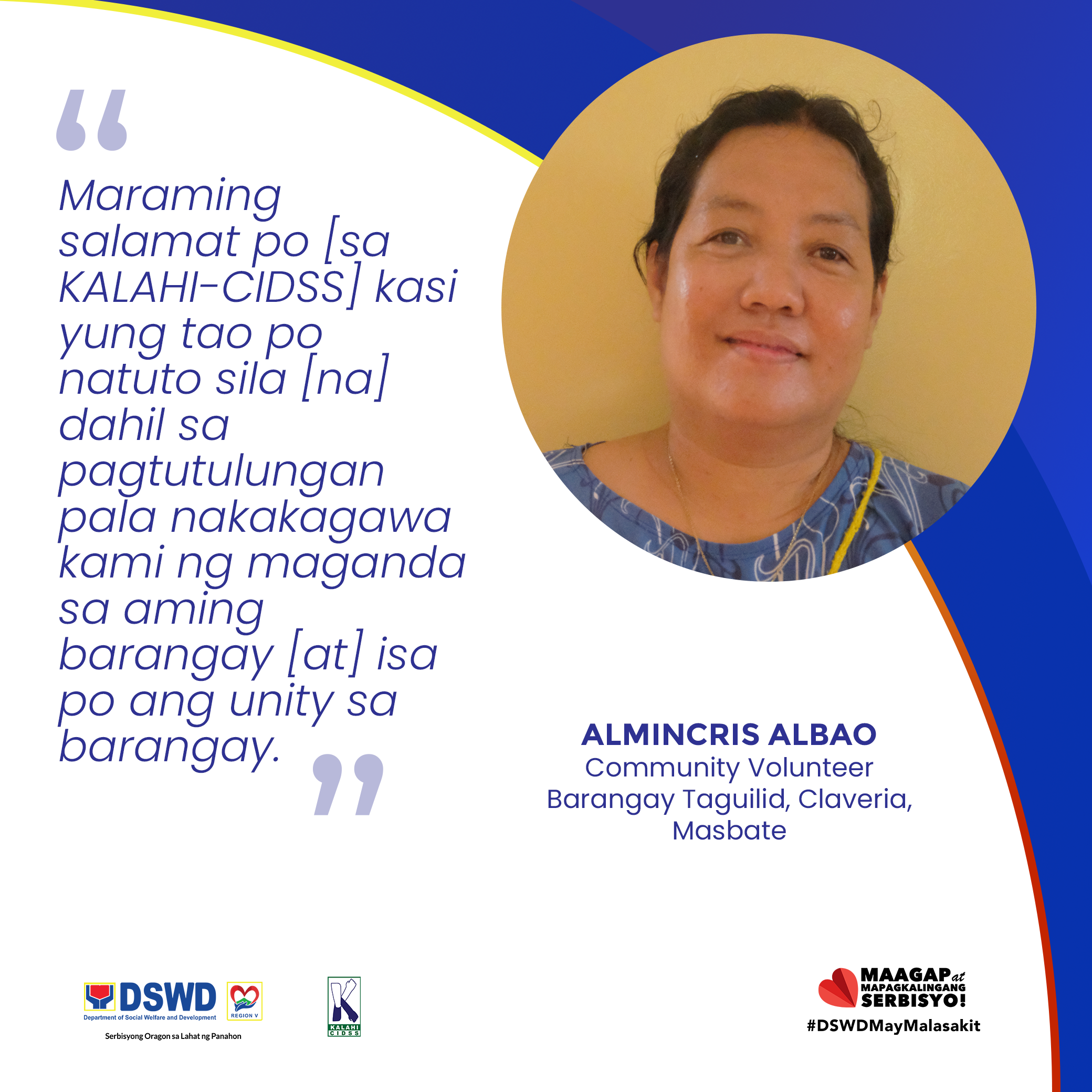 According to Almincris Albao, Procurement Team chairperson, she prefers the village having control in
identifying and planning community projects because they are the direct beneficiaries compared to other
organizations who identify the projects for them.
"Maraming salamat po [sa KALAHICIDSS] kasi yung tao po natuto sila [na] dahil sa pagtutulungan pala
nakakagawa kami ng maganda sa aming barangay [at] isa po ang unity sa barangay," she added.
(Thank you very much to KALAHI-CIDSS because villagers learned how cooperation will lead to creating an outstanding difference in their community and one of these is unity.)
To grasp how CDD works at the grassroots level, let us take a glimpse of community volunteers in action.