A Noble Man with his noble deeds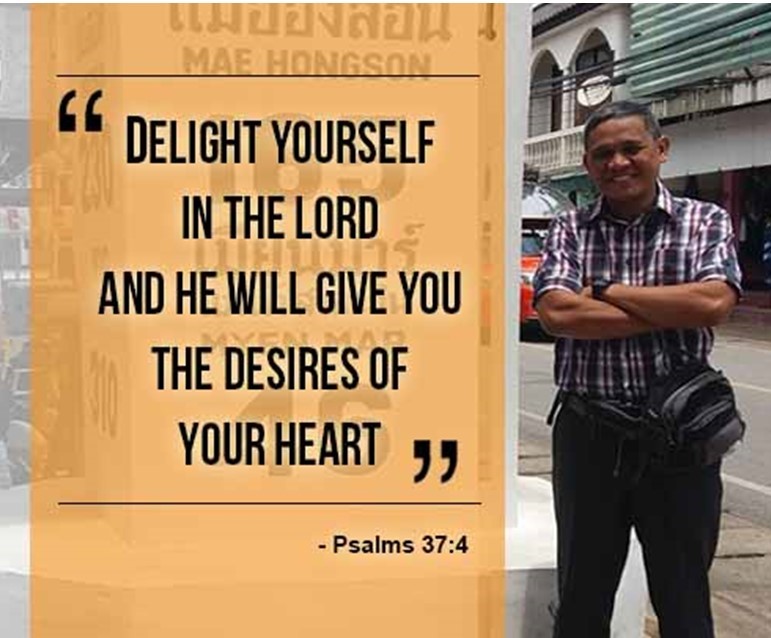 Growing up in a community with and little hope of changing your circumstances does not seem like a promising start for anyone. But, for Melchor Buenaflor, 48, of Barangay Tinago, Ligao, Albay his childhood taught him tenacity and strength that served him well in years spent being a missionary—helping others those who are in need.
A missionary, explorer, and champion of the poor, "Choi" as he is fondly called by everyone, used his experiences to fight great wrongs in the society and to blaze the path for the poor to improve their living.
He believed that he was called to serve God as he was called to finding routes and resources that would help the poor gain profit. He was loved by many and respected by a lot of people with whom he had contact with.
His beginnings
Choi's childhood years is not that easy. He grew up in shantytown and worked to help support his poverty-stricken family.
Being the eldest in 10 siblings, he took the responsibility of helping his parents gain income. He wakes up  early morning as young as seven years old to sell fish in the local markets. He was trained to raise money for his school and personal needs to lessen the financial loads of his parents.
During his college years, he was given no choice but to take up the course Industrial Education since his parents cannot finance his dream to pursue Architecture.
While studying in Bicol University, his parents felt hard to finance his day-to-day expenditures. Thus, to continue his college education, he made use of his exceptional talent in arts and design and accepted t-shirt printing and other art works.
Choi had faced sufferings and hardships and once considered giving up. He reached a point in his life questioning why there are so much injustices in the society and why there are people who suffer from extreme poverty and people with so much wealth in life.
For quite some time, Choi struggled to face the reality of his life and started to use prohibited drugs because of his .
His turning point
While, Choi was out with his friends, they met a missionary preaching Jesus' words to a group of people in their community.
As the missionary said, "Your life will never have direction; it will be hopeless without God guiding you. Why not receive Christ in your heart tonight and receive forgiveness of your sins and salvation for your soul. So doing you will start having relationship with God as your father thru Christ."
The man's words kept on taunting him and caused him a nightmare. Those words moved him and finally realized to change his life and return back to God. It was then, Choi decided to focus on his studies, be more diligent and optimistic in performing his duties and responsibilities to his family.
He learned perseverance and went on to put himself to finish his studies and become an instructor at Bicol University College of Industrial Technology (formerly BUSAT) handling college and last section high school students
More so, he was able to support the education of his two siblings and let them finish their college degree. He also inculcated to them the value of education and sacrifice to help one another.
His Mission
Eager to help more people who experienced the same hardship as his, he equipped himself with greater knowledge and understanding of the distinctions of every community or group of people by studying Cross Cultural Community Development Course.
Back in 1988, he started his mission trip in Thailand conducting literacy and community development endeavors in depressed areas in Indo-China Region (Thailand, Myanmar, Cambodia, Vietnam & Laos). His wife Alma, fully embraced their calling in helping people in need doing medical missions and other community-based projects that would alleviate people from the quagmire of poverty.
"It is of our responsibility to help those who are in need," he said.
While serving other countries, they too are fully engaged in the Philippines and continue their mission in their hometown in Ligao City.
There, they spend their own money for feeding more than 50 children for three years to free them from hunger and abuse.
Having known for their mission, an Australian partners help fund their missionary activities. They were able to build a non-government and a non-profit organization named Asian Community Christian Centre based in Ligao City, Albay.
At present, his son is also engaged in his family's missionary works conducting values formation programs to people in prison ministry and in different communities local and abroad. They serve people through medical missions, giving educational assistance to poor yet determined students, feeding program for severely wasted children which has expanded in nearby municipalities.
"Our family together with our children will continue helping others. And, we encourage everyone to do the same—simple act of noble kindness is of is of great value to others," he added.
Although, he had a lot of challenges along the way in fulfilling his mission, it did not stop him from helping others, instead, he expanded his service works and assist in spearheading the International Holistic for Life and Progress Incorporated (i-Help) in Bicol Region.
I-Help is a non-profit organization that aims to seek linkages with other Non-government organizations and faith based organizations to provide livelihood and entrepreneurial trainings to vulnerable sectors of the society.
It is one of the active civil society organization (CSO) partners of DSWD providing capacity and livelihood training, facilitator and resource persons during family development sessions to more than 15,000 family beneficiaries of Pantawid Pamilyang Pilipino Program.
Pantawid Pamilyang Pilipino Program is (4Ps) is a human development measure of the national government that provides conditional cash grants to the poorest of the poor, to improve the health, nutrition, and the education of children aged 0-18.
Today, Pastor Choi being the Regional Coordinator of i-Help earned the love and respect of many and was able to spread the gospel to areas like no other missionary could. ***G.Lindio, with reports from Michelle Rebato