A small business owner rising above adversity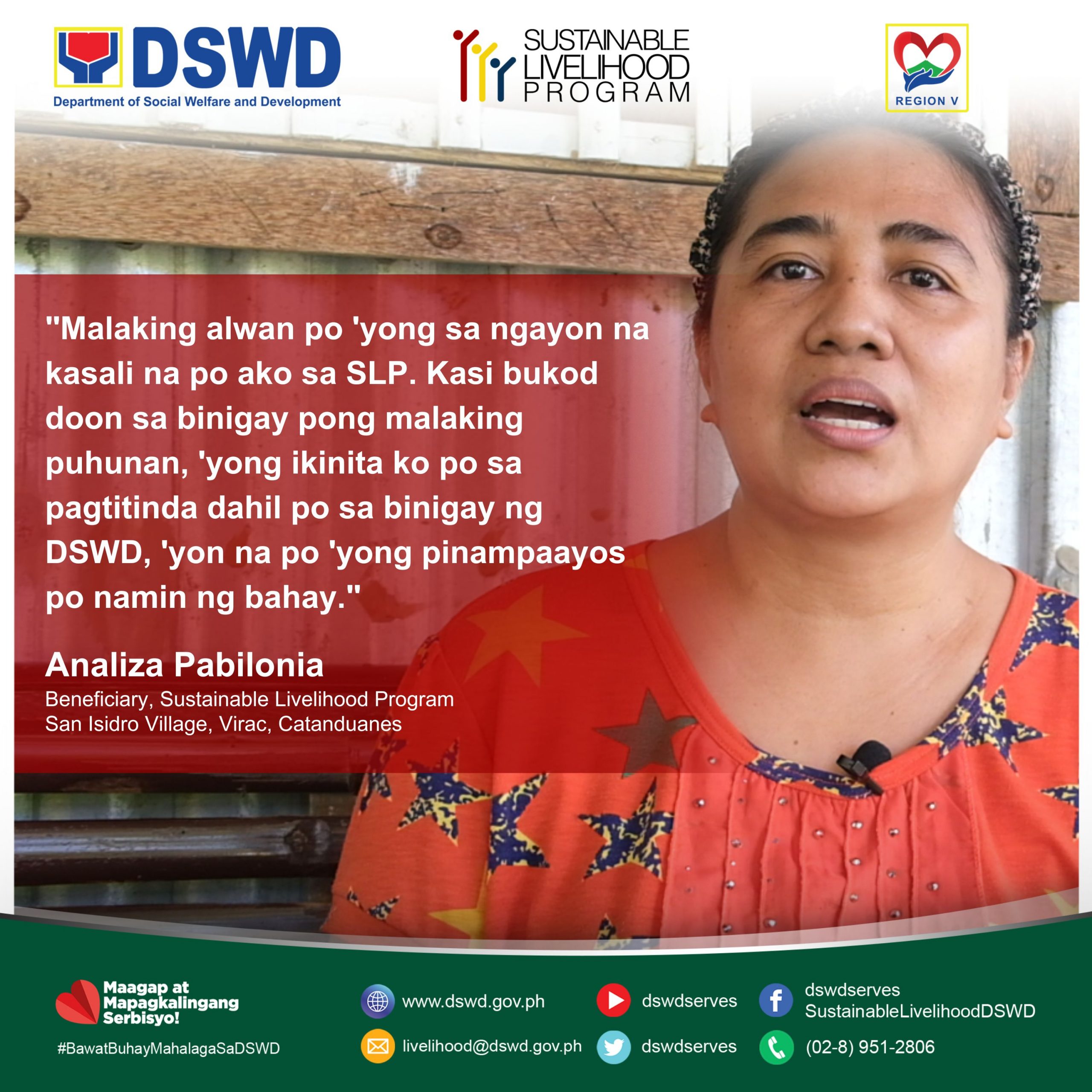 In the month of October 2020, Typhoon Rolly wreaked havoc in the Philippines making it one of the strongest typhoons in the history. It made a total of four (4) landfalls in Southern Luzon with the Bicol Region facing the brunt of its impact. This has greatly affected the lives of the Bicolanos as they have suffered significant losses along with it.
One of the 13,980 people whose homes, according to the Disaster Response Operations Monitoring and Information Center (DROMIC) terminal report, were damaged in the provincial capital of Virac, was Ms. Analiza Pabilonia, a 48-year-old mother of three and an owner of a small food enterprise in San Isidro Village in Virac, Catanduanes.
As a result, Analiza was forced to temporarily spend their limited savings to purchase galvanized iron sheets for their house's roof. After that, she found it really difficult to figure out where they were going to get money once more.
She did not hesitate, then, to visit the office of the Department of Social Welfare and Development (DSWD) after someone in their neighborhood informed them that the agency was offering start-up capital through the Sustainable Livelihood Program (SLP) to help small business owners who were badly affected by Typhoon Rolly recover from its effects. To have received the Php 18,000.00 grant, which she considered to be a sizable amount, made her very happy.
SLP's aim under Livelihood Settlement Grant (LSG) is to provide recovery and rehabilitation assistance for small business owners affected by the calamity.
Using the money, Analiza was able to produce goods such as peanut butter, papaya relish, salted peanuts, tuna sandwiches, chakoy, and kakanin, and delivers them to various offices. She also resells fermented fish and cassava chips. Because of her hard work, they earn Php 10,000.00 or more every month.
"Ang kita po namin nitong January, kumikita po yata kami ng mga Php 10,000.00, [noong] February [naman] mahigit po Php 10,000.00. Nitong March po medyo malaki po, nag abot po siya ng Php 15,000.00 po 'yong kita namin," she added.
(I believe we made around Php 10,000.00 in January this year, and we made more than Php 10,000.00 in February. This March, it was quite huge, our sales surpassed Php 15,000.00.)
Aside from the delayed payments of some of her customers, Analiza mentioned that they have not encountered many issues in their business.
They continue to sell and expand their business to this day. From the initial Php 18,000.00, they managed to make it grow, and now they are gradually building up their bank savings. They also have money set aside for daily expenses, money to send her child who is in school, and money to purchase household necessities.
They have also gradually renovated their house using the proceeds from the sales. The cost of the repairs reached a sum of Php 38,000.00 as they have made sure that the house's foundation is sturdy to prevent it from being blown down by future typhoons.
Analiza has found the assistance they have received from the program to be of significant benefit in their recovery and sustaining their way of life.
"Malaking alwan po 'yong sa ngayon na kasali na po ako sa SLP. Kasi bukod doon sa binigay pong malaking puhunan, 'yong ikinita ko po sa pagtitinda dahil po sa binigay ng DSWD, 'yon na po 'yong pinampaayos po namin ng bahay," Analiza shared.
(It is a great relief now that I am a part of SLP. Because apart from the big sum of money, we were able to cover the house's repairs with the proceeds I got from the sales.)
Filipinos have mastered the art of making the most of what they have, picking themselves up in the face of disasters, and tolerating difficulties, but not Analiza. She acknowledged the effects of Typhoon Rolly and made it a point that they never experienced it again.
While it is true that disasters such as typhoons are inevitable, the devastation does not have to be. May Analiza's story be a lesson for everyone to not just rise from difficulties but also learn from them because only then would the difficulties be worthwhile.
Written by: Io Frenzy Bautista