Azor Family, a ray of hope in the grassroots: A Huwarang Pantawid Pamilya Story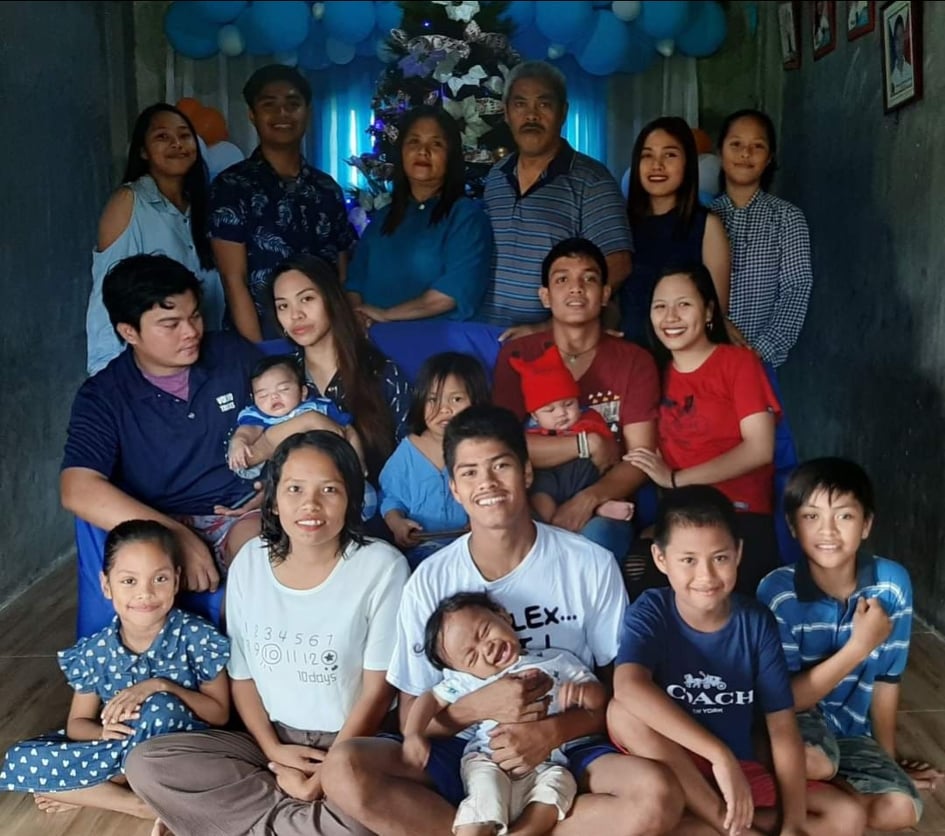 In Pili, Camarines Sur, the Azor family- A Pantawid Pamilyang Pilipino Program household beneficiary has positively impacted the lives of other households in their community despite many challenges brought about not just by poverty but frequent natural calamities.
For Jenny Azor, 48 years old, mother of eleven, and elected as Brgy. Kagawad in Brgy. New San Roque Pili, Camarines Sur, the Pantawid Program helped them to elevate the economic status of their family.
During the Set 5A registration, the Azor family lived in a small house made of mixed light materials and flat galvanized iron, with the household head, Nestor Domingo Azor working as a plastic ware vendor earning a meager income. Given the household's limited income, the family considers the program a huge aid in improving their living condition amidst difficult situations by prioritizing the educational needs of their eleven children.
Jenny beams with pride as she shared that while their children were not achievers in school, they were aware of the trials that the family was experiencing and believed that education was the key to improving their lives. Jenny narrated that her faithful attendance of the Family Development Session (FDS) made a significant impact not just in her personal life but most importantly in the lives of her children.
Through FDS, Jenny learned how to socialize with other people by being confident to speak up. She also acquired different knowledge about human rights, among others.
These new learnings gave her the courage to run for public office as Brgy. Kagawad and top-notched the election. She now heads the Violence Against Women and their Children's Committee. Jenny attributed her success in the election to her FDS experiences. She is also the proponent of three barangay ordinances namely; the Intriguing Against Honor Bill, an Ordinance prohibiting minors from buying liquors and cigarettes, and Giving Penalties to store owners who violated the above-mentioned ordinance.
These ordinances address critical issues within their community, promoting safety and well-being.
Her husband lost his work because of the COVID-19 outbreak, adding to the family's already numerous struggles. The family persevered in spite of this and found support in one another. They persisted and successfully used the few funds and Pantawid Program cash grant they were given to keep afloat. They started home gardens, which allowed them to reduce their food costs and gave them access to fresh harvests. The family's response to economic challenges showcases resilience. This resourcefulness has likely inspired others to explore similar strategies for economic stability.
Jenny made sure that each 4Ps payout would go toward their children's school expenses and any additional fees. She continued by saying that their income alone wouldn't be enough to meet the demands of their seven children, who were in school at the time.
Now, Jenny proudly shared that she had been blessed with three professional children: two public school teachers, one of whom was awarded an ESGPP-A, or Expanded Students' Grants-in-Aid Program for Poverty Alleviation Scholarship under 4Ps scholarship, and a daughter serving in the Philippine Armed Forces.
Jenny's family decided to waive the Pantawid Pamilyang Pilipino Program because they believed that by doing so, other low-income families would also be able to receive help from the 4Ps.
Prior to their registration in 4Ps, up until today when they already graduated from the program, the Azor family has actively contributed to the development of their fellow beneficiaries and to their communities. Some of them have served as resource persons during conferences where they shared their experiences as program beneficiaries, while others have led successful community projects such as feeding programs, clean-up drives, free tutoring, and many other initiatives. These initiatives address immediate needs within their community, fostering a sense of solidarity, and unity among beneficiaries.
When asked if they could consider their family as huwaran (role models), Tatay Nestor Domingo stated, "Ang makakapagsabi lang na huwaran kami ay ang mga tao na nakakakilala sa amin. Ngunit hindi sa amin mahalaga kung huwaran ba kami o hindi. Ang tanging nais lang naming mag-asawa ay lumaking may takot at pagmamahal sa Diyos ang aming mga anak".
Jenny's family and the rest of the Pantawid household serve as living proof that through its various interventions, the Department of Social Welfare and Development (DSWD) has helped improve the lives of poor and marginalized individuals and families.
The Azor family's involvement in the Pantawid Pamilyang Pilipino Program has not only improved their own lives but has also benefited their community. Through education, leadership, legislative initiatives, and community engagement, they have become advocates for change and exemplify the program's mission of empowering marginalized individuals and families to break free from the cycle of poverty.