Blooming Mushroom Association in Camaligan, Camarines Sur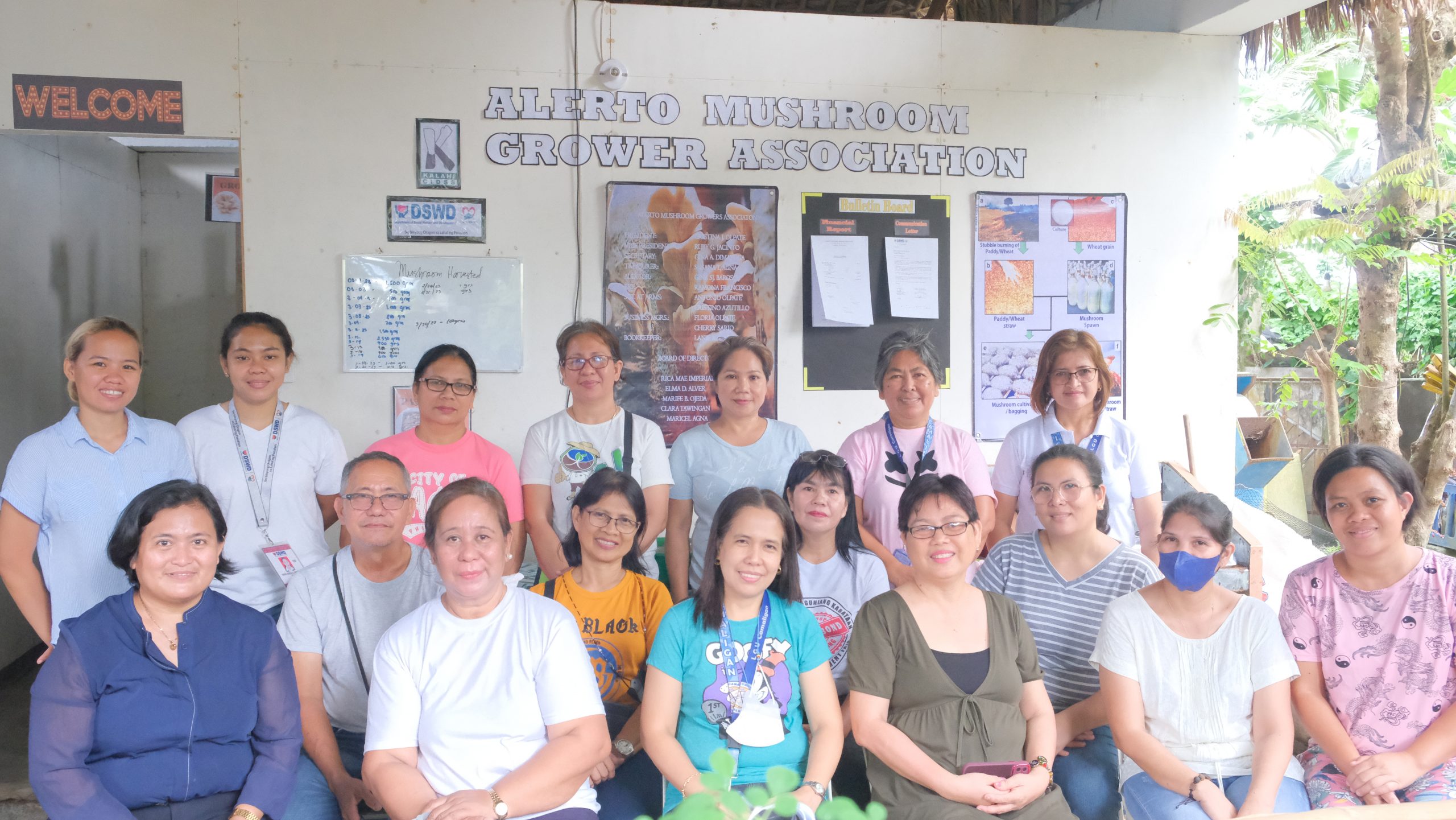 Oyster mushroom has a lot of benefits because of its rich nutrients. It can also regulate blood sugar and reduce heart disease risk factors. Mushrooms also are considered vegan-friendly.
In the Philippines, mushroom cultivation is gaining popularity because of its demand as a good addition to Filipino dishes.
Seeing this an impressive alternative livelihood for Filipinos, selected residents in Camaligan, Camarines Sur attended a series of seminars and training in 2018 focusing on mushroom farming and food production.
They were able to process various mushroom products like pickled mushrooms and cookies. Due to a strong typhoon that hit the town in 2019, their aspiration to expand their livelihood turned to hesitation.
Because of destroyed equipment and facility, most residents decided to lay low.
With the assistance from the Department of Social Welfare and Development Kapit-Bisig Laban sa Kahirapan – Comprehensive and Integrated Delivery of Social Services (DSWD KALAHI-CIDSS) National Community-Driven Development Program – Additional Financing (NCDDP-AF), the community of San Marcos received a grant allocation to implement sub-projects based on the identified problems and interventions.
Since most of the mushroom producers are residents of Barangay San Marcos as well as utilize the knowledge acquired, the community of San Marcos decided to prioritize the construction of a mushroom house along with mushroom fungi and amenities.
With this decision, residents gained renewed hope.
Through funding from DSWD KALAHI-CIDSS NCDDP AF and local counterpart contribution of the local government unit (LGU), the community sub-project amounting to Php 456,329.00 has materialized.
To maintain and sustain the sub-project, the community formed the Alerto Mushroom Growers Association, a 23-member Operation and Maintenance (O&M) organization comprised of the San Marcos residents.
According to Cristina J. Olpate, Association president and community volunteer, the Community-Driven Development (CDD) strategy helped them as an association.
"Ang CDD ay nagpapalabas hindi lamang ng galing kundi ang pag-unawa at pagtukoy ng bagay na mas makakabuti sa lahat," the Association president stated.
(CDD can bring out not only skills as well as understanding and determining interventions that can help everyone.)
To increase the sales of mushrooms, the organization conceptualized various products aside from raw mushrooms.
"Ang produkto namin ngayon [ay] mushroom pickles, kung may nagpapaluto, 'yong mushroom soup, fried mushroom, pang-ulam, 'yong tinumtuman, [at] 'yong Bicol Express," Cristina J. Olpate, Association president said.
(Currently, our products are mushroom pickles, if there are customers who want to have it cooked, we have mushroom soup, fried mushrooms as dishes, tinutumtuman [a Bicolano dish with coconut milk], and Bicol Express.)
According to Cristina, they can harvest at least 800 grams of mushrooms and they would earn at least Php 6,000.00 a month. Using the profits, they convert it as a rolling budget to buy more fruiting bags.
Within the association, the members also assembled a Research and Development (R&D) group to work on the innovations and improvement of products and processes.
"So sila 'yong sigeng research, nagse-seminar, pati pag-luto inaaralan nila kung paano pag-luto, 'yong procedure ng, kasi iba-iba din ang procedure na makikita mo kahit sa YouTube po baga ng paggro-grow ng mushroom so may mga technique kung ano-ano. So tuloy-tuloy po 'yon na pinag-aaralan nila, so 'yan ang pinaka inaalagaan namin 'yong aming research na development group," Butch Jacinto, Bids and Awards Committee (BAC) Chairperson said.
(They are the ones who research, attend seminars, study cooking techniques, and explore proper growing procedures because there are various procedures we can see on YouTube; hence, they keep on studying and researching. We also really value the Research and Development group.)
Butch also added that the organization is planning to expand its business to supermarkets and fresh markets.
The accomplishments will not be possible without the contribution of each member.
"Ang pagkakaisa ng bawat miyembro upang maisaayos ang nasimulan ay napakalaking bahagi sa pagbabago," Cristina described. 
(Cooperation of every member to sustain the early efforts is a big part of change.)
For inquiries on the mushroom products, you may coordinate with Ruby Jacinto or Cristina Olpate through the contact number, 0930 160 3211.