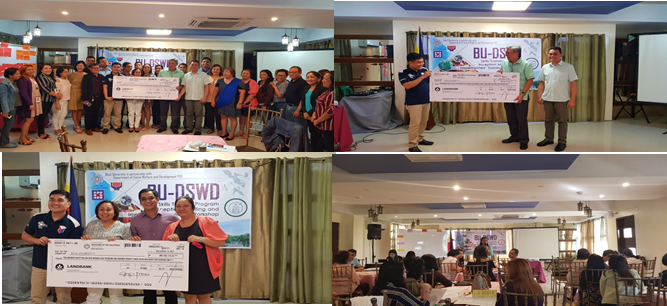 Legazpi City-The Department of Social Welfare and Development (DSWD) attended the Bicol University (BU)-DSWD Skills Training Program Inception Meeting and Implementers' Training Workshop spearheaded by BU last January 18, 2018 at Bicol Food Delight, Barriada Legazpi City.
The one day activity was participated by DSWD FOV Sustainable Livelihood Program Regional Project Management Office staff, Provincial Coordinators and Bicol University Extension Management Division (BUEMD) personnel and extension program implementers headed by Dr. Lester M. Narvaez, Director BUEMD.
Assistant Regional Director for Operation (ARDO) Arwin O. Razo expressed his gratitude to Bicol University for accepting the partnership that will surely change the lives of the program participants and bring more opportunities.
"Hopefully the implementation will be a success and for BU to fully utilize the transferred funds amounting to 280 million pesos and the skills training projects that we were able to deliver the services to them according to purpose, objective and to the target program participants"., he added.
BU President Dr. Arnulfo M. Mascariñas, also thanked DSWD for entrusting funds to the university and implementation of sustainable projects. He is also assured that with his team, the Extension Management Division (EMD) will do their best to make it successful and mark a good impression to DSWD.
Based on the Memorandum of Agreement between BU and DSWD, BU will provide technical education and skills training in order to develop and empower the Pantawid Pamilya Beneficiaries through the long-term livelihood opportunities using sustainable livelihood framework. DSWD on the other hand, will provide technical assistance and collaborate in the implementation of the Skills Training Program for the Pantawid Pamilya beneficiaries.
The activity highlight was the turn-over of check amounting to P280M to Bicol University for the implementation of agricultural and non-agricultural trainings in Region V.
Furthermore, the BU-DSWD Skills training Program Inception Meeting and Implementer's Training-Workshop aims to discuss and finalize the proposed guidelines in the implementation of the skills training program.
Lastly, BUEMD Director Lester M. Narvaez accepted the challenge in the implementation of the projects and he guaranteed DSWD that the funds transferred to BU will bring significant impact to the beneficiaries.
SLP is a community-based capacity building program that aims to improve the socio-economic condition of the participants. It facilitates interventions that expand the livelihood asset base of the participants (human, social, physical, natural, and financial capital) so they may either have gainful employment or successfully manage a microenterprise. #PRNPOJ01/22/2018