Legazpi City—The Department of Social Welfare and Development Field Office V has its stockpiles ready for the effects of Tropical Depression Usman which is expected to be felt in Bicol tomorrow (December 27, 2018) according to the latest Philippine Atmospheric, Geophysical and Astronomical Service Administration (PAGASA) weather bulletin released at 11am today.
Based on the December 25, 2018 Disaster Response Operations Monitoring and Information Center (DROMIC) report for Bicol, there are 6,323 family food packs (FFPs) available at DSWD Warehouse located Bogtong, Legazpi City.
Other food items at the DSWD warehouse are still for repacking which includes the following items: 403 sacks of NFA rice, 436 boxes Argentina beef loaf, 420 boxes of 555 Tuna flakes, 551 boxes of Sardines, 1,194 boxes of corned beef, 487 boxes of 3in1 coffee.
While the table below shows the standby goods allocated to different areas and will be released and distributed by DSWD volunteers upon the official DSWD announcement: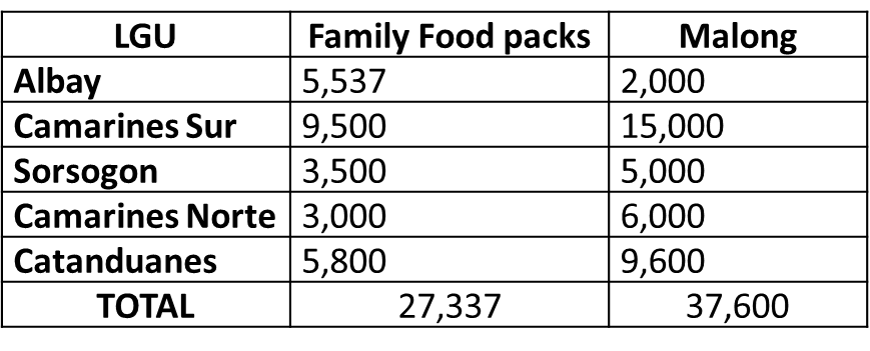 Non-food items are available such as 376 sets of tents, 9,063 boxes of sleeping kit, 623 pcs dignity kit, 1,996 boxes family kit, 2, 295 boxes hygiene kit, 110,296 pcs. Malong, 327 rolls laminated sacks, and 46,346 pcs blanket.
The DSWD Field Office V has Php3,229,182.32 stand by funds for disaster operations.
Moreover, DSWD FO V Disaster Response and Management Division (DRMD) is closely monitoring the weather updates and information while the DSWD FO V Quick Response Teams (QRTs) were alerted and advised to be prepared for augmentation support needed from the field and/or 24/7 duty at the DRMD Operation Center.
The Provincial Action Team (PAT) and City/Municipal Action team (C/MAT) members in the six provinces are on standby. The DSWD employees deployed in different cities/municipalities were instructed to coordinate with the Local Disaster Risk Reduction and Management Offices (LDRRMOs) for status reports and updates.
In case of power and communication outage, DSWD's Emergency Telecommunication Equipment is on standby and ready for deployment as the need arises.