Cattle Raisers SLPA receive livelihood from DSWD-SLP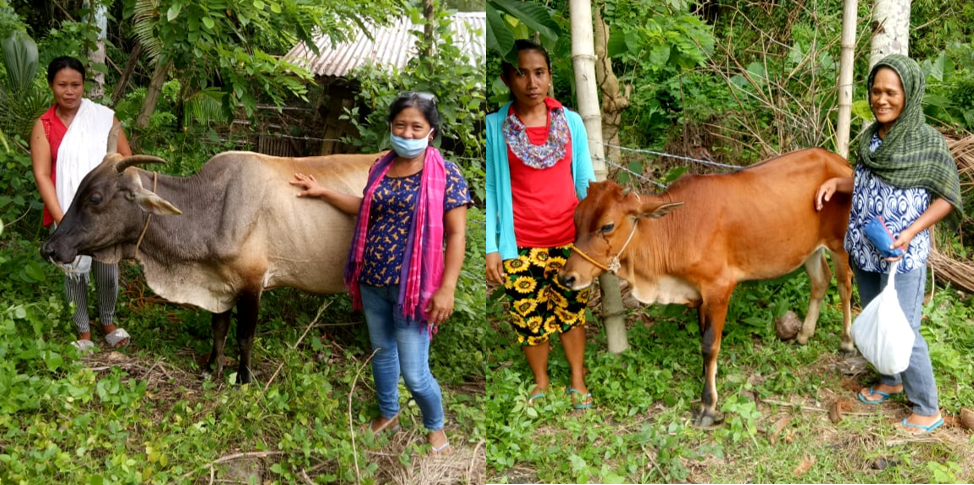 Program participants of Sitio Talisay Cattle Raisers SLPA receiving the cattle at Sitio Talisay, Brgy. Bagumbayan, Cataingan, Masbate.
The Department of Social Welfare and Development (DSWD) through its Sustainable Livelihood Program awarded the total amount of Php 435,000.00 to Sitio Talisay Cattle Raisers SLPA of Sitio Talisay, Brgy. Bagumbayan, Cataingan, Masbate last September 14, 2020. The aforementioned fund was under the 2018 General Appropriation Act (GAA) and was allocated to purchase 10 cattle for cattle raising.
Before the project implementation, program participants have undergone training on basic livestock raising provided by the Department of Agriculture (DA) to increase the productivity and sustainability of the chosen livelihood.
The livelihood was under the Microenterprise Development-Seed Capital Fund (MD-SCF) modality of SLP, which aims to provide financial support to the program participants.
Program participants availing of the SCF modality were organized into associations and have been accredited by DSWD. Organizing them into association is one way of providing capability building by the program to ensure the sustainability of the chosen livelihood.
SLP is a community-based capacity building program that aims to improve the socio-economic condition of the participants. It facilitates interventions that expand the existing livelihood assets (human, social, physical, natural, and financial capital) of the participants so they may either have gainful employment or establish their chosen micro-enterprise.
The Local Government Unit (LGU) of Cataingan expressed their support to the SLP projects implemented in their municipality through continuous technical assistance and monitoring of projects with the help and coordination of DSWD-SLP.
In return, the Sitio Talisay Cattle Raisers SLPA members expressed their commitment to work hard and see new opportunities in the livelihood provided for them.
For 2018, the Sustainable Livelihood Program – Region V targets 14,226 poor and vulnerable individuals for micro-enterprise development and employment facilitation with a total financial allocation of Php 306,058,164.00.