Change Agents: How the young generations recalibrate the future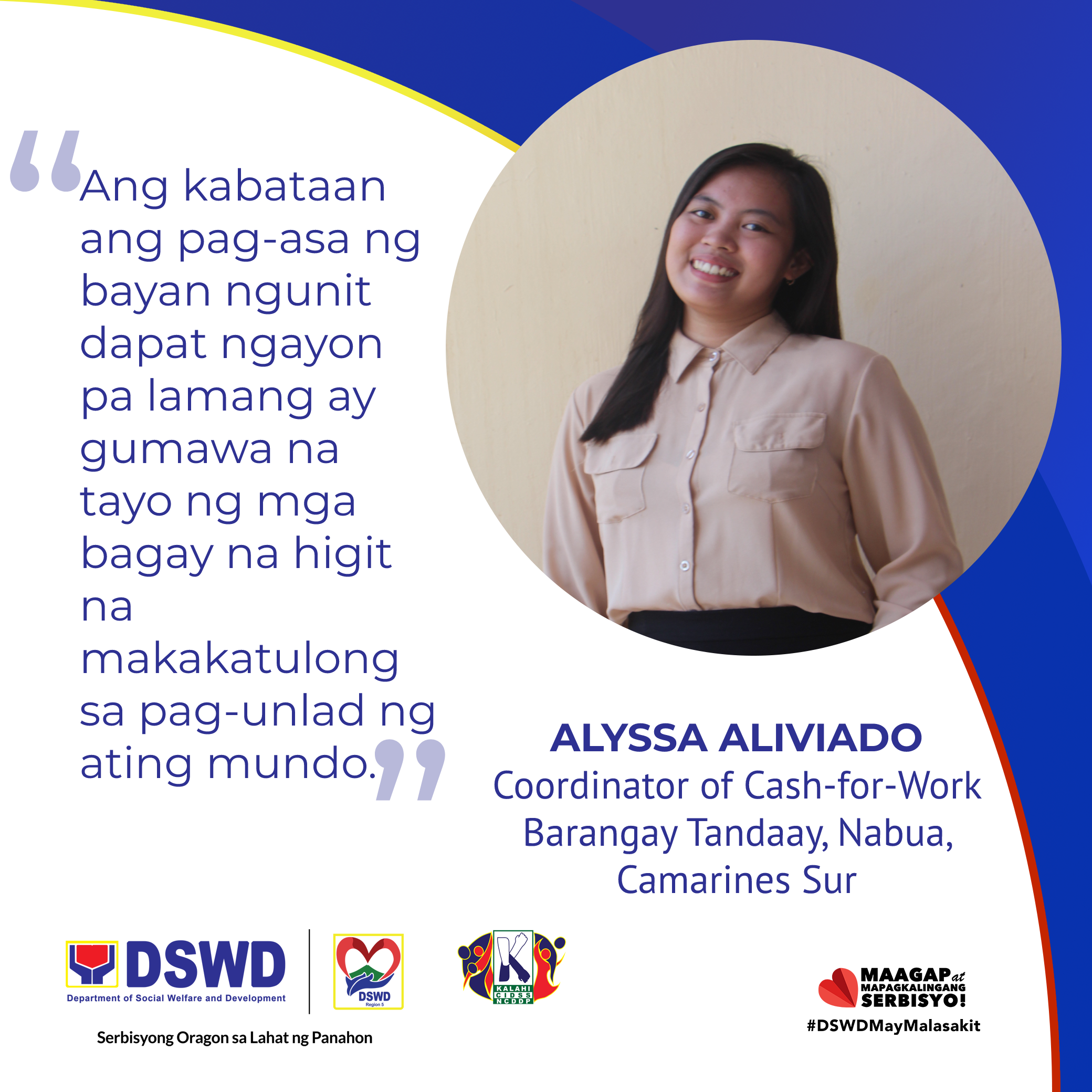 A true leader always seeks a better future for their community. In today's generation,  the willingness of the youth becomes evident when it comes to community service. Social media platforms and other trends serve as a huge impact in their lifestyle. But a certain lady shows to everyone, from her young age until today,  that she could be a good influence to her constituents as a competent leader.  
Alyssa Aliviado, a youth leader of  Barangay Tandaay, Nabua,  Camarines Sur, shared her story as coordinator of Cash- for- Work sub-project of the Department of Social  Welfare and Development Kapit Bisig Laban sa Kahirapan – Comprehensive and Integrated Delivery of Social Services (DSWD KALAHI- CIDSS)  in their community.  
The Cash-for-Work is one of the sub-projects of DSWD KALAHI-CIDSS where it provides temporary employment for individuals by participating in activities of their communities. The recipients that participate in the program will be provided with cash to support their needs and necessities. Implementation of the Cash-for-Work shall be managed by the communities.  
Despite the problems the rise of the pandemic has inflicted on her mental health, her learning and experiences as a student and youth leader have motivated her to continue pursuing what she loves. 
According to Alyssa, when she became a coordinator of Cash- for- Work of DSWD  KALAHI- CIDSS, it was fulfilling and challenging at the same time to be part of this kind of project especially since she is able to help the environment while earning. 
She also added that she is happy to see that DSWD focuses on the youth sector which gives them a chance to interact, socialize and go out of their comfort zones,  significantly when the pandemic took place. 
"Ang project na ito ay ang gandang tingnan na lumabas yung mga kabataan ulit sa  bahay nila pero with a purpose na kung saan maglilinis, tutulong sa environment  magkakaroon ng community service pero in return magkakaroon sila ng pera." 
(This project becomes an avenue for the youth to go out and be involved in purposeful  community particularly to help with environment preservation while earning their  keep.) 
Through the sub-project, she learned how to handle difficult situations regarding the implementation of the program; example was the negative comments relative to the process of identifying a beneficiary. To resolve the issue, Alyssa explained the guidelines comprehensively for them to understand the program better, an effective approach she considered.  
For the past few years of being a youth leader and a role model to her community,  Alyssa earned her title as one of the trusted leaders in community service. People believed in her capability as a good leader. She learned valuable knowledge and experiences from being a student and a leader. 
"Ang kabataan ang pag-asa ng bayan ngunit dapat ngayon pa lamang ay gumawa na  tayo ng mga bagay na higit na makakatulong sa pag-unlad ng ating mundo," she  advised. 
(The youth is the hope of our land but we should act now and do things that will help  improve the world.) 
Alyssa also believes that we do not have to wait for the next generations to create positive change. 
"Mas maganda yung nakakatulong ka without asking for anything in return," she  concluded.  
(It's good to be able to help without asking for anything in return.)
ABOUT THE PROGRAM
To hasten approval of community projects and implementation during pandemic, DSWD KALAHI-CIDSS uses the Disaster Response Operations Modality (DROM), a simplified Community Empowerment Activity Cycle (CEAC) that still follows the principles of CDD.
Last year, the program implemented the Kapangyarihan at Kaunlaran sa Barangay (KKB) in 14 municipalities of Bicol Region. 
DSWD KALAHI-CIDSS KKB funded the Cash-for-Work sub-project in Nabua, Camarines Sur with a grant of PHP 7,366,612.86. A total of 2,368 beneficiaries mostly in the youth sector benefited from the sub-project that started on December 19, 2021 until December 30, 2021. 
For more details about DSWD KALAHI-CIDSS, follow this link: https://kalahi.dswd.gov.ph/about/community-driven-development
Written by: Reysa Marie M. Roda, DSWD Intern
With reports from Area Coordinating Team (ACT) Nabua, Camarines Sur