Dir. Leo L. Quintilla sits as the New Regional Director for DSWD Bicol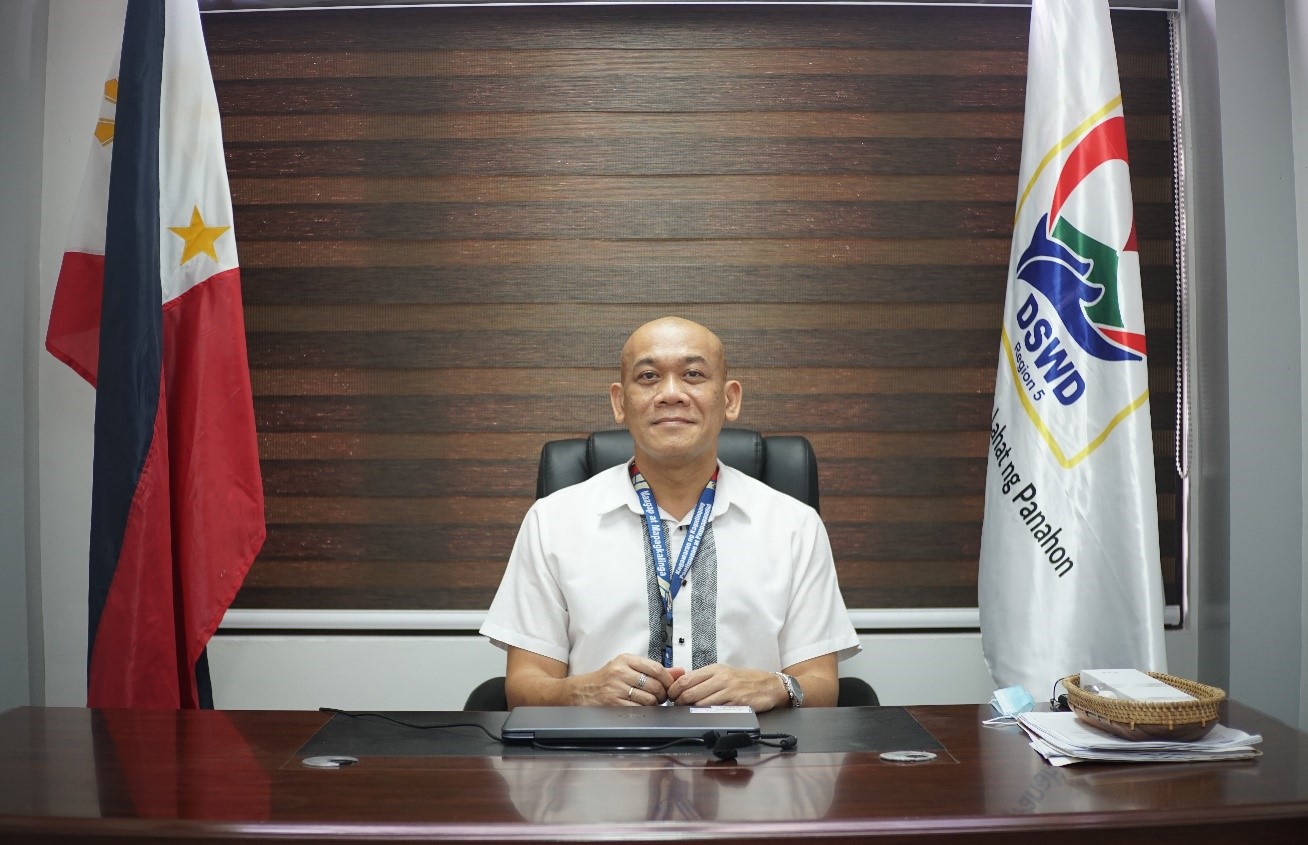 FO5 Welcomes a New Leader
During the Regional celebration of the 70th Founding Anniversary of the Department of Social Welfare and Development (DSWD) held last March 26, 2021, Field Office 5 welcomed its newest leader – Regional Director Leo L. Quintilla, who attended the said event virtually while recovering from the pangs of the COVID-19 disease.
In the ceremonial turnover, RD Arnel B. Garcia, CESO II, the RD of Field Office 5 for eight (8) great years, graciously handed over the symbolic flag – The Regional Banner representing the Regional Leadership to Sec. Rolando Joselito D. Bautista, presiding officer. The Secretary turned over the flag of leadership to RD Quintilla who welcomed the challenge with much eagerness and enthusiasm.
The New Regional Director
Dir. Leo L. Quintilla is married to Mrs. Alzena Juanillo-Quintilla and gifted with one son. They hail from Iloilo City,  a province in the Philippines located in the Western Visayas region. In his free time, he does trail running, mountain biking, and fishing. This very active and sporty Regional Director is likewise a very loving husband and father.  He like spending quality time with his family mainly by preparing them food and the like.
As a budding leader, he demonstrated accomplishment in areas of social development, health research, project management, gender studies, public administration and disaster risk reduction. He has extensive trainings in the aforementioned fields and has produced literatures and research methodologies in community-driven development (CDD), and gender development.
He earned his Master's degree in Anthropology from UP Diliman- Colleges of Social Sciences and Philosophy (CSSP). He also completed academic requirements for Masters of Management Major in Rural Development Management from UP Visayas.  He earned his Bachelors of Arts Major in History from UP Visayas, with units in Community Development and Political Science.
Before his stint in DSWD, he joined various Philippine and International NGOs as a researcher and project implementer. He joined UPV as a member of the faculty in 1997 and he taught courses in history, anthropology, community development and political science and disaster risk reduction. He has published and presented papers on local history, community development and adolescent sexuality.
He joined DSWD in 2007 as a consultant of KALAHI-CIDSS taking on various positions like Senior Research Monitoring and Evaluation Officer, Community Process Specialist and as the Deputy Regional Project Manager (DRPM) in 2010-2016 that implemented the National Community Driven Development Program (NCDDP) with support from the World Bank, Asian Development Bank, and Australian Agency for International Aid (AusAID).
In 2016, he was appointed as the Chief Administrative Officer of DSWD Field Office VI and was engaged in various divisions to improve support services to programs and services. He supported initiatives to improve business processes and financial management.
He was sent to various international trainings and conferences like the UNCHR's Humanitarian Negotiation in 2017. He was also sent as a member of the Philippine Delegate in the 2016 Asian Ministerial Disaster Risk Reduction Conference (AMDRRC) in Bangkok, Thailand to present the Philippine's experience in the use of CDD in disaster operations and in the Asian CDD Conference held in the Philippines.
On July 1, 2019, he was designated as the OIC Regional Director of Field Office CAR. Director Quintilla exudes the aura and the true spirit of a great leader. His stint as the OIC of FO CAR brought an era of peak performance, innovation, and transformation, which translated into better delivery of programs and services to the target sectors of the Department.
According to CAR employees, "He is a competent leader that sees situations holistically, equally, and intelligently".
Greater Challenge and Responsibility
DSWD Bicol, a mega region with its mega budget, targets and diverse culture and politics, poses a really big challenge to the newly designated RD of the region. The Field Office 5, known for being one of the top performing Field Offices in the country, the holder of the Best SAP Implementation for Mega Region category, and the home of outstanding innovations, definitely holds a very impressive record to maintain or surpass when it comes to service and performance excellence.
RD's First Day in DSWD Bicol
RD Quintilla, recovered and ready, arrived in Bicol last April 21, 2021. He immediately visited DSWD Buraguis Office to personally check on the office and personnel's situation after the threat of Typhoon Bising. The following day, he met with all the Division Chiefs and Section Heads to get to know them better. As a consensus of everyone's opinion, FOV's impression of RD Quintilla is one of a combination of kindness, charisma and strong leadership. A very promising future lies ahead of DSWD Bicol.
A Promise to DSWD Bicol
As RD Quintilla sits as the new Regional Director for DSWD Bicol, he solemnly gave his promise to continuously uphold service and performance excellence and to do better especially in coming up with new processes that will hasten the effective and efficient delivery of social services to Bicolandia. Now an Oragon, he encouraged his team to work more closely
together to meet and hit targets with flying colors especially now that the implementation of the Mandanas Ruling is forthcoming.
According to RD Leo, "as the key player in the implementation of social welfare and development programs and services, we should not just focus on preparing the LSWDOs in the implementation of the Mandanas Ruling but more so, let us prepare ourselves for this very big change."