DSWD Bicol celebrates 70 years of Serbisyong Oragon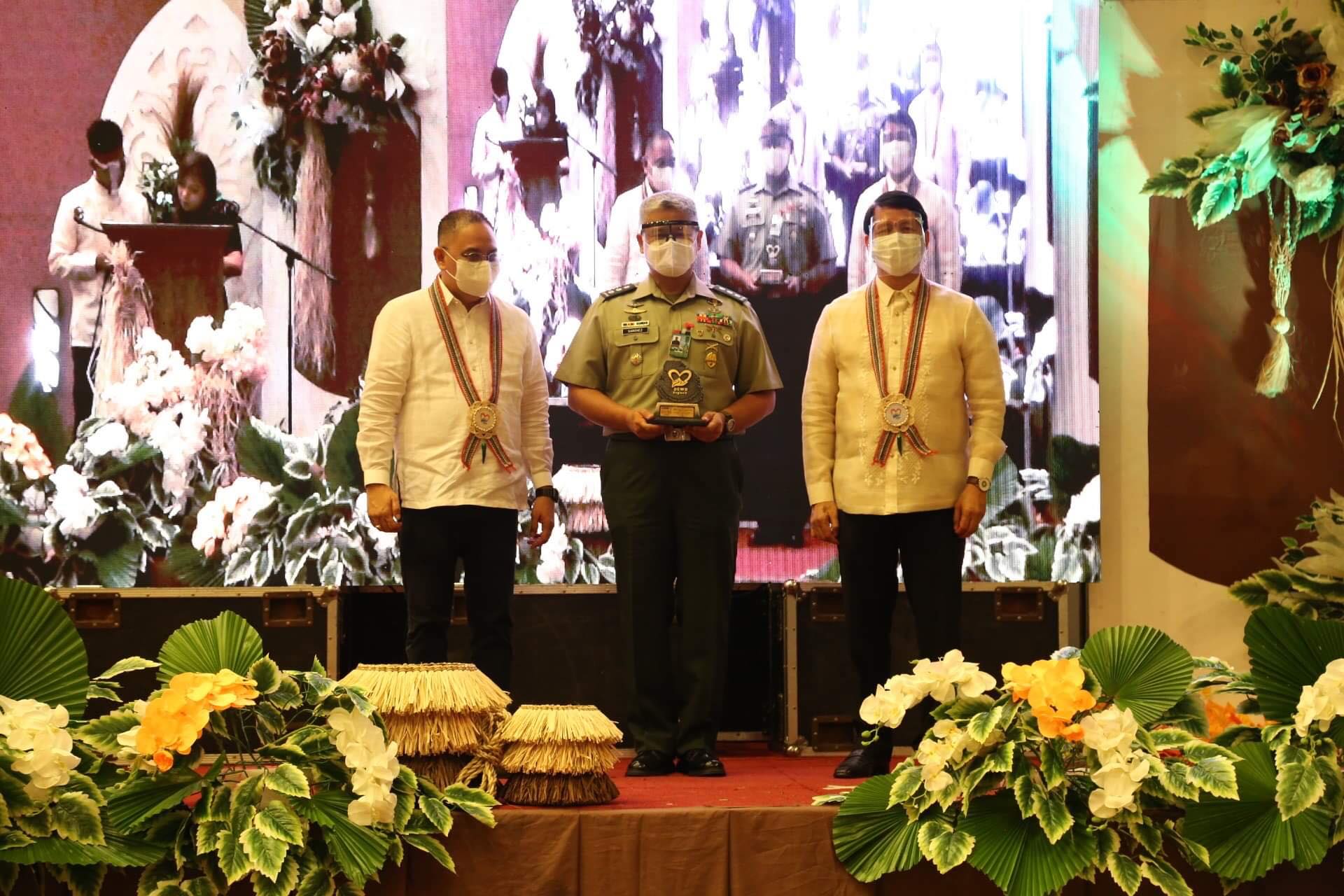 Armed Forces of the Philippines (AFP) RO5, one of our partners, received a Vulcan Award for the agency's invaluable support and assistance during the distribution of the Social Amelioration Program (SAP) to qualified beneficiaries of the Bicol Region. Award received by Col. Alfredo Sanchez in behalf of MGen Henry A. Robinson Jr., PA Commander 9th Infantry (SPEAR) Division, Philippine Army, Camp Elias Angeles, San Jose, Pili, Camarines Sur.
National Celebration
Notwithstanding the pandemic, the Department of Social Welfare and Development (DSWD) Bicol in all its glory, joined the National celebration of the 70th founding anniversary of the Department with the theme, "DSWD@70: Kabalikat ng Mahihirap sa Panahon ng Pandemya."
For this year, the focus was on recognizing the selfless service of its personnel, partner agencies, beneficiaries, and stakeholders who contributed and helped DSWD in carrying out its mandate effectively and efficiently amidst the pandemic.
During the Annual Program on Awards and Incentives for Service Excellence (PRAISE) Awarding held virtually last January 29, 2021, the Field Office 5 garnered the Best SAP Implementation Award under the Mega Region Category. RD Arnel Garcia, CESO II was a national finalist for the Best Manager and Ms. Ellen Alcantara for the Best Technical Staff.
The Annual PRAISE recognizes and rewards officials and employees for their outstanding contributions in the improvement of government operations. Likewise, Loyalty Awards are given to employees and officials who have rendered 10 years or more of faithful government service. Stakeholders and partners are also recognized for their invaluable support and contribution to the successful implementation of DSWD's programs, projects, and services especially this time of pandemic.
Regional Celebration
DSWD Bicol also had its regional anniversary celebration held last March 26, 2021. It gave recognition to exemplary and performing employees under different categories – Loyalty, PRAISE, Service, MANCOM's Choice and Outstanding Innovators. Top Performing LGUs during the SAP Implementation were also recognized including partner agencies that made the region's delivery of social services more effective and efficient during the pandemic.
The MANCOM's Choice Awards is the first in Bicol which aims at recognizing top performing employees who can possibly compete for the National PRAISE Awards of the Department. Nominations by each division were screened and voted upon by the Management Committee to ensure just and fair selection of the best and the finest.
Ceremonial Turnover of Leadership
One of the highlights of the event was the turnover of Regional Leadership between Outgoing Regional Director of FO5, Arnel B. Garcia, CESO II and the Incoming Regional Director of FO5, Leo L. Quintilla represented by the turnover of the office symbol – the DSWD Bicol Banner – the symbol of authority as Director of the Region. The Assistant Regional Director for Operations, Arwin O. Razo read the Special Order indicating the Reassignment and facilitated the turnover of the office symbol.
The two Regional Directors will be swapping assignments – RD Garcia from Bicol to Cordillera, and RD Quintilla from Cordillera to Bicol.
DSWD Secretary Rolando Joselito Bautista presided over the ceremony and personally handed over the awards to the employees and stakeholders. In his message, Sec. Bautista thanked RD Garcia for his eight (8) wonderful and remarkable years of hard work, determination and selfless service as Regional Director of Field Office 5. His genuine leadership contributed to a very large scale, in accomplishing not only the mission of this Region, but to the entire DSWD as well.
He further encouraged the men and women of DSWD Bicol to continue what the outgoing Regional Director has passionately led his team to do. RD Garcia, proud and happy of the achievements of DSWD Bicol, graciously handed over the flag of leadership to Sec. Bautista who in turn handed it over to RD Quintilla, who participated virtually. In his acceptance speech, the latter wholeheartedly accepted the challenge with a very positive outlook and eager determination to be a part of the Oragons in serving the people of Bicolandia.
This remarkable event marks the beginning of another journey for DSWD Bicol under the flagship of a new regional director with the same zest and ardor as the outgoing one. The men and women of Field Office 5 is truly thankful to the continues support of partner agencies and stakeholders in all its endeavors in bringing the programs and services of the government to the Bicolanos branded as Serbisyong Oragon Sa Lahat ng Panahon. ###