DSWD Bicol Distributes the Php65M 2nd Tranche of the Emergency Cash Transfer for Mayon Volcano Evacuees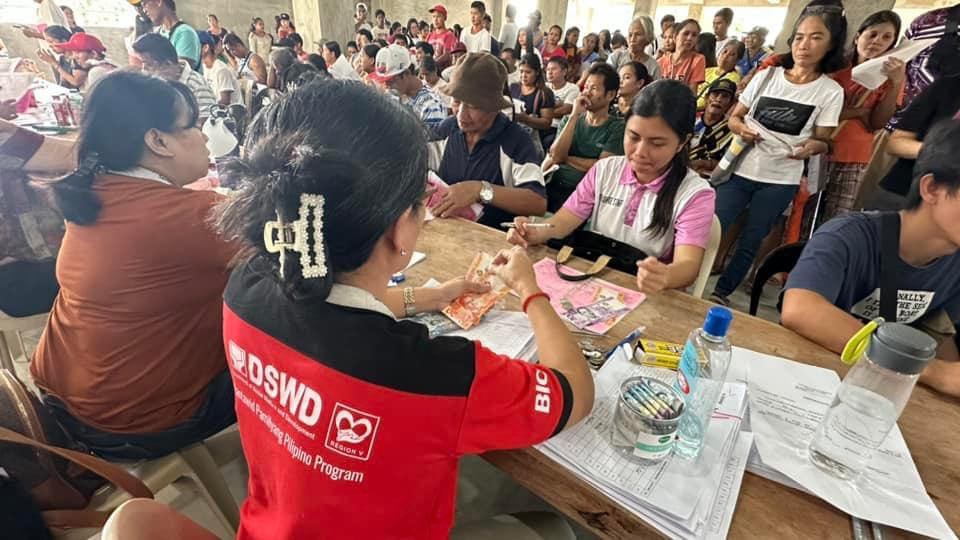 DSWD Field Office V personnel distributes the 2nd tranche of the financial aid amounting to Php 12,330.00 each to a family affected by the Mayon Volcanic Eruption yesterday, October 13, in Camalig, Albay, thru the ECT Payout.
ALBAY, PHILIPPINES – The Department of Social Welfare and Development Field Office V (DSWD FO V) starts distributing the 2nd tranche of the Emergency Cash Transfer to affected families of the Mayon Volcanic eruption.
As a testament to the commitment of President Ferdinand Romualdez Marcos Jr. through DSWD Secretary Rex Gachalian, to the Bicolanos affected by disasters, DSWD FO V thru its ECT program will be releasing the cash assistance from October 13 (Friday) to 15 (Sunday), 2023, to 5,289 families who sought shelter in evacuation centers for nearly four months across seven affected Local Government Units (LGUs) in the Province of Albay.
These families have returned home after an advisory was released by the provincial government of Albay on October 5, 2023. They were given by DSWD Bicol food packs until October 9 as a take home assistance.
As a follow up assistance, each affected family, whose livelihood has been disrupted due to the Mayon Volcanic Eruption, will receive PHP 12,330.00. This financial support is aimed at assisting them with their daily needs and consumption. This is also a response to the agency's efforts to aid in the early recovery of these affected families.
Yesterday, October 13, 2023, a total of PHP 22,218,660.00 worth of ECT has been distributed to 1,802 beneficiaries in Camalig, Ligao, and Guinobatan. Tomorrow, October 14, the agency will extend its distribution to beneficiaries in Daraga (573) and Malilipot (908).
The program concludes on October 15 with 1,544 beneficiaries in Santo Domingo and 444 in the City of Tabaco expected to receive ECT.
The ECT program serves as an adaptive strategy bridging the gap between immediate disaster relief, humanitarian response, and early recovery support. It offers essential cash aid for families in areas declared under a state of calamity.
As the vice-chair for National Disaster Response, DSWD is committed to upholding the integrity of the ECT process, ensuring the efficient and effective delivery of services and programs to disaster-stricken families.
This substantial assistance is a beacon of hope for those affected by the Mayon Volcanic eruption, offering them the support needed to rebuild their lives.