DSWD Bicol prepares for Mayon response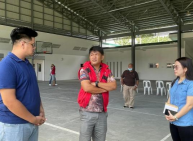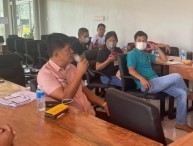 Left: Regional Director Norman S. Laurio attended a meeting with the City DRRM Office of Legazpi City  last Monday, 10 October 2022 to discuss DSWD's preparedness for response activities for Mt. Mayon.  Right: RD Norman along the DSWD team visited various facilities to be used as Evacuation Centers  should Mt. Mayon erupt
Albay – The Department of Social welfare and Development (DSWD) Bicol prepares for possible response operations for Mayon Volcano. Last Friday, 7 October 2022, the Philippine Volcanology and Seismology raised Mt. Mayon to Alert 2 due to unrest that could lead to phreatic or magmatic eruption.
Preparing to respond
In preparation for possible response operations, DSWD Bicol began visiting evacuation centers in local government units within the Mayon cluster. This is to ensure that the facilities are safe and at par with the standards of evacuation centers. Regional Director Norman S. Laurio also attended coordination meetings with Legazpi City and Guinobatan to discuss DSWD's preparedness actions. 
Stockpile of Supplies
As mandated, the agency must maintain at least 20,000 Family Food Packs (FFPs) for relief augmentation. As of 13 October 2022, DSWD Bicol has a total of 29,518 FFPs and 47,261 non-food items. To efficiently facilitate relief augmentation, the agency also prepositioned FFPs to 20 LGUs and non-food items to six LGUs across the region. The prepositioned goods were strategically placed to ensure that DSWD will be able to provide assistance immediately. 
Manpower Complement
Aside from food and non-food items, DSWD Bicol through its Disaster Response Management Division conducted capability building activities for Camp Coordination and Camp Management, establishment of Child and Women-friendly Spaces, and recently, Warehouse and Logistics Management to ensure that DSWD staff and its LGU counterparts are equipped with necessary skills to effectively respond during disaster operations. To date, DSWD Bicol has 33 staff trained on CCCM and DROMIC Reporting and 34 staff trained on establishing Women and Child-friendly spaces ready for deployment.