DSWD continues to provide its selfless service to the Bicolanos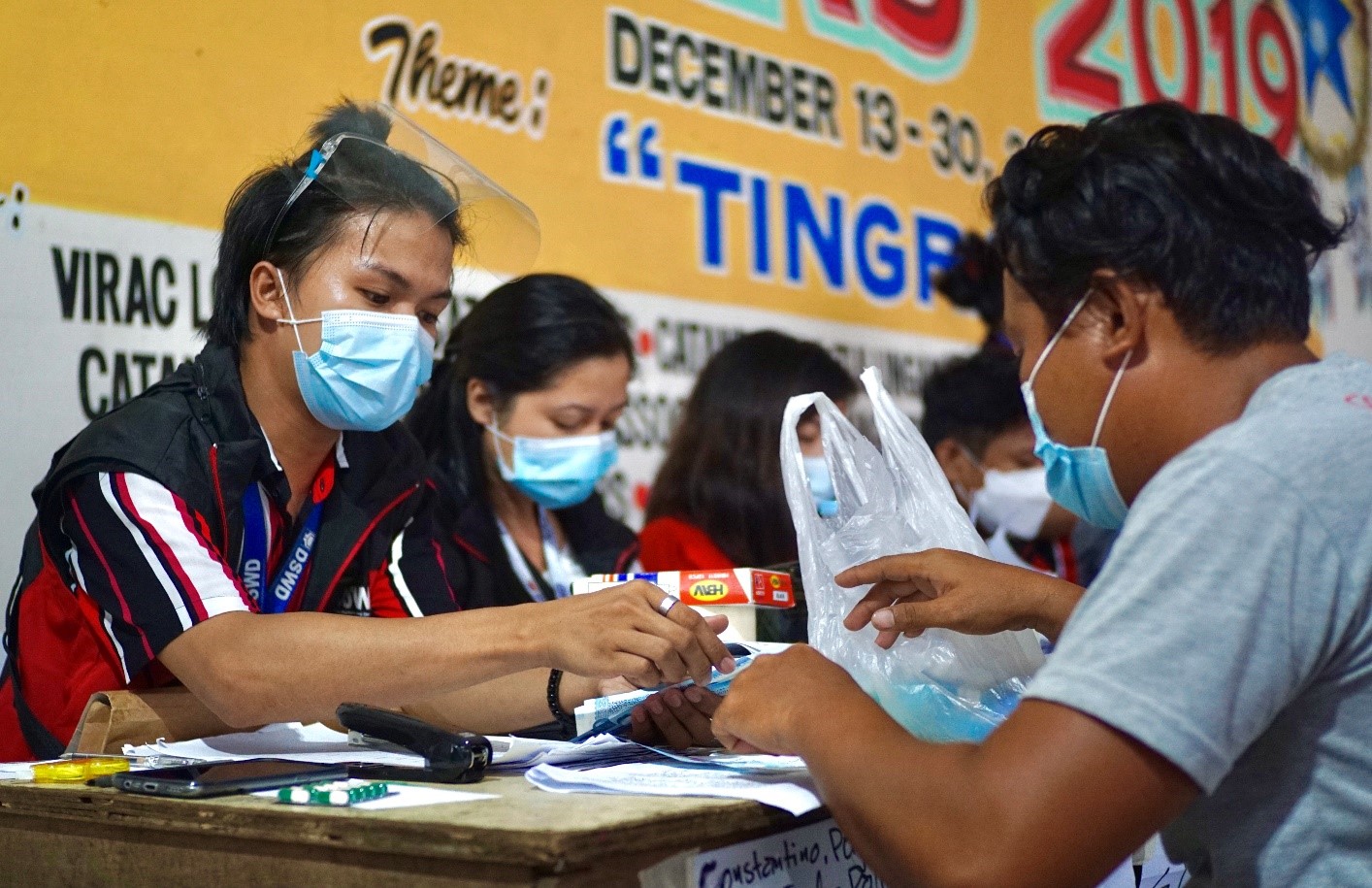 DSWD AICS staff releasing financial assistance to families with totally and partially damaged houses in Virac, Catanduanes last November 10, 2020.
True to its mandate and as the lead agency in the Food and Non-Food Cluster during disaster response, The Department of Social Welfare and Development (DSWD) continues to strengthen its monitoring and emergency response operations to immediately address the needs of localities affected by weather disturbances, volcanic eruptions, armed conflicts, and other natural and man-made hazards, through prepositioning of relief goods in strategic warehouses nationwide, mobilizing field staff and activating quick response teams (QRTs), providing  augmentation support to requesting local government units (LGUs), Camp Coordination and Camp Management (CCCM), and providing Psycho-Social Intervention Sessions to affected individuals.
With the three (3) consecutive typhoons that drastically hit the entire Bicol Region within thirty (30) days starting with Typhoon Quinta (September 25), immediately followed by Super Typhoon Rolly  (November 1) and the recent Tropical Storm Ulysses (November 11), DSWD Bicol wasted no time in ensuring that help immediately reaches those badly affected localities with assistance from line agencies such as DOH, OPABA, OCD, DPWH, DEPED, PAF, PN, PCG, AFP, PNP, BFP, and PLGUs.
Sec. Bautista flies to Catanduanes
Last November 3, DSWD Secretary Rolando Joselito Bautista flew to Bato, Catanduanes bringing with him 1,320 family food packs onboard C295 and C130 to ensure that the severely affected families are immediately provided for. He was assisted during the relief distribution by RD Garcia and Catanduanes Governor Joseph Cua. An additional 1,200 family food packs and 100 rolls of laminated sacks arrived the same day via sea travel through the help of the Philippine Coast Guard and the OCD.
Sec. Bautista came back to Catanduanes last November 10 together with USEC. Aimee Neri and 4Ps National Program Director Gemma Gabuya to visit the municipality of Bato and Virac, Catanduanes and to personally oversee the cash distribution of the financial assistance for the beneficiaries with partially and totally damaged houses in the said municipalities.
Continuous provision of assistance
DSWD was able to provide a total of P48,424,339.40 worth of assistance to Local Government Units (LGUs)  for STY Rolly, and P4,417,500.00 for TY Ulysses as of this date.
The families of the casualties due to super typhoon were each given 10,000.00 cash assistance under the Department's Assistance to Individuals in Crisis Situation (AICS). Validation is still ongoing for reported casualties and injured persons during the onslaught of the super typhoon with the help and coordination of C/MSWDOs and BLGUs.
Psycho-social intervention sessions are likewise being provided to affected individuals to help them cope with the traumatic experience.
As head of the Camp Coordination and Camp Management Cluster, DSWD continues to monitor the situation of evacuation centers by the LGUs ensuring that evacuees are taken cared of and that health protocols are being observed. From 8,032 families still inside evacuation centers affected by STY Rolly, the figure today now reached 113,620 because of TY Ulysses.
The Department has quick response fund of P3,000,000.00 and P15,000,000.00 for welfare goods. There are 24,897 family food packs available right now at the DSWD warehouses in Legazpi City, Camarines Norte, Camarines Sur and Masbate.
Bicolanos' spirit of resilience
Bicol is still reeling from the effects of the consecutive typhoons that devastated the whole region, but DSWD FOV with its motto "Serbisyong Oragon Sa Lahat ng Panahon", remains undaunted and is even in closer coordination with the Local Government Units (LGUs) despite the difficulties in transport due to floods and landslides, for its continuous provision of assistance to affected families.
Through its Emergency Shelter Assistance program, the Department is set to assist typhoon victims in the reconstruction of their totally damaged houses which is currently being validated by the C/MATs of each city/municipality.
Amidst the terrible destruction and situation– 38,670 displaced families, casualties and injured persons, broken houses, totally submerged barangays and unpassable roads due to floods and landslides, power lines and telcos down, and with COVID-19 still the primary concern, the Bicolano spirit of resilience perseveres. Bangon Oragon.