DSWD FOV releases Educational Assistance to students-in-crisis of the Bicolandia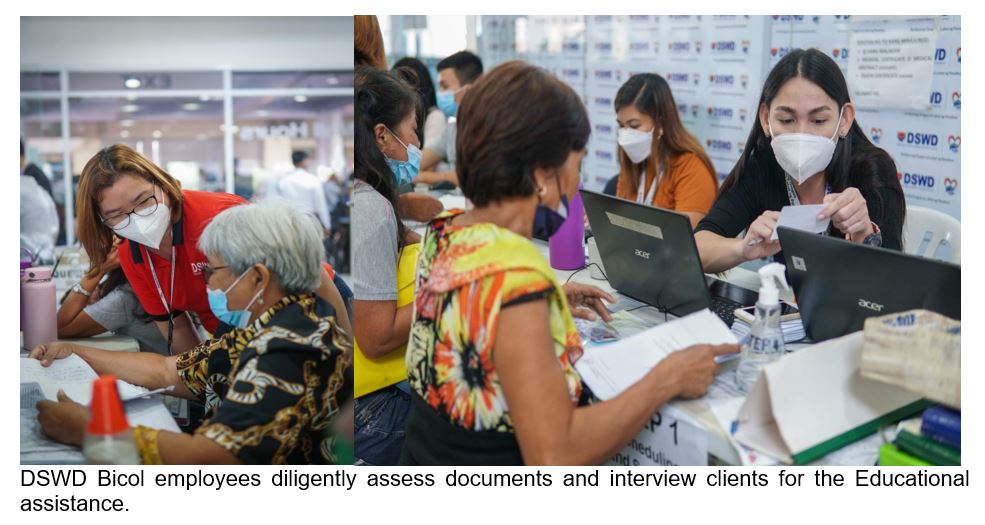 "Education is not a preparation for life. Education is life itself." It is an investment that pays the best interest. This is exactly the reason for Secretary Erwin Tulfo's pronouncement on the immediate and fast release of the Educational Assistance of the Department of Social Welfare and Development (DSWD) under its Assistance to Individuals in Crisis Situation (AICS) Program, for six (6) consecutive Saturdays starting last August 20, 2022. The other schedules are on August 27, September 3, 10, 17 and 24. Accordingly, this assistance ought to be released as soon as possible to aid our students-in-crisis especially that we are still feeling the pangs of the pandemic. This will help students in their school needs such as fees, supplies, projects, allowance, and other school-related expenses. In his video message he announced that the Department will be releasing this cash assistance in the following amounts:
1. Elementary – 1,000.00
2. Junior High School – 2,000.00
3. Senior High School – 3,000.00
4. College/Vocational – 4,000.00
He further reiterated that only students-in-crisis can avail of this educational assistance. He enumerated the following criteria: breadwinner, working student, child of a solo parent, child of a repatriated or in distress OFW, child of a parent with HIV, orphan, child of jobless parents, victims of abuse, and victims of calamity.
In Sec. Tulfo's latest video, he specifically mentioned that beneficiaries of the 4Ps are no longer
eligible to receive the assistance because they are regularly receiving educational aid for their
children. Likewise, those who have scholarship grants are no longer eligible.
The Secretary trimmed down the documentary requirements for the educational assistance. The student/parent will only present the Certificate of Registration/Enrolment and a valid ID of the student/parent. Parents are urged not to bring their children to the payout site for health and
safety reasons. Applications may be thru walk-in or thru online platforms such as emails and
Google links. This is to help minimize the number of beneficiaries expected to come. All
information and updates are being posted in the respective Facebook Pages of each Field Office, including the venues where they can avail of the assistance.
In Field Office 5, a total of 3,296 clients were served during yesterday's payouts with the following breakdown:
Albay – 420 clients – Php 1,213,000.00
Sorsogon – 157 clients – Php 428,000.00
Masbate – 306 clients – Php 834,000.00
Catanduanes – 422 clients – Php 1,458,000.00
Camarines Sur – 1,143 clients – Php 3,678,000.00
Camarines Norte – 848 clients – Php 2,045,000.00
Those who were listed but not served during the first day will have to wait for their schedules.
Same goes to the online applications. The names of the applicants will still be cross-matched to
our database to ensure that there will be no duplication of assistance. A text message will be sent to the contact numbers provided by the applicants informing them of their schedules of payout.
For the next batch of payouts, DSWD Field Office 5 encourages the public to follow its official
page DSWD Region V for regular and legitimate updates. The agency reiterates that they will not
ask for any personal information or any amount of money for registration or possible inclusion to any of its programs.
The Angels in Red Vest of DSWD Bicol in the different provinces were able to serve this much
despite the many challenges encountered. With the help of our other partner agencies such as
the LGUs which provided logistical support, medical team and venue, the PNP for the security
and crowd control, and the media partners who constantly help in information dissemination. The first Saturday of the distribution of the Educational Assistance was indeed a big success and we were able to once again give our "Serbisyong Oragon sa Lahat ng Panahon.
The passion to serve is the lifeblood of DSWD embodied in its slogan, "Maagap at
Mapagkaligang Serbisyo." The Department will continue to prove through hard work and
dedication na ang "Bawat Buhay Mahalaga sa DSWD."