DSWD Secretary visits the earthquake victims of Cataingan, Masbate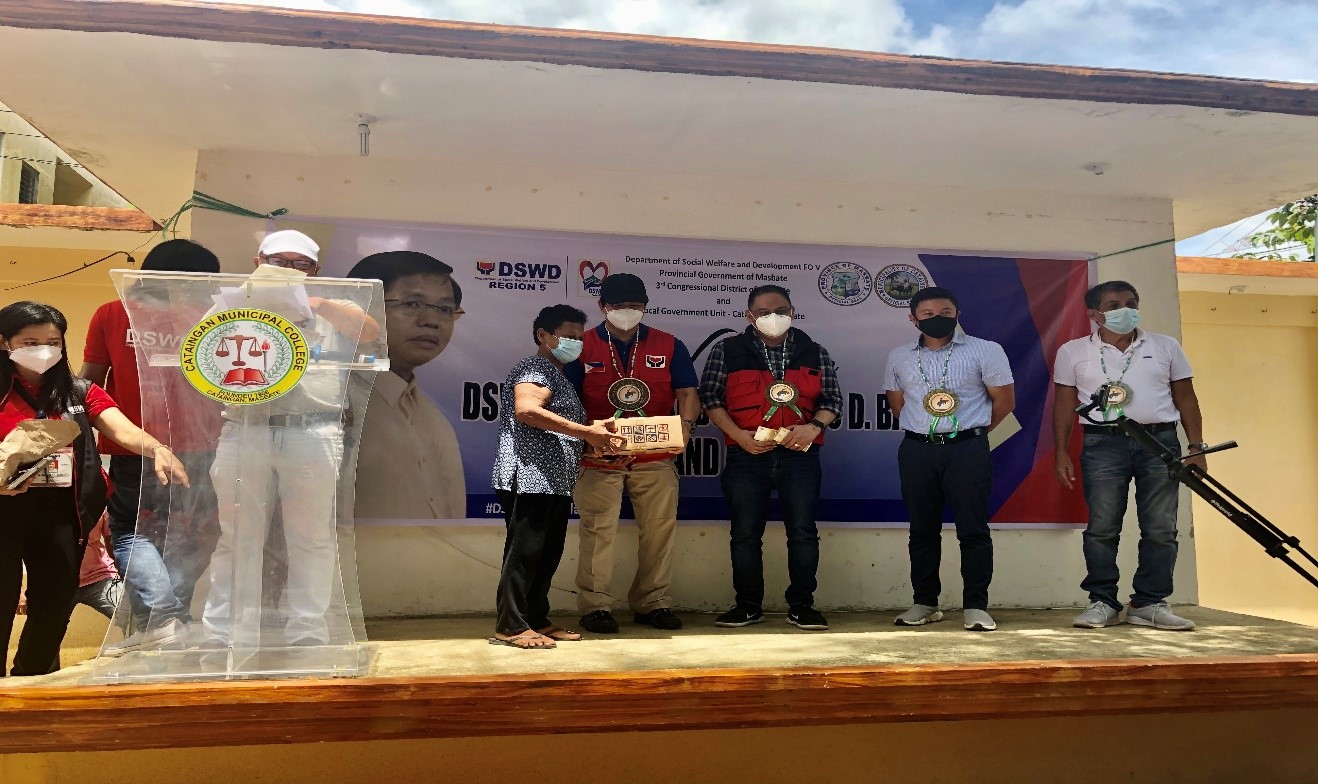 Giving of family food packs to partially damaged houses and releasing of Php5,000 cash assistance to families with totally damaged houses. (From right to left is Mayor Cabataña, Congressman Kho, RD Garcia, and Sec. Bautista).
Secretary Rolando Joselito Bautista visited the victims of the 6.6 magnitude earthquake that shook Masbate last August 18, 2020.
In his visit today, Sec. Bautista was greeted warmly by the Masbateños headed by the Hon. Antonio Kho, Provincial Governor of Masbate, Hon. Wilton Kho, 3rd Congressional District Representative, and Hon. Felipe Cabataña, Municipal Mayor of Cataingan, Masbate.
The Secretary delivered his heartfelt message to the victims of the earthquake for which he emphasized that the Department was one of the first responders of the recent disaster, and that it is always ready to help the Local Government Units (LGUs) by giving ample augmentation support especially in this time of pandemic. He also informed the quake victims that all these help from the government emanated from the President himself who would like to ensure that all victims are helped and provided for with proper assistance.
Regional Director Arnel Garcia likewise delivered a brief message stating that we Bicolanos are known for our resilience and that DSWD FOV has already mastered Disaster Response because of the numerous kinds of disasters that hit us year round. With the help of Team One Bicol, which was conceptualized by RD Garcia himself, responding to unforeseen catastrophes was made easy.
During this short program, Sec. Bautista, together with Regional Director Arnel Garcia released Php5,000 each to 35 families with 146 family members/individuals, who were initially validated to have totally damaged houses because of the earthquake. A total of 90 family food packs (FFPs) were also given away to the affected families with partially damaged houses.
In our latest report, there are about 862 families or 3,683 persons affected by the earthquake.
The Department has already provided Php915,478.36 worth of assistance to Masbate covering 1,103 family food packs (Php488,378.36), 11 rolls of laminated sacks (PHP38,500.00), 4 tents (Php63,600.00), and 65 families received financial assistance through our AICS  or Assistance to Individuals in Crisis Situation amounting to Php 325,000.00. 48 of these affected families are from Cataingan, 5 are from Palanas, and 12 are from Pio V. Corpuz.
Validation of partially and totally damaged houses are still ongoing.
Meanwhile, Sec. Bautista and RD Garcia headed the turnover of checks to the following SLP Beneficiaries of Dimasalang, Masbate. They were joined by Congressman Wilton Kho and Mayor Felipe Cabataña.
The following were the recipients of the program:
Buracan ECommunity Store SLPA 226,102.50 – Jose Generoso
Buracan Egg Producer SLPA 452,205.00 – Nermie Junapao
Masagana Agrivet and Farm Supply SLPA 347,850.00 – Rosanna Bayagosa
SLP (Sustainable Livelihood Program) of DSWD is a community-based capacity building program that aims to improve the socioeconomic condition of the beneficiaries. It facilitates interventions that expand the existing livelihood assets (human, social, physical, natural, and financial capital) of the participants so they may either have gainful employment or establish their chosen micro-enterprise.
The SLPA projects were funded thru the Microenterprise Development Track-Seed Capital Fund modality (MD-SCF) of SLP, under the General Appropriations Act (GAA) of CY 2018. The MD Track focused on starting, expanding or rehabilitating micro-enterprise activities. This track included entrepreneurship, technical – vocational and soft skills training.
The government, through its various agencies, is mandated to ensure its full support to the public from the onset of this health emergency situation until its recovery phase. It is for this reason that the DSWD SLP assures the vulnerable sectors of our society and other economically-active poor communities that they will be provided with appropriate interventions to sustain livelihood projects and activities as well as to enhance their capacities and resilience to similar risks.
According to Secretary Bautista, "DSWD will continue to be at the forefront of Disaster Response and will ensure timely support to its partner LGUs and to our beloved Bicolanos.