DSWD-SLP gives livelihood grants to 12 Former Rebels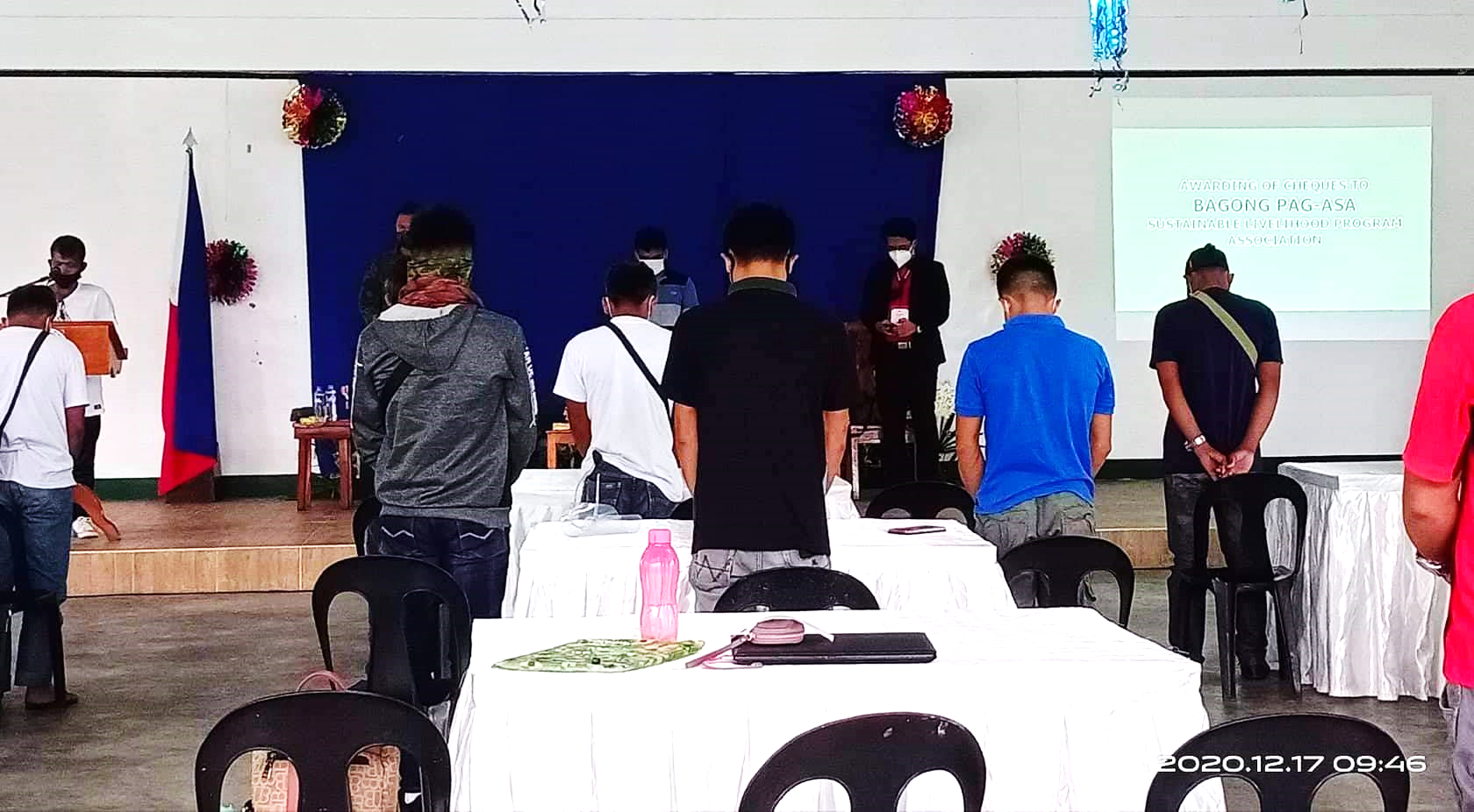 At least 12 Former Rebels (FRs) from Camarines Norte received Livelihood Settlement Grant (LSG) through the Sustainable Livelihood Program (SLP) of the Department of Social Welfare and Development (DSWD) amounting to PhP 180,000.00 and an additional 35,446.00 from Provincial Governors Office.
In accordance with Executive Order (EO) 70, the Department of Social Welfare and Development through the Sustainable Livelihood Program led the implementation institutionalizing the whole-of-nation approach in attaining inclusive and sustainable peace, creating a national task force to end local communist armed conflict, and directing the adoption of a national peace framework.
The awarding of financial assistance was held at 902nd Brigade Camp Busig-on Tulay na Lupa, Labo, Camarines Norte attended by LGU Representative Board Member Artemio Bokal Serdon, PSWDO Cynthia Dela Cruz, AFP Col. Jaime Abawag Jr, PROVET-Elmer Dasco, OPAG-Almirante A. Abad and DSWD-SLP Employees.
The 12 FRs as member of newly formed SLPA named Bagong Pag-Asa SLP Association will engage in Broiler Production cum Establishments of Production Site.
Before the actual project implementation, program participants will undergo Skills Training on Broiler Production to ensure the increase of productivity and sustainability of the chosen livelihood.
The SLP will only cater to FRs for LSG once they are profiled and issued with JAPIC certification issued by E-CLIP Committee. The profiling of FRs is part of case management in which one of the aspects being determined is their economic status. The SLP-RPMOs through the SLP EO 70 focal shall assess the endorsed list and shall meet with concerned member-agencies of the Regional Task Force to End Local Communist Armed Conflict (RTF-ELCAC) Poverty Reduction, Livelihood and Employment Cluster (PRLEC) to determine the needed livelihood assistance to avoid duplication of assistance and maximize government resources.
Marissa M. Paeste, OIC-Division Chief/EO 70 focal said that with livelihood and the many other interventions, We are assured that Former Rebels are able to start anew, adapt and mainstream society, become self-sustaining, productive contributors to national development as they embrace the principles of a democratic and peaceful way of life.
Meanwhile, DSWD-SLP continues to help former rebels, the remaining 111 FRs from the provinces of Camarines Sur and Masbate amounting to Php 2,220,000.00 is for payout this 2021. #PRNPOJ01/21/2021