Empowering Stories of Pantawid Women
Women are of different shapes, sizes, color and beauty. As diverse they are in appearance, the
same goes with their stories. One thing common, though, is the strength of a woman's heart to
overcome life's hurdles.
In celebration of the International Women's Day, DSWD Region V Pantawid Program shared
different stories of Pantawid women breaking barriers and empowering more women with the
theme: "Kababaihang Pantawid: Sama-Sama sa Pagsulong ng Pagbabago para sa
Kababaihan".
Empowered Woman, Empowering Women
Racquel Quidoles or Ate Racquel, as she is fondly called, is a former parent-leader of
Baranagay Buenavista, San Fernando, Camarines Sur. She had been a parent-leader since
2011. Poverty did not stop her in helping her community. She empowered her co–Pantawid
members by coming up with a project called "May Sintabo sa Basura" where Pantawid members
buy and sell garbage to junkshops. The proceeds were used by the members to buy groceries
for the poor non-4Ps in the community. She also became the president of Rural Improvement
Club, a self-organized group of women in their barangay, which aims to create projects that will
benefit their whole community. Their projects include solid waste management as flooding is a
common problem in their area.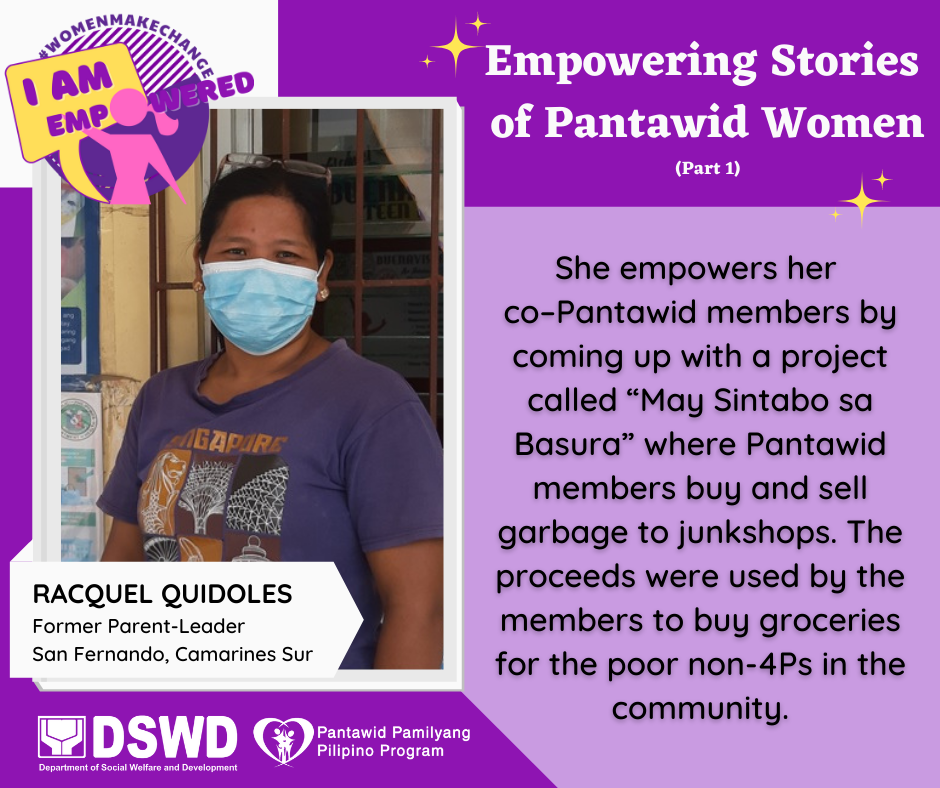 At present, though, she no longer serves as a parent-leader of her parent group, yet she
continuously assists her co-Pantawid beneficiaries. There was an instance when she helped a
co-Pantawid mother-grantee, who did not know how to read and write, in managing the cash
grants received from the program. Ate Raquel aided in buying the groceries for the grantee's
children, paying for their school fees, and even in securing documents such as the children
grantees' birth certificates and school certificates. Ate Racquel said that she did it to help the
grantee learn to be financially literate since the grantee lacked education in reading and writing.
She also quipped, "Kawawa naman Mam kung hindi ko tutulungan".
Racquel Quidoles' household has maximized the three children-beneficiaries' threshold. She
was able to manage well the cash grants from the program thru her learnings from the Family
Development Sessions which paved the way for her children Ara and Aries, to eventually
graduate from High School. Ate Racquel manages their household and helps her husband in
decision-making. The household's well-being improved from survival to self-sufficient. At
present, she has been hired as the new Barangay Health Worker starting last February 2022.
With the story of Ate Raquel, leadership does not only mean having a title but how you use the
influence such title holds and how you empower other women and the whole community, to
embrace change for the better.
Written by: Issi L. Nacario, Municipal Link (San Fernando, Camarines Sur)
Pantawid Woman Wearing Different Hats
Glian Obing is a MCCT-IP beneficiary and a Parent-Leader. On top of her roles and
responsibilities as a 4Ps, she is foremost a woman, a wife, a mother, an entrepreneur and a
student. She proves that modern Juanas can be versatile as they wish and aspire to be.
She has three beautiful kids and a supportive husband who are the source of her inspiration.
She is currently a parent-leader in Banuyo, Dao, and Sta Fe. At first she did not like the idea of
being a parent-leader because she is typically shy and timid but later on, she embraced it with
high hopes, saying to herself: "If others can, why can't I?". As the years passed, Glian developed
interpersonal skills from constantly being exposed to her parent group and with consistent
attendance to Community Family Development Sessions. This helped her a lot to develop her
self-esteem.
In their household, she and her husband have shared common goals and equal rights in raising
their kids and in decision-making thus, most of the time Glian empowered and served as the
support system of the family. When she decided to pursue her college studies, her husband
supported her. However, when the pandemic hit, Glian decided to start a small online business
by selling cassava flan and leche flan in order to make both ends meet. In the morning she
prepares and cooks the cassava and leche flan and sell it online, in the afternoon she attends
her class online, and in the evening she manages to teach her kids with their modules. To her,
receiving cash grants from the program is a big help, but they do not depend solely on the cash
grant they are receiving. She said that it should be a joint effort between the program and the
beneficiary to achieve self-sufficiency. At present, she is a third year college in Southern Luzon
Technological College Foundation Pilar Incorporated taking up Bachelor of Science in
Elementary Education as she sees herself being an educator in the future. In this upcoming
election she will serve as a DESO staff in Comelec.
Glian gleams with positivity and self-confidence. She is a woman who empowers women her
age and beyond. She quipped: "Bilang isang babae at isang kababaihang pantawid, nais kong
hikayatin ang bawat kababaihan sa paggawa ng mga positibong pagbabago sa ating mga sarili
sa pamagitan ng pag alam ng ating mga karapatan at pagtuklas ng ating mga kakayahan na
makatutulong sa pag-unlad ng ating mga sarili at sa ating lipunan. Kailangan nating maging
produktibo at aktibo dahil tayo ay may karapatang lumahok at mamuno sa anumang aktibidad
sa ating pamayanan. Tayo ay may karapatang pumili, magbahagi, at gumawa ng mga desisyon
na makatutulong sa pagpapaunlad ng ating mga sarili. Bilang isang babaeng Pantawid,
kailangan nating simulan ang pagbabago sa ating mga sarili sa pamamagitan ng pag respeto sa sarili, pagtitiwala sa ating kakayahan, at paggawa ng mga bagay na ikauunlad ng ating sarili at ng ating kapwa." ("As a woman and a woman of Pantawid, I would like to encourage women to create positive changes for ourselves by learning our rights and discovering our abilities which will hone us and help us improve our communities. We have to be productive and active
because we have the right to choose, share and make decisions that can help improve
ourselves. As a woman of Pantawid, we have to start the change from within by respecting
ourselves, trusting our capabilities and doing things which can help improve ourselves and
others.")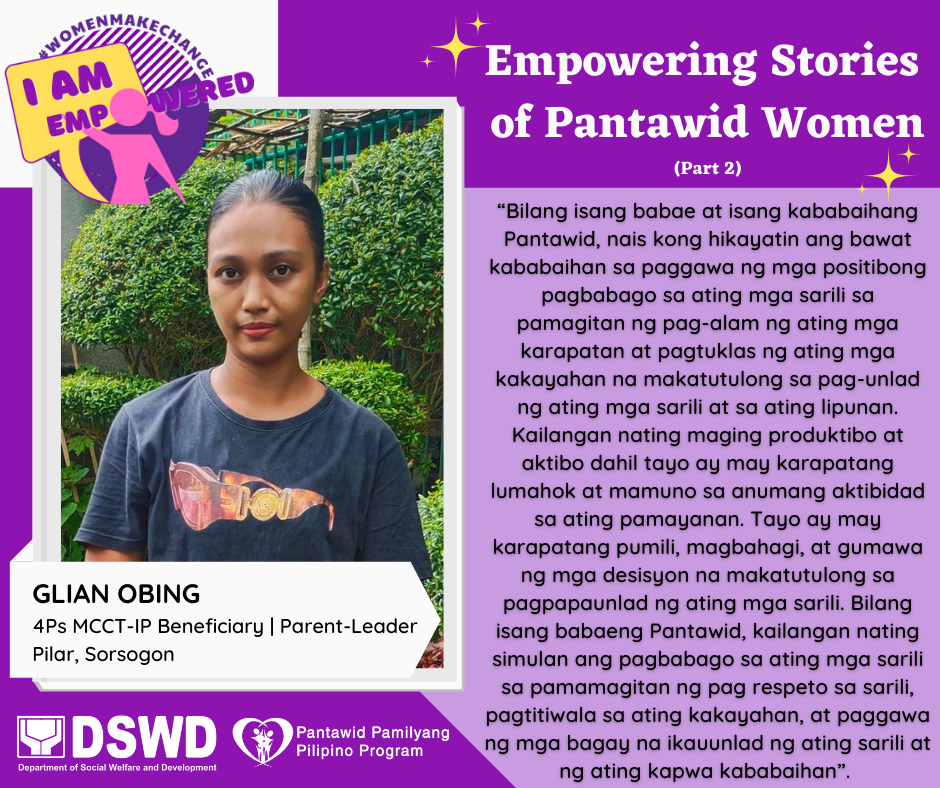 Written by: Jean S. Peñaflorida, Community Facilitator (Pilar and Donsol, Sorsogon)
Innate Leadership of a Pantawid Woman
Kristine Bechayda, 44 years old, Pantawid Pamilya Pilipino Program beneficiary from Victory
Village, Legazpi City proved once more that we women can be great individuals who can lead
and serve.
According to Mrs. Bechayda, before their household became a beneficiary of the program, they
really did not know how to support their children's needs, especially their schooling since they
had no permanent source of income and they have six children. So, the couple planned that in
order for them all to finish college, they will send their children in tertiary one at a time. However,
luck was on their side when they became one of the household grantees of the Pantawid
Pamilyang Pilipino Program last 2011. With this, they became more eager in sending their
children to school, since they believed that education is the best gift they could give their
children. Seeing that there's a program that would help them achieve their dreams and
aspirations in life, it boosted their confidence that they can make it come true.
Mrs. Bechayda's other half is Mr. Germinio Gariando Bechayda Jr., a hardworking provider, who
works as an agent in USDC during weekdays and a tricycle driver during weekends. Her family
is also a Sustainable Livelihood Program recipient. She has a small scale business (sari-sari
store) that helps augment for their daily needs.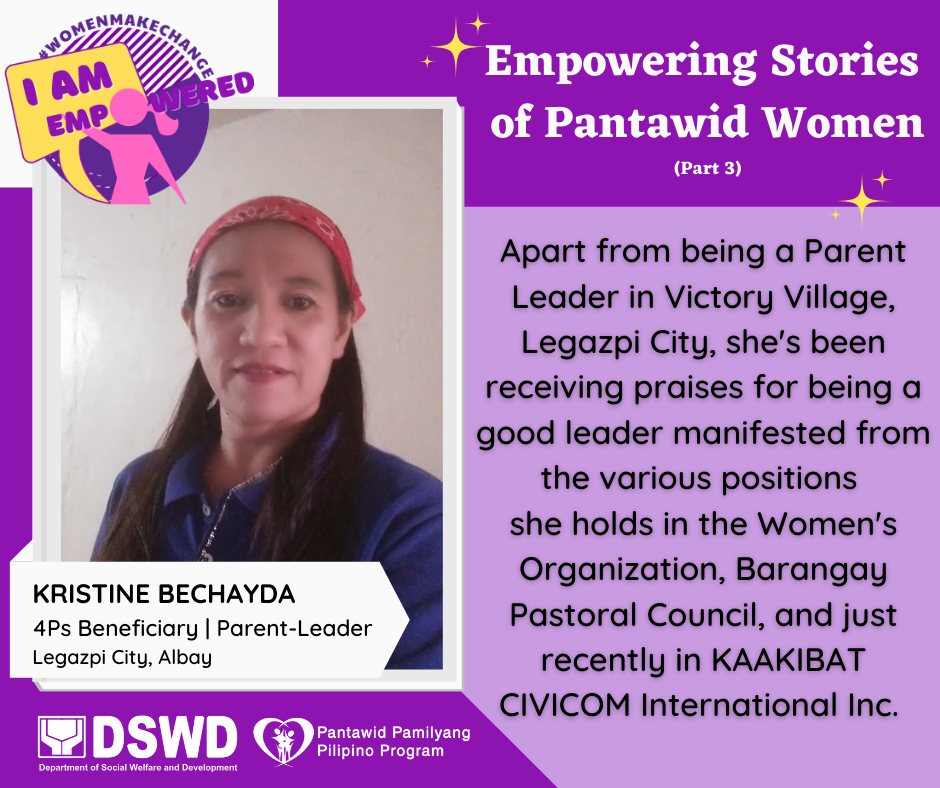 Personally, Mrs. Bechayda has developed her personality well and now thinks that she is in her
best version of herself. To her it's always the experience that is the best teacher in life. Her
involvement in the community developed her skills especially her leadership. She is one of the
parent leaders in Victory Village and is being praised by the barangay officials because she
exudes great leadership. She is also an active member of Victory Village Women's Organization
and Barangay Pastoral Council and is the head of the Ecclesiastical. Every Sunday, they hold a
rosary in the chapel together with her family. Just recently, she joined another organization as a
volunteer in KAAKIBAT CIVICOM International Inc., a non-government organization which
renders volunteerism during disaster or emergency operations.
Indeed, Pantawid women are now seen not just as passive members, but active ones of the
society who play major roles in its development.
Written by: Mae Marjalino Loria, PDO II/CCVO Cluster 3 (POO Albay)