Finding hope in Adversity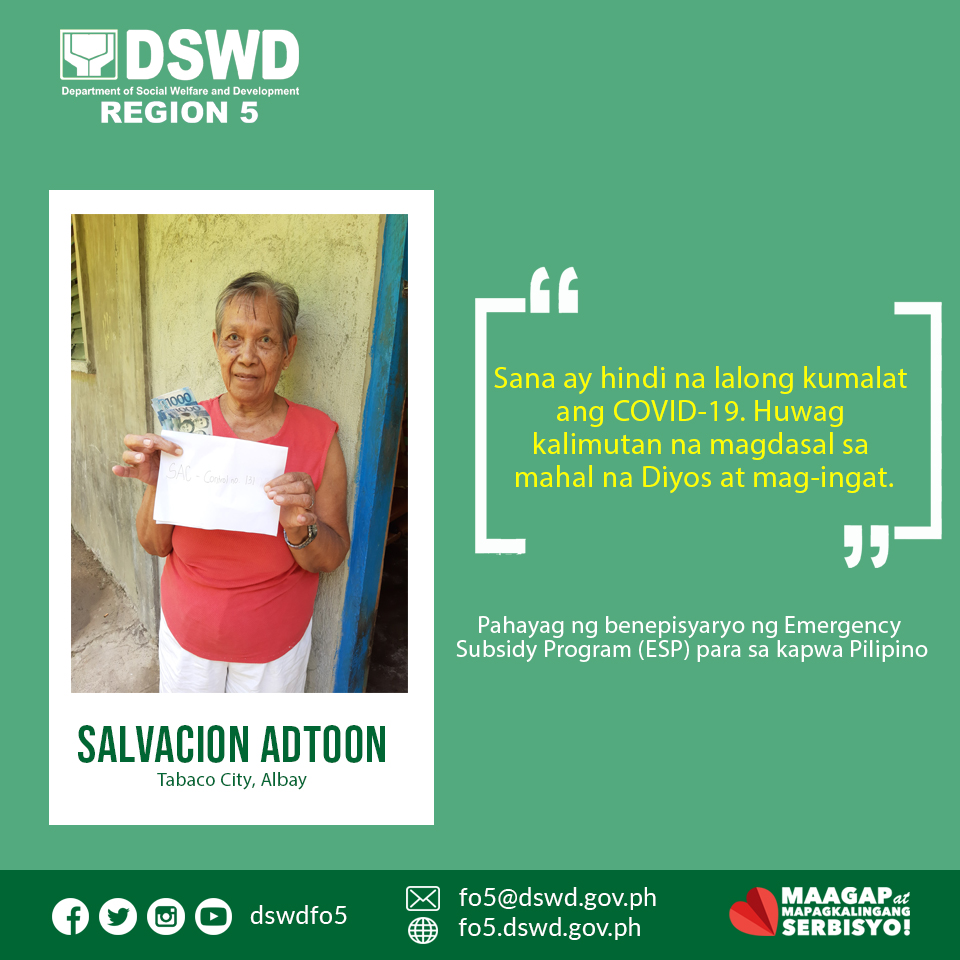 To some, the Enhanced Community Quarantine (ECQ) is a luxury, but to many, a misery.
Many Filipino families are in the most difficult situation right now because of the declaration of the ECQ that caused them to temporarily lose their jobs which means that they have also lost their means to provide for the basic needs of their families like food, medicine and toiletries.
Gloria Valenzuela, 58, a solo parent in Pili, Camarines Sur, is of no exception.
According to Gloria, she could not go to work because of the ECQ.
Gloria also shared the problems she is encountering in this time of the COVID-19 pandemic.
"Kulang sa pagkain, nagtatanim kami at nagtitiis na lang kung ano ang meron na pwedeng makain ([We] have insufficient food so we resort to planting and eating only what is there to eat)," she said.
On the other hand, Salvacion Adtoon, 75, a senior citizen belonging to a poor family in Tabaco City, fears the declaration of the extension of the ECQ.
"Sobrang kahirapan ang nararanasan ng mga tao ngayon (People are experiencing extreme poverty nowadays)," she explained.
To provide assistance for these affected families brought about by the ECQ, the government, through Republic Act No. 11469 also known as the "Bayanihan to Heal as One" Act, was empowered to provide emergency subsidy for two (2) months to support the basic needs of qualified poor families.
The Emergency Subsidy Program (ESP) also known as the Social Amelioration Program (SAP) of the Department of Social Welfare and Development (DSWD) is a cash assistance program to around 18 million poor families amounting to a minimum of PhP5,000.00 to a maximum PhP8,000.00 depending on the regional minimum wages.
For Bicol Region, a total of 1,146,914 poor families will receive PhP5,000.00 each.
This cash aid is being provided to the beneficiaries of the Pantawid Pamilyang Pilipino Program (4Ps) and eligible poor families belonging to the informal sector not earning a living during the period of the enhanced community quarantine, with a member belonging to any of the vulnerable or disadvantaged sectors such as senior citizens, persons with disability, pregnant and lactating women, solo parents, Overseas Filipino (OFs) in Distress, indigent Indigenous Peoples, underprivileged sector and homeless citizens and informal economy workers.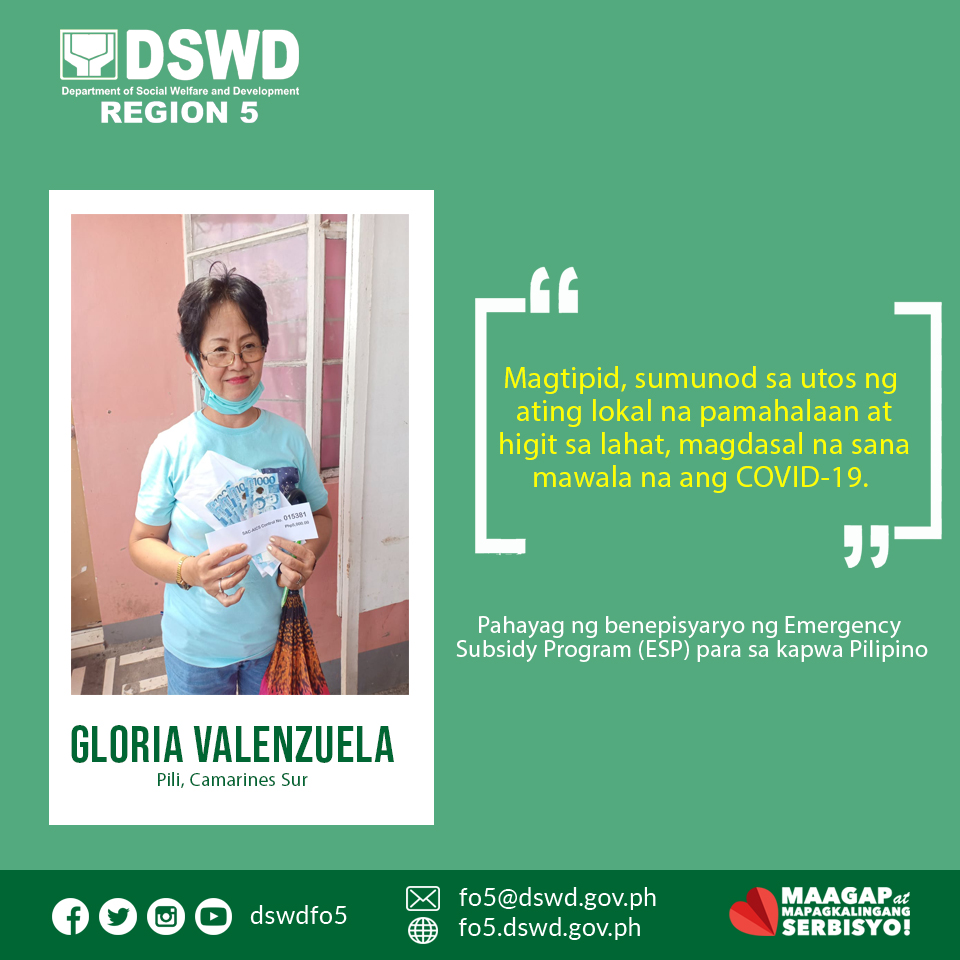 As a beneficiary of SAP
Both the families of Salvacion and Gloria were given assistance last April 13 and 14, 2020, respectively.
For Salvacion, the PhP5,000.00 cash assistance will greatly support her family.
"Gamit ang assistansya, ibibili ko ng gamot at pagkain dahil hindi natin alam kung kailan matatapos itong quarantine (Using the assistance, I will buy medicine and food because we don't know when this quarantine will end)," she said.
While Gloria, a mother of two, will use the subsidy to buy for their family's basic needs.  The mother also gave her advice for people to be thrifty in this time of pandemic. Purchase necessary goods only as well as follow orders from the local government units (LGUs).
Both beneficiaries emphasized the need to pray for the end of COVID-19.
"Huwag kalimutan na magdasal sa mahal na Diyos (Don't forget to pray to our dear God)," Salvacion concluded. /ramsertan/
(with reports from Billy June Panti and Malou Salvino)