Five SLPAs sew face masks for Covid-19 Frontliners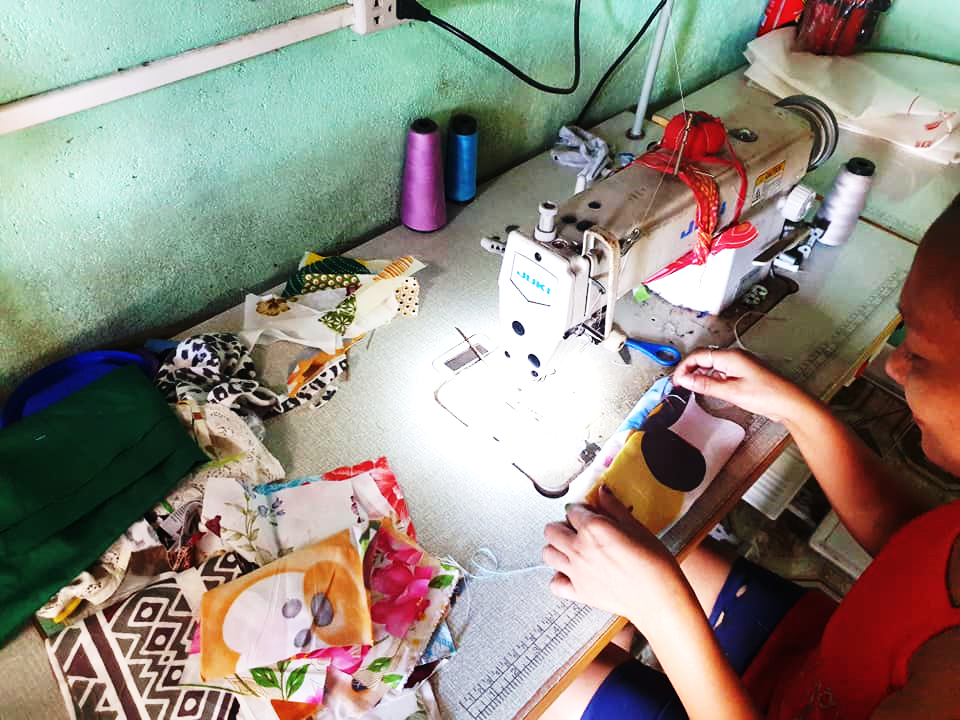 During the implementation of the Enhanced Community Quarantine (ECQ) due to Covid-19, the Department of Social Welfare and Development (DSWD)-Sustainable Livelihood Program Associations (SLPAs) made affordable and washable masks for frontliners and also for the general public.
Owing to the nature of the disease, there was a huge demand for face masks which prompted these trained SLPAs to extend help to the brave frontliners who continue to go to work despite the threat of COVID 19. This is also a timely opportunity for them to have additional income and not depend solely on the provisions of the government.
The table below shows the SLPAs accepting bulk orders for face masks:
| | | | |
| --- | --- | --- | --- |
| Name of Project/SLPA | SLPA President | Address | Contact Number |
| Rugs and Riches SLPA | Ruby Abarquez | Magarao, Camarines Sur | 0907-148-2473 |
| San Pedro Rug Making Association | Eva Bonito | San Pedro Cabusao, Camarines Sur | 0948-135-3481 |
| MERLGF SLPA | Evangeline T. Dela | Magarao, Camarines Sur | 0950-836-2144 |
| Dos Tahian SLPA | Vilma Palacio | Bulan, Sorsogon | 0942-972-0938 |
| Young and Old Sewers SLPA | Judy Teves | Brgy. Alawihao, Daet Camarine Norte | 0912-017-6172 |
The SLPA projects were funded thru the Microenterprise Development Track-Seed Capital Fund modality (MD-SCF) of SLP, under the General Appropriations Act (GAA) of CY 2018. The MD Track focused on starting, expanding or rehabilitating micro-enterprise activities. This track included entrepreneurship, technical – vocational and soft skills training.
SLP is a community-based capacity building program that aims to improve the socioeconomic condition of the participants. It facilitates interventions that expand the existing livelihood assets (human, social, physical, natural, and financial capital) of the participants so they may either have gainful employment or establish their chosen micro-enterprise.
The Young and Old Sewers SLPA of Brgy. Alawihao, Daet Camarine Norte have 20 members. They regularly sew uniforms, curtain, pillow cases and bed sheets but shifted to sewing washable face masks due this health crisis.
"Malaking tulong ito saamin lalo na sa ngayon pinapatupand ang enhanced community quarantine.", Judy Teves, Young and Old Sewers SLPA President said.
"Ang paggawa namin ng mga face masks ay magsisilbing alternatibong solusyon para patuloy kaming kumita at masuportahan ang pangaraw-araw na buhay.", she added.
The Dos Tahian in Bulan Sorsogon, Rugs and Riches SLPA in Magarao Camarines Sur, San Pedro Rug Making Association in San Pedro Cabusao, Camarines Sur and MERLGF SLPA in Camaligan Camarines Sur also make and sell face masks at Php 20-30 each.
"The government, through its various agencies, is mandated to ensure its full support to the public from the onset of this health emergency situation until its recovery phase. It is for this reason that the DSWD SLP assures the vulnerable sectors of our society and other economically-active poor communities that they will be provided with appropriate interventions to sustain livelihood projects and activities as well as to enhance their capacities and resilience to similar risks. ", Earl Maximillan A. Cecilio, SLP Regional Coordinator for Operations said.
DSWD employees, other government and non-government institutions, and interested resellers support these SLPAs by placing bulk orders for face masks. These SLPAs are likewise seeking support from LGUs and the other private organizations to tap them to produce face masks for their Covid-19 frontliners. /nelsonosial/