For the community, by the community: mitigating impacts of hazards through participation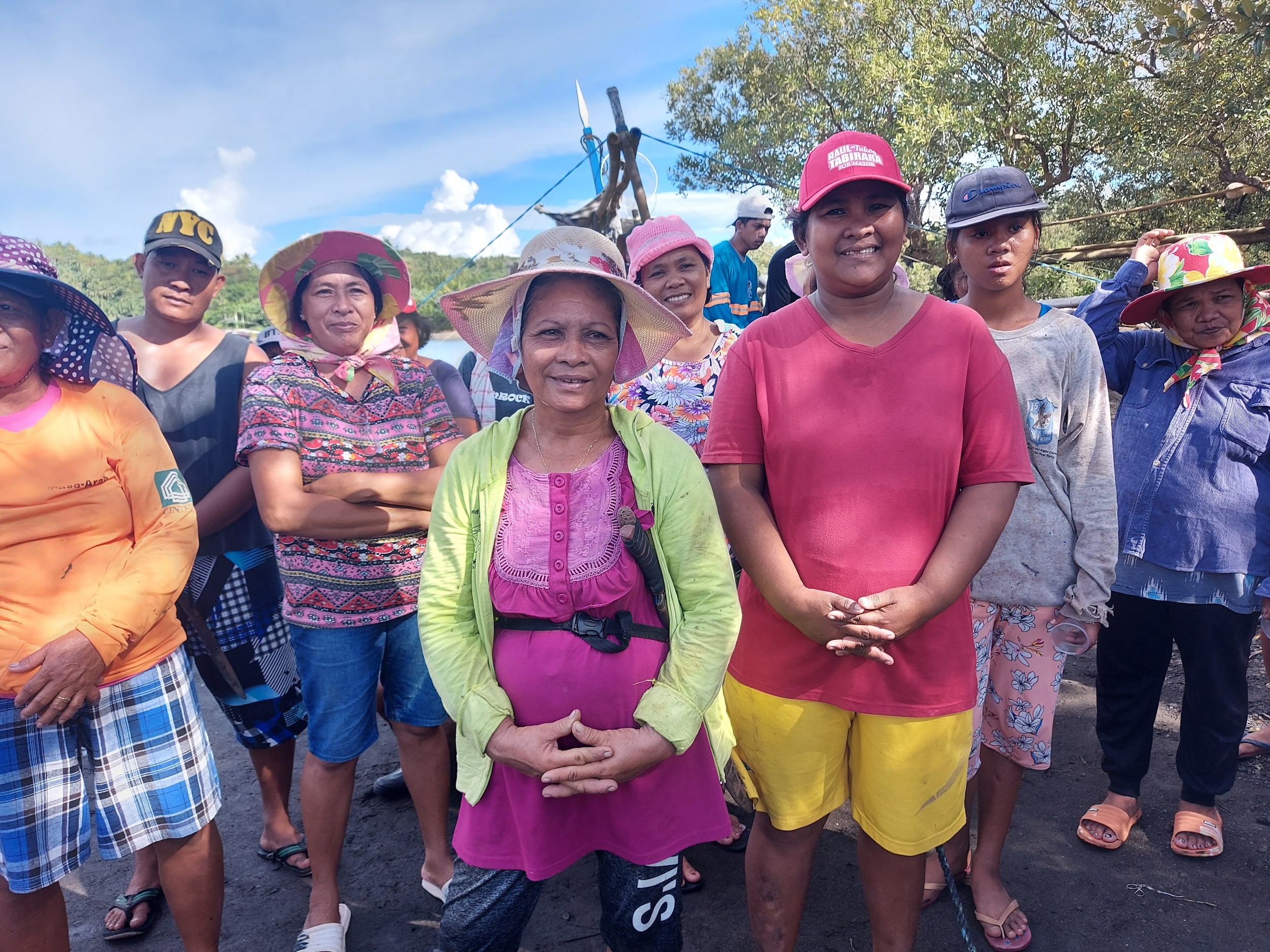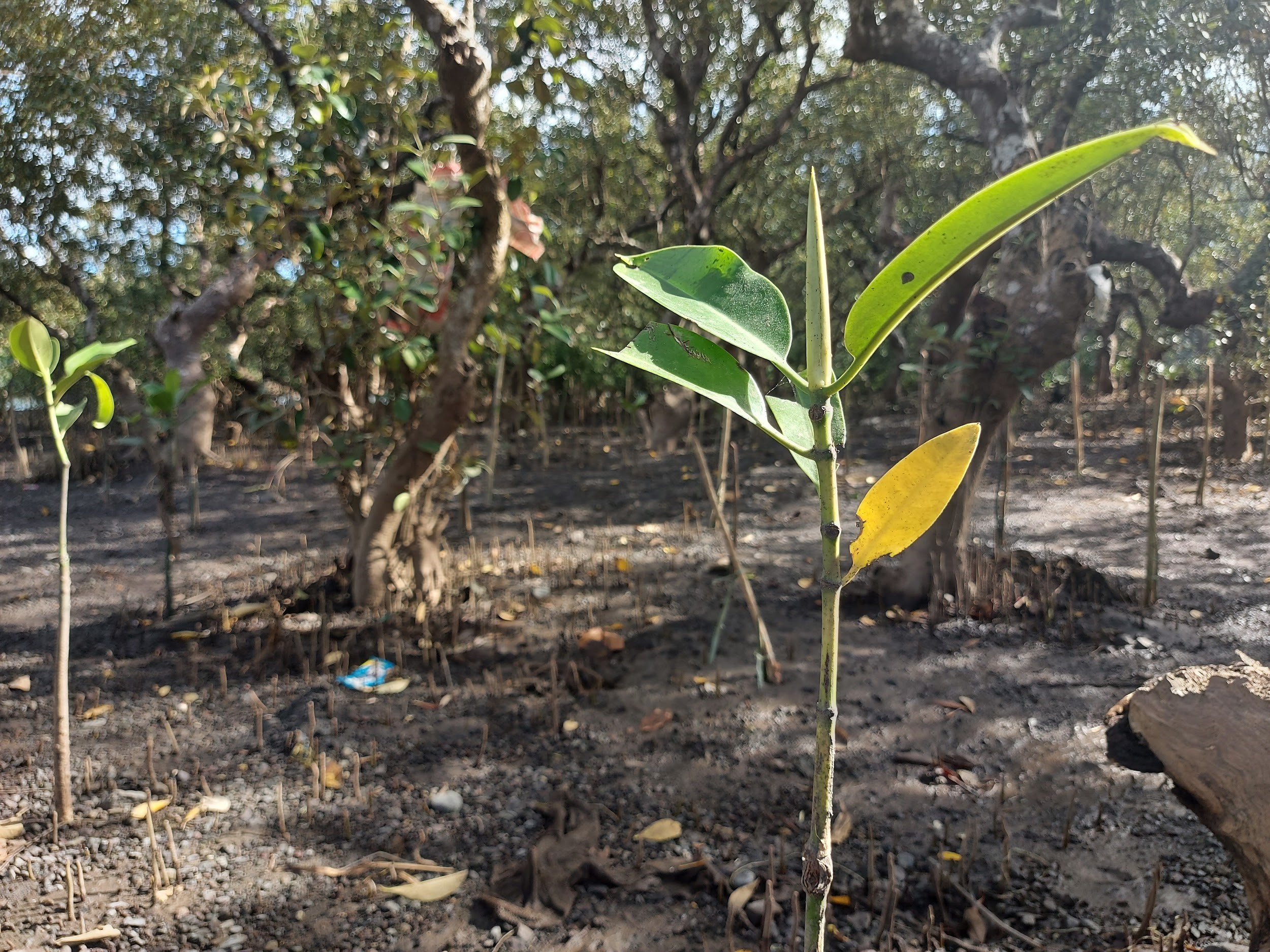 Left: The beneficiaries of RRP-CCAM in Barangay Wagdas, Pandan, Catanduanes during the monitoring visit of the mangrove rehabilitation project. Right: One of the propagules planted by the beneficiaries has grown leaves as photographed during the monitoring visit last September 15, 2022
Community participation is an important aspect of disaster prevention and mitigation. Community members have first-hand experience of the hazards, thus they can provide contextual information on its extent and effective prevention practices based on their experience.
The province of Catanduanes was among the areas most devastated during the onslaught of super typhoon Rolly in 2020. The typhoon left thousands of damaged houses, displaced population, and several casualties. Most of the affected population belong to the lower income bracket which shows association between socio-economic status and disaster risk. The poor are more likely to suffer from disasters. Due to lack of resources, poor families tend to live in hazard-exposed areas while having no capacity to invest in risk mitigation mechanisms. (UNDRR, n.d.).
Investing in risk mitigation
Investing in risk mitigation can reduce possible impacts of hazards. Risk Resiliency Program-Climate Change Adaptation and Mitigation (RRP-CCAM) is a program implemented by the Department of Social Welfare and Development to mitigate the impacts of hazards and climate change while providing additional income to the beneficiaries. Under RRP-CCAM, beneficiaries are paid to implement mitigation  projects which were conceptualized through consultation with community members and leaders. The program utilizes Cash-for-Work mechanism in providing assistance to hazard-prone communities while supporting their mitigation projects.
RRP-CCAM implementation
The RRP-CCAM was piloted last September in partnership with eight Local Government Units in Catanduanes. Among the projects implemented were mangrove rehabilitation, bamboo planting, drainage canal declogging, and abaca rehabilitation. Food sustainability projects like community gardening were also implemented in some areas. These projects were identified by the community and underwent an assessment process prior to its implementation.
Benefits of the projects
Aside from the cash-for-work benefits, the program aims to implement sustainable projects which will benefit the community in the long run. One beneficiary views community gardening as a possible income source. Pagkatapos po namin na magharvest ng mais, magtatanim ulit kami ng iba pang produkto para patuloy na may income. Wala din akong sariling lupa na pagtataniman kaya magandang tulong ito (community garden) sa akin (After harvesting the corn, we intend to plant other vegetables to continue earning. I do not own land which is why community gardening is a huge help for me.
Ronald Tapel, another beneficiary, said that the planted bamboo along the riverbank can be used should the community needs it in the future. He also said that bamboo can help mitigate the effects of floods. "Malaking tulong ito kapag may baha dahil nakakaharang ang kawayan at maiiwasan din ang pagguho ng pang-pang (It helps especially during flooding because it blocks flood waters and mitigates soil erosion along the riverbank)".
Mangrove rehabilitation projects aim to improve marine ecosystems while protecting the communities near the beach by preventing coastal floods. "Malaking tulong ang mangrove planting para magkaroon ng tirahan ang mga isda. Nakatutulong ito para hindi sumampa ang tubig sa amin kapag mataas ang tubig dagat (Mangrove planting helps provide habitat for fishes. It is also helpful in preventing coastal flooding from affecting the community)". Both mangroves and bamboo function as buffers for floods.
Community participation is an integral part of the program's sustainability. Participation in all phases of the project helps instill a sense of ownership of the programs to the community members. Thus, the community will take charge of maintaining and improving the project.