Former Rebels found new opportunity through DSWD-SLP livelihood project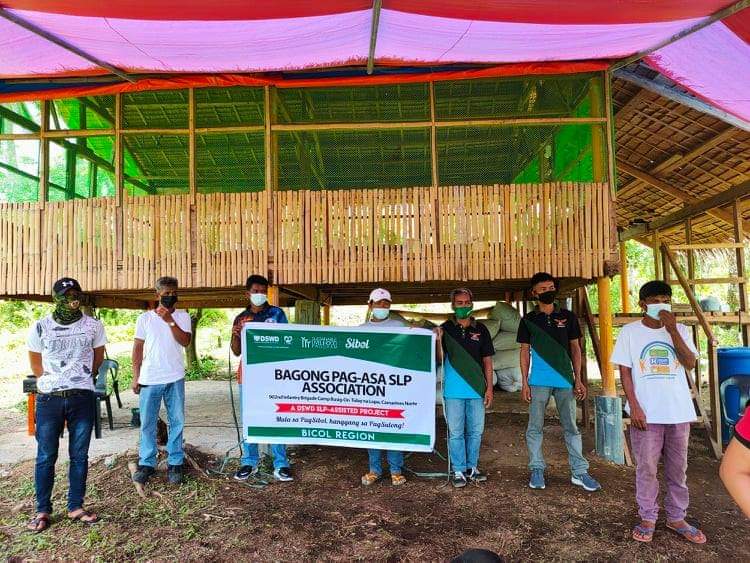 In accordance with Executive Order (EO) 70, the Department of Social Welfare and Development (DSWD) through the Sustainable Livelihood Program (SLP) turned over the Broiler Production cum establishment of Poultry House Production Project to Bagong Pag-asa SLPA at Camp 902nd Infantry Brigade, Camp Busig-on, Tulay na Lupa, Camarines Norte.
Bagong Pag-asa SLPA was organized last August 02, 2020, composed of 12 Former Rebels from various barangays in Camarines Norte.
The Broiler Production cum establishment of Poultry House Production Project amounting to Php 180,000.00 awarded last December 2020 is the DSWD-SLP's intervention to help the former rebels and their families to continuously create a significant impact in their lives.
Before the actual project implementation, program participants have undergone Skills Training on Broiler Production to ensure the increase of productivity and sustainability of the chosen livelihood. The main goal of the project is to provide sustainable livelihood to the program participants to be able to start anew, adapt to society, become self-sustaining, productive contributors to national development as they embrace the principles of a democratic and peaceful way of life.
During the turnover, the Association President and members expressed their gratitude to DSWD-SLP, Local Government Unit (LGU), Armed Forces of the Philippines (AFP) and other partners for giving them access to such a livelihood opportunity.
Since CY 2020, over 136 former rebels have already received the Livelihood Settlement Grant (LSG). The profiling of FRs is part of case management in which one of the aspects being determined is their economic status.
The SLP-RPMO through the SLP EO 70 focal assess the endorsed list and meet with concerned member-agencies of the Regional Task Force to End Local Communist Armed Conflict (RTF-ELCAC) Poverty Reduction, Livelihood and Employment Cluster (PRLEC) to determine the needed livelihood assistance to avoid duplication of assistance
and maximize government resources.
On the other hand, to ensure the sustainability of the project, DSWD-SLP with the help of PSWD and stakeholders will continue to monitor and provide them with technical assistance.
The provision of livelihood assistance is under Executive Order No. 70 or the "Whole-of-Nation Approach in Attaining Inclusive and Sustainable Peace", former rebels who are deemed as eligible and cleared by the Joint AFP-PNP Intelligence Committee (JAPIC) are qualified to receive the DSWD-Sustainable Livelihood Program (SLP) Livelihood Settlement Grant (LSG) under the Enhanced Comprehensive Local Integration Program (E-CLIP) which seeks to contribute towards achieving the goal of permanent and peaceful closure of all armed conflicts with non-state armed groups. The program is designed to encourage those within these armed groups to return to their communities and normal lives by accessing them to government programs and services, so they can rebuild their lives. #NPOJPR07126021