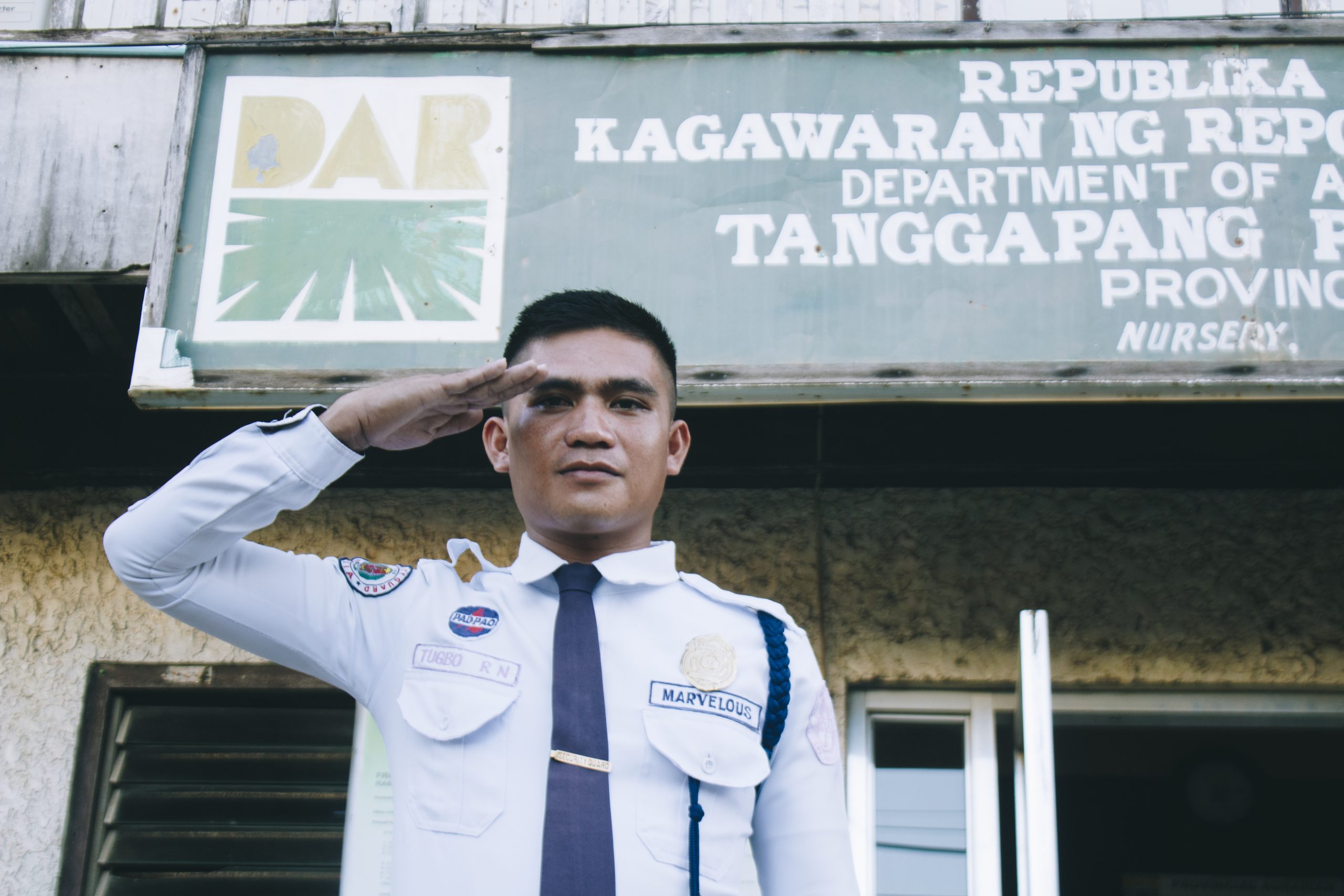 It's never too late to dream, to pursue education, to learn new skills, and to escape from the grasp of poverty and hunger. "I can succeed," says Mr. Noel Ramirez Tugbo Jr., 23 years old from Barangay Batuhan, Masbate City.
He grew up enduring poverty but never considered himself worthless who can never achieve something in life. This strong-willed lad never considered poverty as a hindrance to achieve his goals in life. He realized that education is the most important tool in the war against poverty and hunger.
Noel is the eldest among 10 siblings. His father is a vegetable farmer and his mother is a plain housewife. At a very young age, helped his parents plant vegetables under the exonerating heat of the sun and amidst the heavy rains, to have something to eat and to be able to finance their other basic daily needs. However, because of poverty, Noel was not able to go to college. After graduating from high school, he focused on helping his parents financially by becoming a "habal-habal" driver and by helping out in the farm.
Seizing the opportunity
As a son of a Pantawid Pamilya Pilipino Program grantee, he saw a good opportunity to rise up from the situation they are in. His mother, thru the 4Ps, learned about the Sustainable Livelihood Program (SLP) as one of the core programs of the Department of Social Welfare and Development offering free Skills Training on Security Services NC I. Without hesitation, he was enlisted as one of the program participants who will be trained as Security Guard. The lectures and the training enabled him to gain knowledge and employable skills that he can use for employment.
In 2015, Noel underwent a 21-day skills training program on Security Services NC I from June 20, 2016 –July 11, 2016 in Masbate City in partnership with RIJESA Security Training Academy Inc. With all determination, he completed the training and passed the assessment where he gained a National Certificate I from TESDA. During the deployment, the participants were employed by New Bicol Veterans Security Agency. To help Noel further in processing all his requirements, DSWD-SLP also provided Employment Assistance Fund (EAF) amounting to Php 5,000.00.
The Skills Training on Security Services helped Noel improve his communication skills and equipped him the necessary knowledge on duties and responsibilities of security guards especially in maintaining high visibility to deter illegal and inappropriate actions in the area of responsibility.
After gaining job experience, the PDO in-charge endorsed Noel to the Department of Agrarian Reform (DAR) for employment as one of its security guard. After several months, he become a permanent employee because of his good attitude and good performance in the workplace.
A trial came when the agency was laying off employees. As a son who supports his family, he felt so sad thinking that he may lose his job. However, he was confident that no matter what, he can find another job because he is already a skilled and an experienced employee. Fortunately, as attested by his immediate supervisor and co-workers, he garnered a positive result on the performance evaluation and stayed as Security Guard of DAR.
Career Growth and Promotion
Noel is currently employed as a permanent Security Guard in the Department of Agrarian Reform (DAR) under Marvellous Security Agency since January 2016 up to the present. He earns Php 345.00 pesos daily or a total amount of Php 10,350.00 monthly.
His work as security guard helps him gain access to many benefits like Pag-Ibig, Social Security Services (SSS) , Philhealth, and he is now able to buy his family appliances needed in their home. He is also saving some for his family's future.
His determination in grabbing the skills training provided by DSWD-SLP, and his strong faith in God helped him combat poverty to improve himself, his family's lives, and be useful to the community where he belongs.
Combating the pandemic
The pandemic brought extreme challenges to everyone especially the poor, but as life must go on, we need to continue working for the family.
"Sobrang nahirapan ako dahil sa pandemya, lalo na sa pagpasok sa trabaho dahil sa kawalan ng sasakyan,"
(It was very difficult for me during the pandemic especially during the scarcity of transport) he said.
To be able to lessen Noel's burden going to work every day, he purchased a motorcycle securing
extraordinary measures to fulfill his responsibilities at work and home.
"Itong binili kong motorsiklo ay gagamitin ko sa araw-araw na trabaho maging sa pagangkat sa palengke ng aming mga panindang gulay," (This motorcycle that I bought will be used in my daily transport going to work and in transporting our goods to the market). he said.
Having a permanent job as a security guard and engaging into farming and livestock business helped him give support to his family.
His determination was also able to help his wife, Mrs. Eva Mae Rios Tugbo, to continue her studies where she graduated with a degree of Bachelor of Science in Education. At present, Noel's wife is doing selfreview in preparation for the Licensure Exam for Teachers.
Noel continues to do his responsibilities at work and in the family in order to minimize the effect of the health crisis. He wants everyone to know how the program really helped him through this pandemic.
About SLP-Employment Facilitation
Employment Facilitation Track provides assistance to qualified participants seeking employment. Activities under this track include pre-employment guidance and orientation, and soft skills training as well as job referrals or placement among others.
SLP is a community-based capacity building program that aims to improve the socio-economic condition of the participants. It facilitates interventions that expand the existing livelihood assets (human, social, physical, natural, and financial capital) of the participants so they may either have gainful employment or
establish their chosen micro-enterprise.