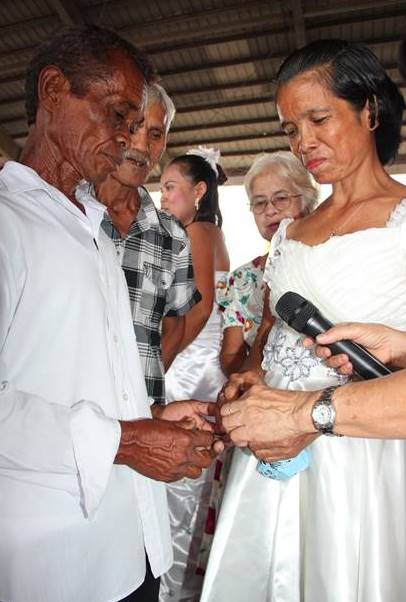 As the famous saying goes "love conquers all"–this defines the romantic couple of Buhi, Camarines Sur who has overcome huge obstacles in their relationship.
Raised in a different culture, as Edna, 55, originally came from Quezon Province and her husband– Bartolome Cesno, 57, is a member Indigenous Persons (Agta Tabangon), the couple were able to accept their individual differences and has proven their pure affection together through the test of time, faith and poverty.
"May walo po kaming aki. Su iba may agom na, naga-trabaho man su iba. Nakapagtapos sinda nin high school, tapos si Althea na lang ang naga-klase sa elementary. [We have eight children, some got married already and some are working. They (children) finished high school and it is only Althea who is studying in elementary]," Edna said.
According to her, it is difficult to raise their children since their earnings are not sufficient to the needs of the family. "Si agom po nangingisda, tapos ako po ang naga-tinda, [My husband earns through fishing and I am the one who sells it]," she stated.
They earn at least P150-P300 a day. In addition, they plant vegetables and crops to feed their throbbing stomach. "Grabe po ang pag-ingwa para sa pamilya mi, maray sana tinawan kami nin pag-asa nin Pantawid Pamilya. Ngunyan, di na kami namroblema nin maray sa pang-tuition ni Althea, [We do everything for our family. It is better that Pantawid Pamilya gave us hope. Now, we would not think of where to get the tuition fee of Althea]," She said.
As an identified beneficiary of the Pantawid Pamilyang Pilipino Program of the Department of Social Welfare and Development, the couple received a cash assistance to improve their well-being.
Under the program, a beneficiary family received a cash grant of 500 for the health and P300 (elementary) or P500 (high school) for the education of the children whose aged is 0-18. But, only a maximum of three children per family is being catered.
Tested Relationship
Edna and Bartolome has been together for 35 years, but it is only this year that they were given the opportunity to exchange vows through the initiated mass wedding of the local government.
"Gusto mi na po kaito pa magpakasal pero wara po kami kwarta, minu'na mi po nguna ang mga pangangaipo nin mga aki mi. Kaya ngana malang ugma mi po ta kasal na kami, [We wanted to get married even before, but we prioritize the needs of our children. That is why, now, we are glad that we are married]," Edna joyfully said.
Before they are together, Edna had a child but her husband fully accepted the child like his own. "Salamat kay Lord dahil binigyan niya ako ng asawang mabait, masipag, mapag-mahal at maunawain. Sabi ko nga kung maghihiwalay kami, walang buhay ang isa, mahal namin ang isa't isa hanggang sa kamatayan, [Thanks to the Lord because he gave me a husband who is hard-working, loving and understanding. As I said, if we will be separated, the other would have no life, we love each other until death]," Edna stated while holding her husband's arms.
According to Edna, she had been through a difficult relationships and it is only Bartolome who showed true care and love. "Kikasanit tapos binubugbog kaya ako nung dati kong kikasama kaya naglayas ako dara ko su aki ko, tapos byahe kami galing Quezon province tapos napadpad kami didi sa Buhi, [My previous partner, hit and beats me so I opted to escape bringing my eldest son with me, then, we travel from Quezon province until we reached Buhi]," she stated.
Also, it may be difficult for Edna to adapt the culture of her husband but as she said "maboot ang agom ko, kaya gabos na problema kaya mi basta tabang kami, [My husband is a good person so we can overcome challenges as long as we are together]."
Aiming to pursue their children's dream
Apart from having no stable job, it is a big challenge for the couple to pursue the dreams of their children. As Edna said she only finished grade 3 and her husband grade 4.
"Dai mi po nakayanan na gabos sinda makatapos. Si bunso ang pag-asa mi makatapos nin college para kahit mawala kami may maiiwan kami sakanila. Pero mas naging pursigido po kami na dapat makatapos siya dahil tituro po yan samon sa Family Development Session. [We were not able to let them all finished college. Our only hope is with our youngest child—since it is the only treasure we can leave to them. We are determined to let her finish since it is being taught to us during Family Development Session]," Bartolome said.
Now, Edna and Bartolome still pursue to battle the challenges they are facing and will be facing in the future. As Edna says with determination "Pagsubok lang po ito, kumapit lang po tayo kay Lord dahil hindi mo mararamdaman ang kahirapan kapag malapit ka sakanya. Kakayanin po naming makapagtapos ng pag-aaral ang aming anak, sana lang po ay huwag kayong hihinto sa amin ng pagtulong para tuloy-tuloy po kami na maka-ahon [This is only a challenge, lets hold on to Lord because, you will never feel difficulties, when we are close to him. We can able to let our children finish their education, I hope you (government) will not stop helping us for us to continue improve]," she ended.***G.Lindio,IO-4Ps