PARADIGM SHIFT: FROM POVERTY TO PURPOSE-DRIVEN LIFE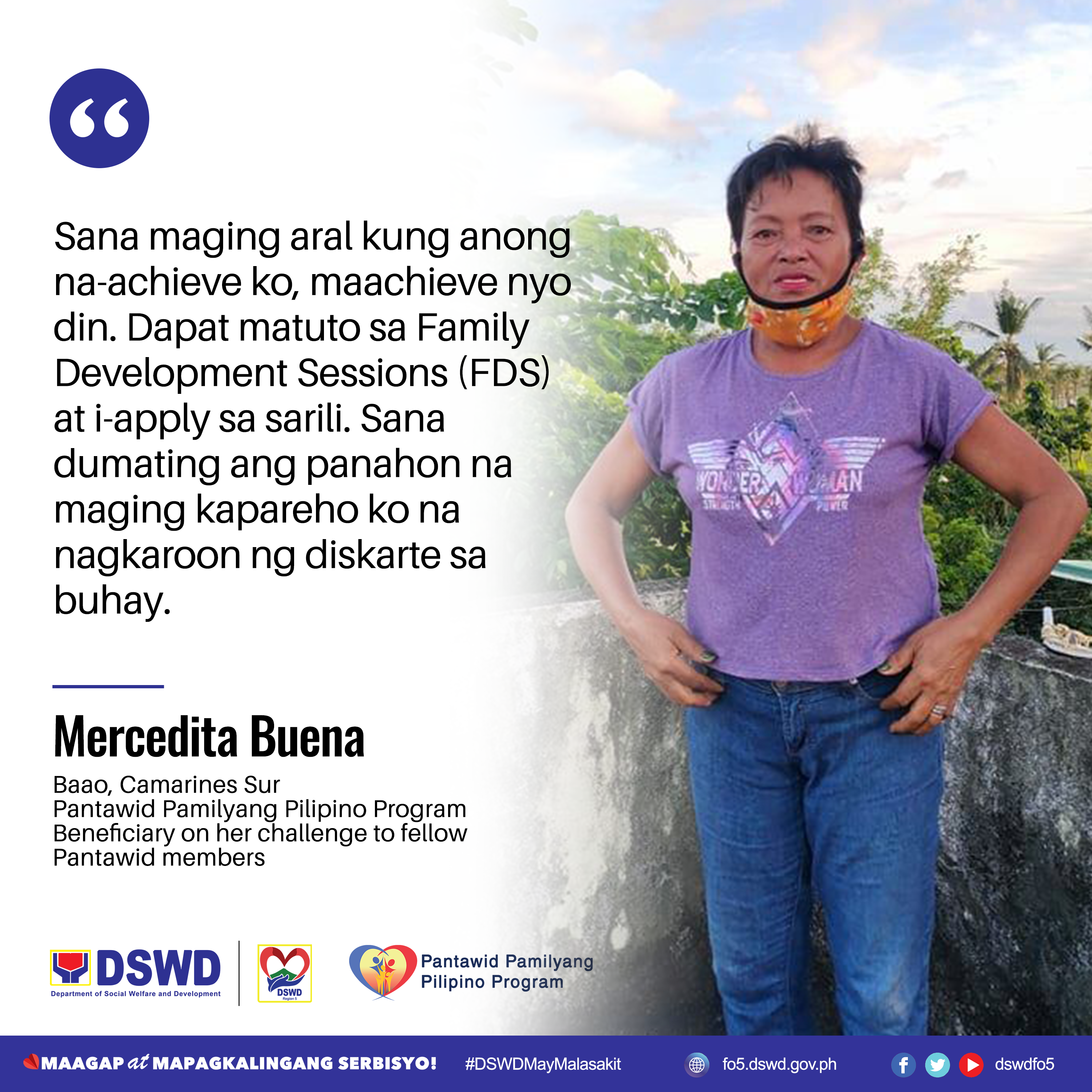 Change in perspective
 Growing up through poverty and misguidance has led Nanay Mercedita live a life of mediocrity and carelessness in their hometown in Baao, Camarines Sur. In 2011, Mercedita Buena's household was one of the few identified poorest of the poor in their municipality who was willing to comply with the conditions and met the criteria of having a household member 0 to 18 years of age.
Prior to her membership as a Pantawid beneficiary, she engaged in gambling and drinking liquor with her friends. Far from her mindset then, a parent and spouse 's responsibilities on raising and improving the livelihood and welfare of her family. Life was hard not knowing where to get food to put on their table every day. She married a farmer who was hard-working and kind. Still, they lack of basic nutrition and education for their household members.
Thankfully, through the Pantawid Pamilyang Pilipino Program's Family Development Sessions (FDS), Nanay Mercedita changed her perspective of herself as a woman, as a mother, and a wife.  From gambling, she realized that there are more opportunities outside their home, hence affording herself of education. The additional active roles she took as part of the community enhanced her skills and broadened her perspective as a woman by leading her Pantawid members with whom she has served as a Parent leader for 6 years, from (2011-2017). The program opened her eyes to protect and serve her family, develop a positive mindset and to rely on her developed skills to enhance the lives of her family members and be a productive member of their community.
She now works as chief tanod in their barangay and shares her knowledge and experience on organic farming with her constituents. When her son graduated from a two-year computer-programming course, she was challenged by her son and then Municipal Link Jessa Bilolo to finish her studies. She is currently a second-year college student at Baao Community College taking-up BS Education with ChED full-merit scholarship.
When asked about her dream, she shares of doing voluntary work in teaching Indigenous Peoples and out-of-school youths in their community.
About the program
 The Pantawid Pamilyang Pilipino Program is a national poverty reduction strategy and a human capital investment program that provides conditional cash transfer (CCT) to qualified household-beneficiaries. It addresses the problem of poverty trap by keeping children of poor families healthy and in school.
Baao is a landlocked municipality in the coastal province of Camarines Sur. It has a total of 20,708 Pantawid household beneficiaries, 1,514 out of which or 7.3% have already exited the program.