Prince's second life: A story of courage amidst despair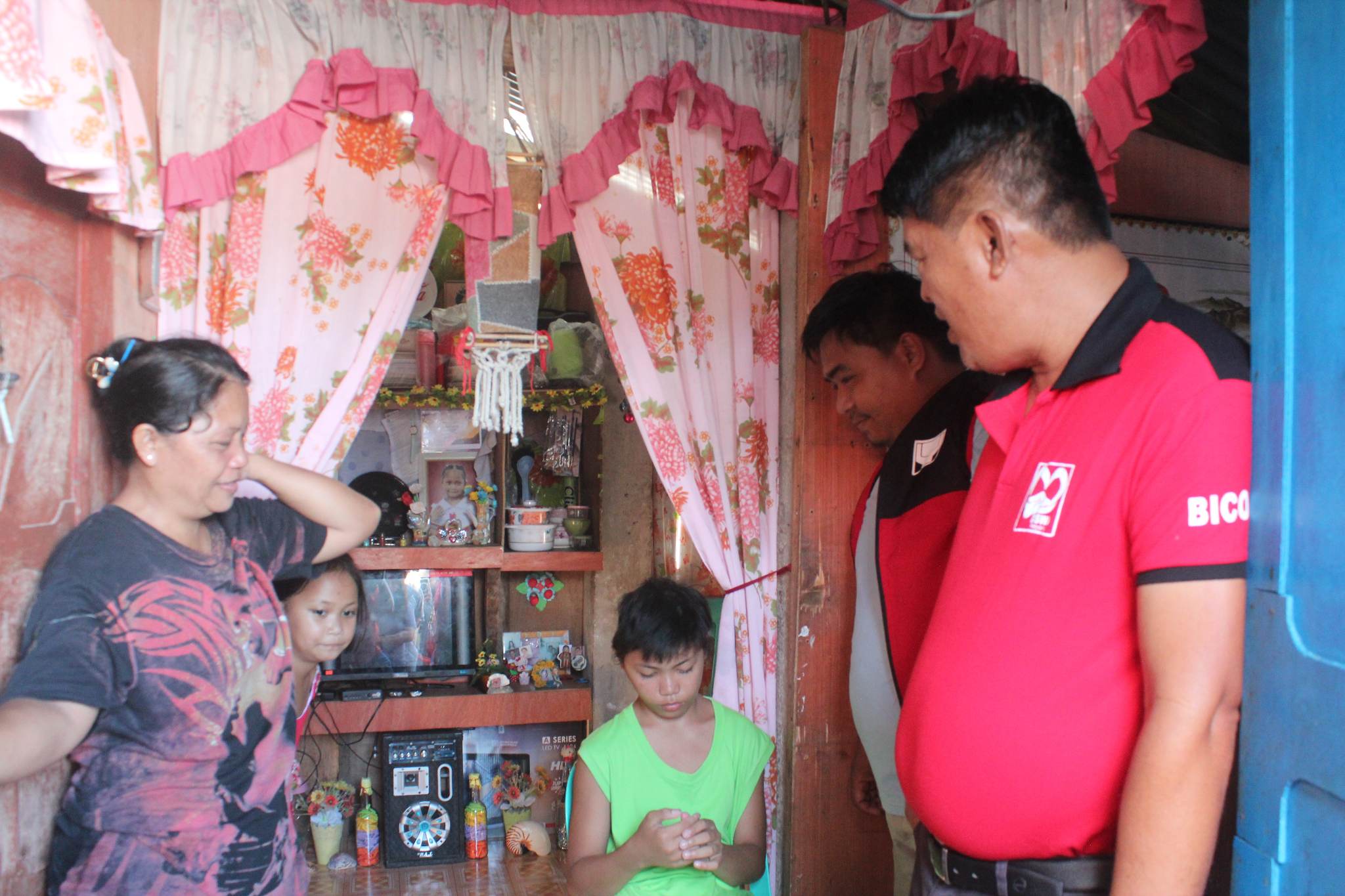 In the blink of an eye, the life of a young child can change forever. This is not just a plain success story but a tale of the courage a mother and son must endure for another life.
Prince Charles Matias, an adventurous fourteen-year-old kid from Brgy. Poblacion, Monreal, Masbate, got into a major accident resulting in severe head and brain injuries. Doctors warned his mother, Kathrina Geronimo, a house helper, that Prince might not survive the night. However, Kathrina was determined to see her son live.
Through the intervention and the initiative of the Department of Social Welfare and Development Field Office 5 (DSWD FO V), the Local Government Unit (LGU), and other agency partners, Prince survived and made a remarkable recovery.
THE TRAGEDY
On November 10, 2022, late in the afternoon, Prince and his two friends went on a bicycle ride. While carrying the rice they bought to Barangay Morocborocan, they took turns riding the same bicycle. In their adventurous and playful spirit, they all rode the bicycle together and ended up falling into a creek that was under construction. Prince's friends sustained minor injuries, but Prince himself was left in critical condition.
LIFE AND DEATH SITUATION
Emergency services were quickly notified, and the three boys were taken to the Rural Health Unit (RHU) for immediate first aid. They were then transferred to Ticao District Hospital (TDH), which had limited medical facilities. Due to Prince's condition, he was further referred to Masbate Provincial Hospital (MPH) for assessment and diagnosis.
Experts from MPH diagnosed Prince with Depressed Comminuted Frontoparietal due to a hemorrhagic progression of a contusion after the traumatic brain injury. He must undergo a Decompressive Frontoparietal Craniectomy, a brain surgery that removes a portion of the skull to relieve brain swelling. This procedure must be performed promptly to prevent further complications. Unfortunately, MPH also lacked the necessary resources to carry out the surgical procedure.
Given the situation, the doctors informed Kathrina that Prince needed to be transported immediately to Bicol Regional Hospital and Medical Center (BRHMC) in Legazpi, Albay. BRHMC, located 55 miles away from Masbate, was the nearest institution equipped with the complete set of facilities and apparatuses required for the procedure. However, the surgeons informed Kathrina that the chance of survival was minimal due to the long hours of travel.
During the nearly five-hour ferry boat and land travel, Kathrina remained calm and hopeful. She never stopped praying, as she witnessed her son fighting for his life.
"Nakita ko na kaya niya pa eh. Kaya nag baka sakali ako kahit walang-wala kaming pera para ipang-abono sa mga bayarin sa ospital mabuhay lang ang anak ko," shared Kathrina.
LIFESAVING ASSISTANCE
As news of the accident spread throughout the community, LGU-Monreal, through the Municipal Social Welfare of Development Office (MSWDO-Monreal), immediately notified and coordinated with DSWD FO V for possible assistance.
DSWD, through its program, Assistance to Individuals in Crisis Situation (AICS), is responsible for promoting the welfare of vulnerable individuals and families. It serves as a social safety net or a stop-gap mechanism to support individuals and families in recovering from life's adversities.
The agency sent a team to BRHMC to assess Prince's situation. They observed that his family was struggling to cope with the emotional and financial burdens of his condition.
Prince survived the surgery, but Kathrina was overwhelmed by the medical expenses her family had to face. The cost of medications, surgery, and laboratory expenses amounted to Php 234,594.73.
"Hindi ko alam kung saan kukuha ng pambayad ng ospital [pero] ang importante, buhay ang anak ko. Kaya laking tuwa ko po [nang] malaman ko na sagot na ng DSWD ang kalahati ng bill sa ospital," Kathrina shared.
DSWD provided immediate assistance, including financial support for the payment of excess hospital bills. Through the guarantee letter, the program shouldered half of the hospital bills, amounting to Php 150,000.00. A guarantee letter is a document issued by the agency, assuring service providers of payment on behalf of the beneficiary. The service providers typically include partner hospitals and funeral homes. The agreement is consensual and formalized through a Memorandum of Agreement (MOA) signed by both parties.
In addition to financial assistance, the Matias family received psychosocial intervention, counseling services, and other resources to help them cope with the adversity.
DSWD FO V went above and beyond their usual scope of assistance to provide additional support and ensure the well-being of the Matias family.
Through the initiative of the agency, they also helped the family reach out to other partners to cover the remaining balance of the hospital bill, ensuring that the Matias family had zero medical expenses.
LIFE SAVED: A GLIMPSE INTO PRINCE'S SECOND CHANCE
""Maraming salamat sa DSWD at sa lahat ng mga tumulong upang magkaroon ako ng pangalawang buhay." Prince joyfully expressed his gratitude to the DSWD FO V team during their visit in April 2023, headed by Regional Director Norman Laurio.
During the visit to the Matias family, Kathrina extended her sincere thanks to the agency and the other partners who made their crisis bearable. She also discussed with RD Laurio the remarkable progress of Prince's recovery.
"Ngayon po, nagiipon kaming mag-asawa para sa mga follow up check-up at [iba pang] assessment at gamot na kailangan ni Prince para tuluyan ang [kanyang] pag-galing," Kathrina shared.
The Matias family relies solely on fishing as their main source of income. In response, Director Laurio promised that the agency, through AICS, would provide the family with the necessary assistance to support Prince's healing.
RD Laurio informed Kathrina that she could seek further assistance from the agency, such as medical assistance and transport assistance. Medical assistance would be valuable for Prince's ongoing assessment and treatment. RD Laurio also informed the family that they could avail of the program every three months, providing cash support during Prince's recovery treatment.
He reminded the family to prepare the necessary documents required for availing the assistance, including a medical abstract/medical certificate, prescription, laboratory requests, Barangay Indigency or Residency of the claimant, and a valid ID.
RD Laurio also emphasized that AICS offers transportation assistance, which can be utilized for the family's travel from Masbate to BRHMC in Legazpi City, and vice versa for Prince's further medical assessment.
In addition, Prince was referred for educational assistance from the program. Currently in the 10th grade of Junior High School, he dreams of becoming a policeman in the future.
"Salamat talaga [sa] DSWD. Napakalaking tulong [ang] hindi kami mapabayaan lalo na sa oras [ng] pangangailagan. Sana [ay] marami pa[ng] pamilya[ng] [tulad namin] ang [inyong] matulungan," Kathrina, an overjoyed mother as she expresses her gratitude to the agency.
With meager wages, poor families often end up spending beyond their means, particularly when faced with emergencies and calamities beyond their control. These circumstances further push them into poverty.
Over the years, AICS has been a great help to vulnerable and marginalized individuals and families dealing with various adversities, earning it the reputation of being a "lifesaver of the poor."