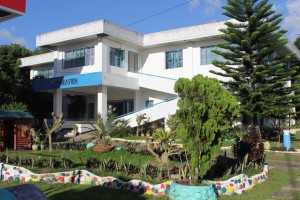 Provides temporary shelter and protective custody to women ages 18-59 years old who are victims of involuntary or forced prostitution, illegal recruitment, battered/abused women, victims of sexual abuse, women in detention, women victims or armed conflict and others.
The HAVEN-BICOL is a Substitute Home for Women, a social welfare and development facility located at the DSWD Complex, Nasisi, Ligao City. Its clientele include:
Victims of Involuntary or Forced Prostitution – those recruited as receptionists, waitresses, entertainers, dancers and domestic helpers who are later forced into prostitution.
Victims of Illegal Recruitment – those who paid fees for local or foreign employment but found themselves with no job placements or who were able to work but under exploitative or oppressive conditions and/or have lost their jobs.
Battered or Abused Women – those who are physically, mentally and emotionally maltreated by husbands, other family members, employers, etc.
Victims of Sexual Abuse – Incest – those who have carnal relations with their parents, siblings or blood relatives to the fourth degree of consanguinity and Rape – those who have been victims of genital copulation usually accompanied by bodily threat.
Victims of Armed Conflict – those who have been traumatized by death, displacement and/or disorganization of family members as a result of armed struggle.
Women in Detention – those who have been detained in jails for various reasons before a case is filed against them.
The HAVEN-BICOL has the following services for Women in Especially Difficult Circumstances:
Residential Care – temporary shelter with food, clothing and personal care items.
Medical Services – Physical examination, dental check-up, clearance from sexually transmitted diseases and psychiatric evaluation and treatment.
Psychological Testing
Maternal and Child Care Skills Development – environmental sanitation, self-care, early childhood disorders, growth monitoring, promotion, immunization and nutrition.
Self-Enhancement and Skills Development – Ego building, stress reduction and crisis management, spiritual enhancement and renewal, sports development, values development, socialization and revival of cultural traditions.
Livelihood Skills Development – pratical skills development, sheltered workshop or sub-contracted jobs, leadership and basic management skills development and capital assistance.
Social Communication Skills Development .
Legal Services
Counseling Services – individual, group or couple.
Community Participation Skills Development
Educational Services – formal and non-formal
Transportation Assistance
After-Care Services
Address :  DSWD Complex, Nasisi, Ligao City