Reception and Study Center for Children [RSCC]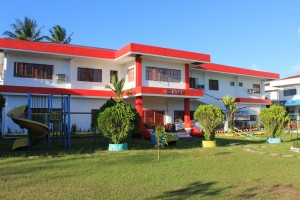 A child-caring institution that provides services to abandoned, neglected and/or surrendered children 0-6 years of age. The primary aim of the center is to help the child achieve survival, development and rehabilitation.
The RSCC, then known as the Receiving Home for Children, was established in the Bicol Region on September 3, 1981 pursuant to Art. 22 and 154 of Presidential Decree No. 603 – The Child and Youth Welfare Code. Ms. Teresita S. Rosales (deceased), former Regional Director of DSWD Field Office No. 6, served as RSCC Head Social Worker and worked with the leaders of the Department to realize what the RSCC is, today.
The Center started as a Home for Children at the Bagong Buhay Child Center, Old Albay District, Legazpi City. It later transferred to a rented bungalow near the Legazpi City Airport and to another house at the Old Albay District. During its initial operation, the RSCC was only capable of accomodating 10-15 children.
In 1990, during the term of Regional Director Aida P. Domingo, the first RSCC building was established at Bitano, Legazpi City on a lot granted "by way of USUFRUCT" to the DSWD by the City of Legazpi on February 4, 1989 in an agreement between the DSWD, then represented by Honorable Secretary Mita Pardo de Tavera and Honorable Mayor Benjamin S. Imperial.
In 1994, during the term of Regional Director Ma. Suzette M. Agcaoili with the Honorable Corazon Alma G. de Leon as Secretary of the Department, a new site for the RSCC at Nasisi, Ligao City, was donated to the Department by the family of Don Alfonso Bichara [father of Ambassador and former Albay Governor Al Francis C. Bichara].
On September 1995, President Fidel V. Ramos approved the release of P10M from the Reserve Control Fund as capital outlay for the construction and purchase of equipment and vehicle for the new RSCC. The DSWD Complex was established in the 5,000 sq.m. lot. On September 19, 1997, the RSCC transferred to a much better home at the DSWD Complex where we also have The HAVEN-Bicol and the Regional Productivity Skills Capability Building Center for Women [RPSCBCDW].
The RSCC as a social laboratory, serves 0-6 year old children. Custodial care and other services are provided to the residents to protect them from further neglect, maltreatment and exploitation and to prepare them for the most suitable and permanent placement.
The RSCC Services include:
Homelife Services
Medical Services
Nutrition and Dietetics Services
Social Services
Early Childhood Care and Development Services
Spiritual Services
Child Placement Services
For more information, you may contact:
MS. MARISSA M. PAESTE
Center Head
Address :     DSWD Complex, Nasisi, Ligao City