Pursuing Passion for Volunteerism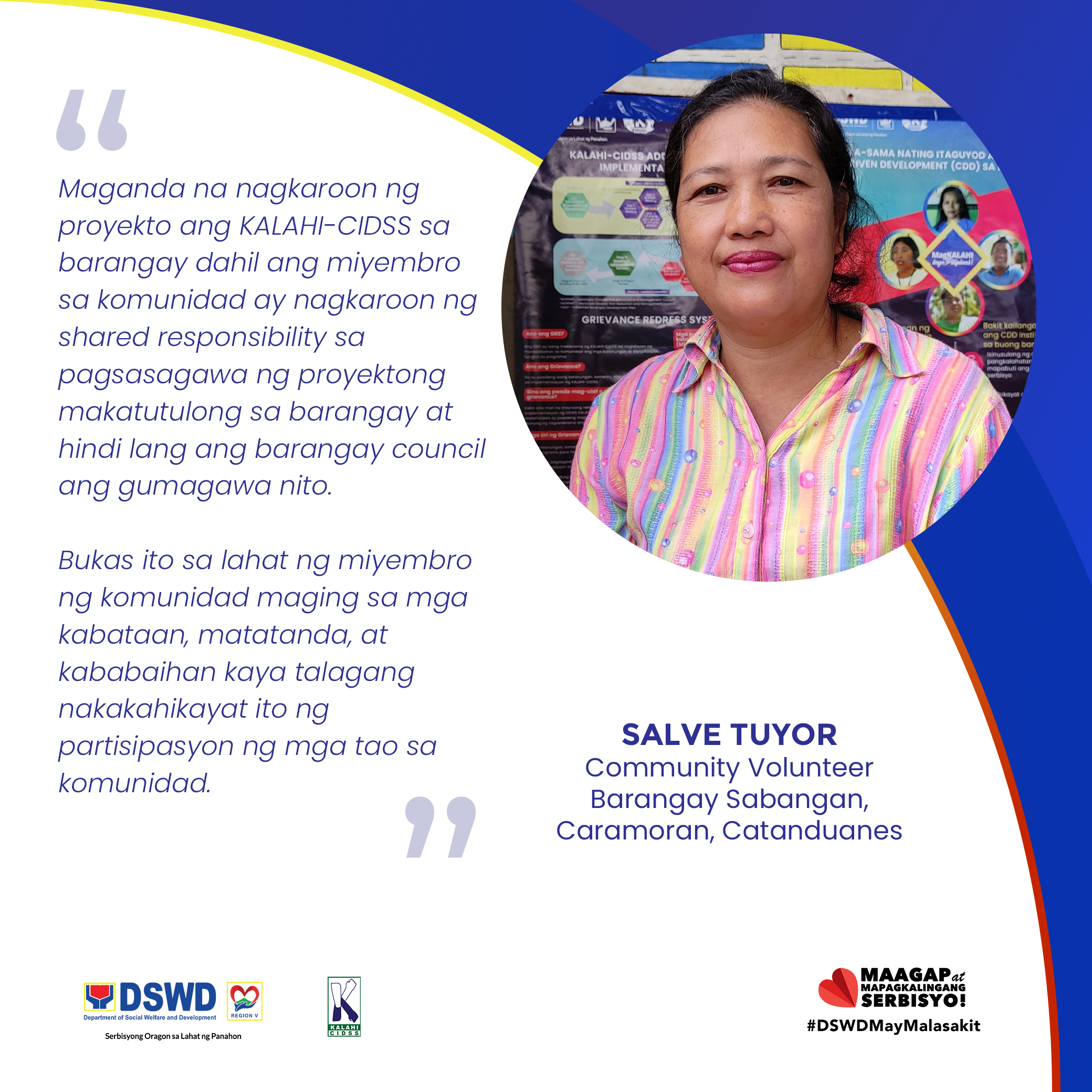 With a big heart to serve, Salve Tuyor, a 49-year-old resident of Barangay Sabangan, Caramoran, Catanduanes did not hesitate to allot her time and effort for the development of her community.
Salve, who works as a Barangay Nutrition Scholar (BNS), shares her knowledge and skills as a community volunteer of the Department of Social Welfare and Development Kapit-Bisig Laban sa Kahirapan – Comprehensive and Integrated Delivery of Social Services (DSWD KALAHI-CIDSS).
Salve's involvement in the program was deeply rooted because she actively participated ever since the first sub-project implementation in the community way back 2005.
Barangay Sabangan was a recipient of three (3) KALAHI-CIDSS sub-projects from 2005 to 2017. In these projects, Salve was a member of the Barangay Representation Team (BRT) that represented the community at the municipal level during meetings and workshops, especially during presentations of the proposed interventions in the community.
The first project that the barangay implemented was the Sabangan Caramoran Water System (SARWASA) which was functional and beneficial to community members even until now. Before the water system was built, they used to fetch water from deep well for drinking and domestic use wherein only three (3) deep wells are safe to use for drinking so there was no sufficient source of water in the entire community.
In 2008 and 2017, the barangay became a recipient again of KALAHI-CIDSS for the implementation of river control dike project. The barangay is a flood-prone area due to its geographic location.
The Zone 3 and 5 of Sabangan are high-risk areas for flooding due to its proximity to the river. Salve and her family are residing in Zone 5 so she often experienced anxiety since they were one of the households who were at-risk once there was an impending typhoon and heavy rainfall. Currently, the sub-project is still functional that still provides support to mitigate the impact brought by the floods.
During the implementation of these three (3) projects, Salve shared her experiences as a volunteer.
"Natutunan ko kung pano mag-implement ng mga proyekto sa barangay kasi dati hindi ko alam ang proseso na isinasagawa dito pero sa pamamagitan ng seminars at meeting na isinasagawa ng KALAHI(-CIDSS) nalaman ko sa paanong paraan ito dapat gawin," she explained.
(I do not have any knowledge before on how to implement barangay projects but through the seminars and trainings conducted by KALAHI-CIDSS, I learned the processes on how projects should be done).
Under the National Community-Driven Development Program Additional Financing (NCDDP AF) modality, the program included the community as one of the recipients of community grant.
At this moment, from being a member of BRT from three (3) previous projects, Salve took the leap and is now the chairperson of the Barangay Development Council – Technical Working Group that oversees the sub-project implementation.
Initially, she was hesitant to lead the group since she was hospitalized and has health issues caused by her second dose of Coronavirus disease (COVID-19) vaccine. Nevertheless, despite the predicaments, she accepted the responsibility as chairperson of BDC-TWG.
"Para naman kase ito sa barangay, ang buhay ko naman ay talagang para sa pagtulong at pag-serve sa mga tao sa barangay," she said.
(Taking this responsibility is for the barangay and my life is now dedicated to extending help and serving the community).
Despite having other duties in the community, she still pursued her commitment.
"Although mahirap pagsabayin ang duty bilang BNS, ninais ko pa din maging community volunteer kasi mas gusto ko pa makatulong sa barangay kahit walang amount na binibigay sakin, talagang basta makatulong ako sa kapwa ko, okay na ako," she shared.
(Performing the responsibility as a BNS and a community volunteer at the same time is somehow difficult but I still chose to be a community volunteer. I want to help in our barangay even though there is no monetary value in return, as long as I can extend help, I'm fine with it).
Salve's passion in helping and serving the community is what pushes her to actively contribute and share her time in the program. Even though she has responsibilities in her barangay as BNS and in her family as a wife and a mother of three (3) children, yet she still managed to share her skills for the benefit and development of the barangay.
"Maganda na nagkaroon ng proyekto ang KALAHI(-CIDSS) sa barangay dahil ang [mga] miyembro sa komunidad ay nagkaroon ng shared responsibility sa pagsasagawa ng proyektong makatutulong sa barangay at hindi lang ang barangay council ang gumagawa nito," she noted.
(It was nice that there is an implementation of KALAHI-CIDSS in the barangay because community members have a shared responsibility in implementing projects which will benefit the community and the barangay council is not the only one who manage it.)
Salve added that the program encourages involvement among the community members since all members are welcome to participate.
Through the participatory process of the Community-Driven Development (CDD) approach, communities are at the forefront in all the phases of implementation wherein the voices of the community members are heard and are given a hand to plan and decide.
Part of pursuing the passion for volunteerism is the eagerness of Salve to stand on her beliefs for community progress.
Contributor: Joana Mae Marjalino