Redefining the blueprint of construction sector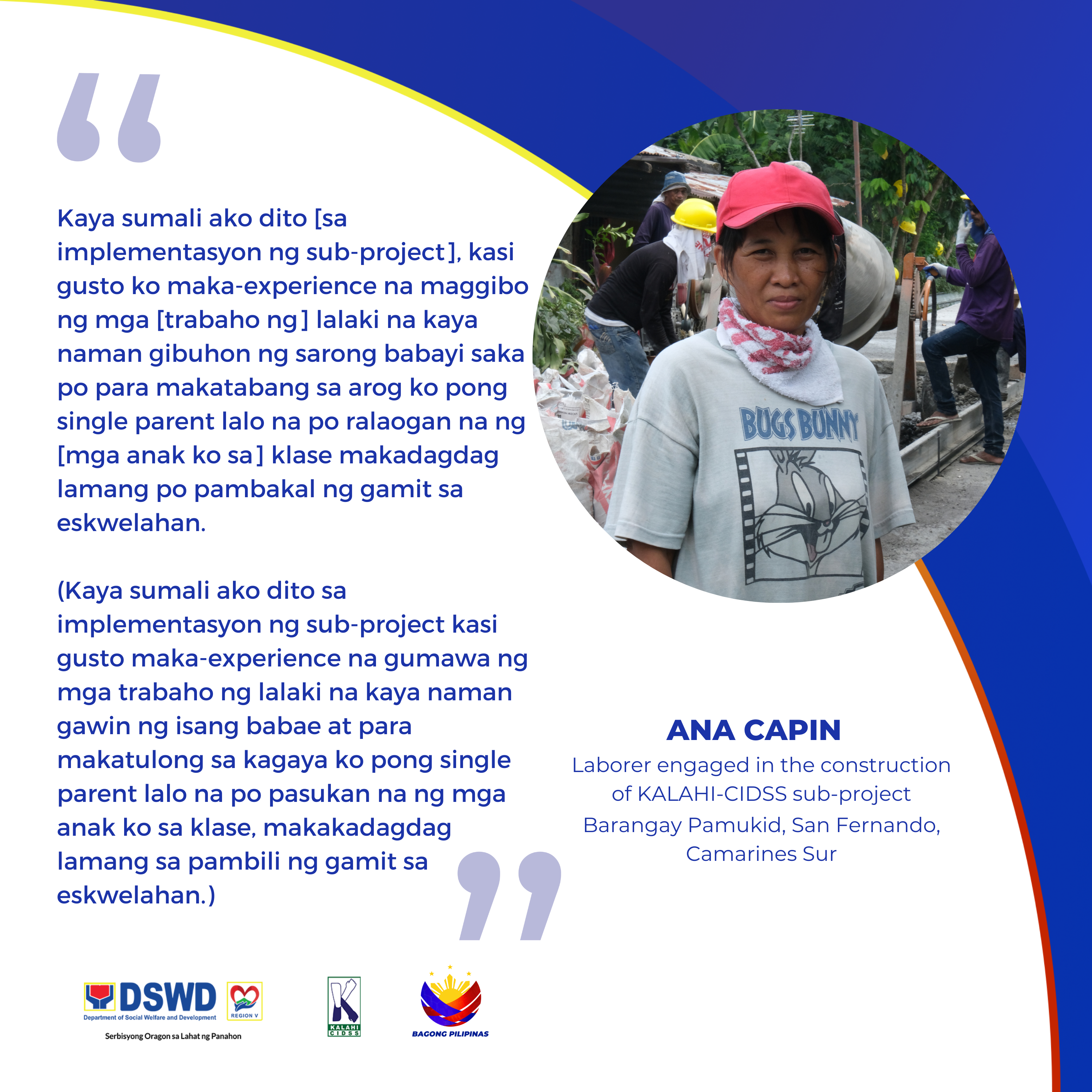 Historically, the construction industry was once a male-dominated profession. In recent years, there has been a tremendous shift in the industry wherein more women are shattering the stereotypes.
Most people often picture male laborers implementing the construction plans, operating equipment and machinery, and handling and transporting materials. But beyond the large number of male laborers, we can already see women doing the same tasks as the male laborers.
In the heart of Barangay Pamukid in San Fernando, Camarines Sur, Ana Capin, 50, a solo parent is already making an impact on redefining the construction sector as a laborer of their barangay road sub-project.
The sub-project amounting to Php 2,088,657.00 was funded under the Department of Social Welfare and Development (DSWD) through the Kapit-Bisig Laban sa Kahirapan – Comprehensive and Integrated Delivery of Social Services (KALAHI-CIDSS) with local counterpart contribution from Barangay Local Government Unit benefiting 85 households.
One of the initiatives of KALAHI-CIDSS is to provide opportunities to women during the implementation of infrastructure sub-projects wherein women can access tasks or duties of a construction laborer. Laborers are paid with the prevailing wage rate in the region.
From 2014 until now, 233,885 laborers worked on the sub-projects funded under KALAHI-CIDSS wherein 94,542 are female while 139,343 are male. The program provided PhP 948,590,644.91 to workers during the sub-project implementation.
AS A MOTHER AND LABORER
According to Ana, through her participation in community meetings, she learned about the job opportunity being offered by the barangay to construct the road sub-project.
"Kaya sumali ako dito [sa implementasyon ng sub-project], kasi gusto ko maka-experience na maggibo ng mga [trabaho ng] lalaki na kaya naman gibuhon ng sarong babayi," she explained.
(I joined the labor force for the implementation of sub-project because I want to experience the tasks of a male laborer that can also be done by a female laborer.)
Ana also did not pass on the opportunity as it would significantly help her family's financial expenses.
"…saka po para makatabang sa arog ko pong single parent lalo na po ralaogan na ng [mga anak ko sa] klase, makadagdag lamang po pambakal ng gamit sa eskwelahan," she said.
(…of course, it can help me who is a single parent. Since my children already returned to school, it can be an additional fund for education expenses.)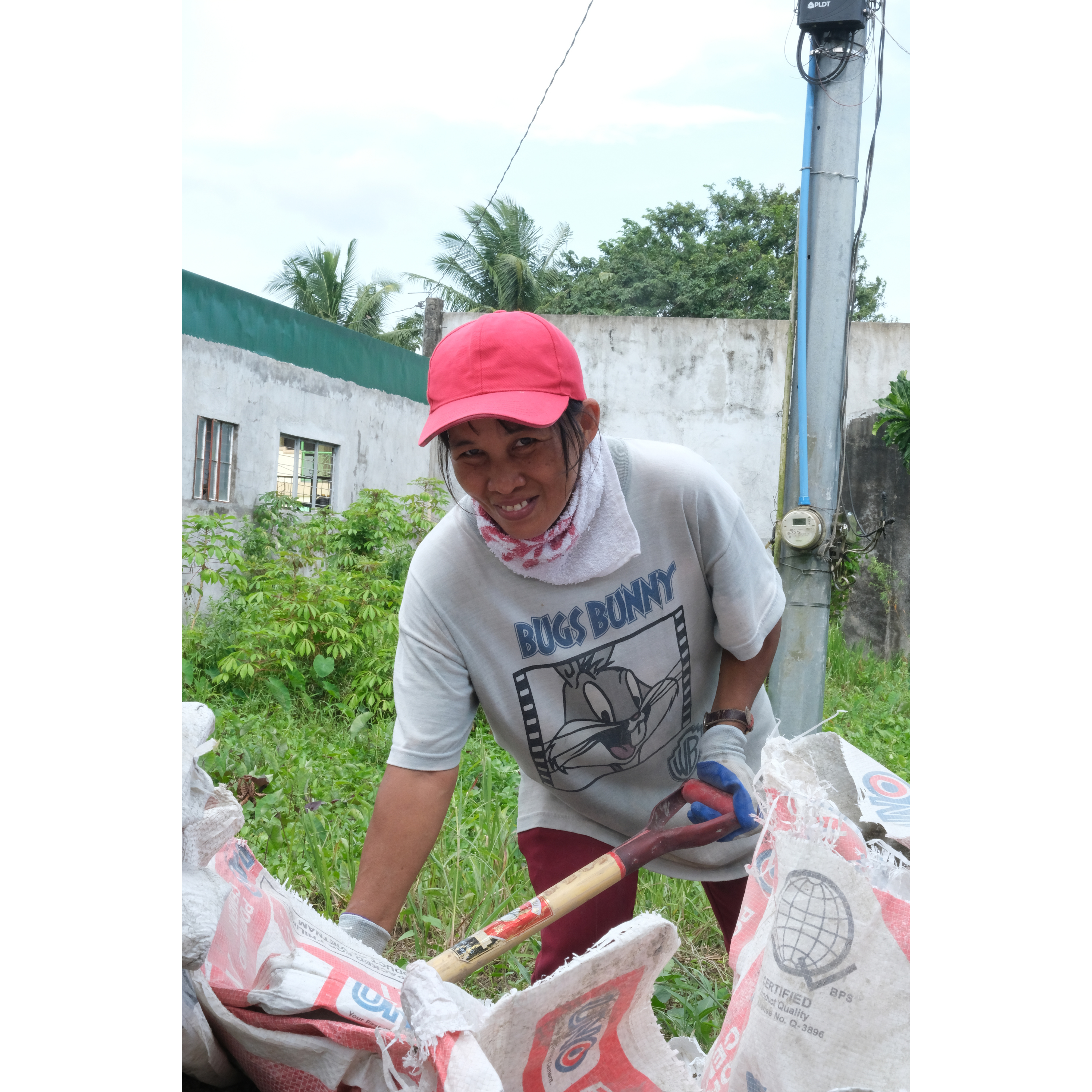 The laborers worked on a weekly rotation from 7:30 – 11:00 a.m. and 1:00 – 5:00 p.m.
Ana did not encounter any problems working with her fellow laborers. She described her co-workers as very supportive and considerate colleagues.
Despite working under the scorching sun and exhaustion from physical activities, the female laborer beamed with excitement.
"At least kaya mo po, kaya ng hawak mo mayong problema sako kung sige mong pili magugutom ang pamilya mo," she stated.
(As long as you can do it, your body can endure it, there is no problem because if you are very selective with your work, your family will be hungry.)
She added that she is proud of her noble work because she is part of a sub-project that will bring progress to her community.
"Dakulang tabang na maray sa gabos sa komunidad, dakulang naitatabang kang KALAHI-CIDSS," she concluded.
(KALAHI-CIDSS is a huge help to everyone in the community.)