RJJWC members, LGUs ink MOA to converge efforts for children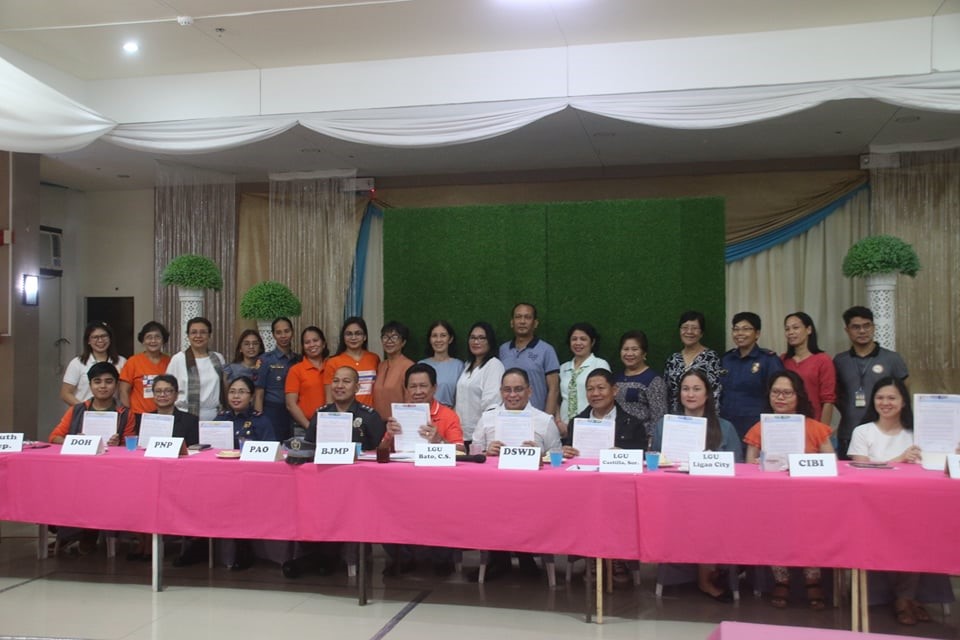 The Regional Juvenile Justice and Welfare Committee (RJJWC) Bicol and local government units (LGUs) signed a Memorandum of Agreement (MOA) on the convergence program for the children-at-risk (CAR) and children in conflict with the law (CICL) last November 25, 2019 at La Edley Food Services and Recreational Center, Legazpi City, Albay.
The convergence program also known as Bugkos-Paglaom will create a local referral network to improve the coordinative mechanism between RJJWC and pilot municipalities namely Ligao, City in Albay, Castilla in Sorsogon and Bato in Camarines Sur to the needs of CAR and CICL.
The LGUs were identified based on their receptiveness and the functionality of Local Councils for the Protection of Children (LCPCs), active Non-Government Organizations (NGOs) and Civic Society Organizations (CSOs) which could capacitate the LCPCs in performing their roles and functions.
"Bugkos-Paglaom is the first convergence program in the Philippines that caters to CAR and CICL," Department of Social Welfare and Development (DSWD) Regional Director Arnel B. Garcia said.
The program shall be implemented for three (3) years from 2020 until 2022 to decrease the incidence rate of CAR and CICL and respond to the needs of the children.
RJJWC was created through the Republic Act 9344 as amended by Republic Act 10630. The committee ensures the effective implementation of the law by monitoring, overseeing and providing necessary technical assistance to the LGUs and LCPCs.
The regional committee members specifically Department of Justice (DOJ), Department of Health (DOH), Department of the Interior and Local Government (DILG), Department of Education (DepEd), Philippine National Police (PNP), Commission on Human Rights (CHR), Public Attorney's Office (PAO), Bureau of Jail Management and Penology (BJMP), National Youth Commission (NYC), EDUCO Philippines, Children International Bicol Inc., different LGU leagues and youth representative are led by DSWD Regional Director Garcia, the RJJWC chairperson. /ramsertan/