Sarimanok: the journey of starting a livelihood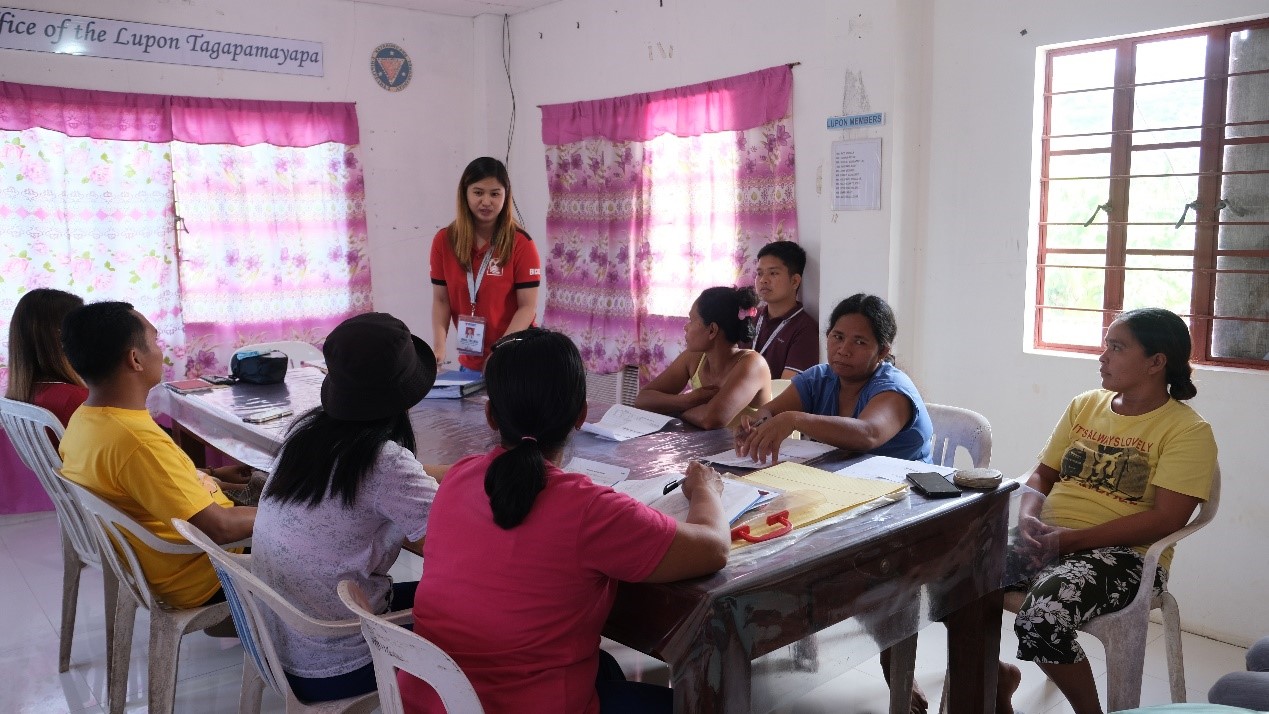 The journey to start a livelihood as an association is not that smooth. There will always be ups and downs, but in the end, it relies on the cooperation of each individual in the association.
Even though the Sarimanok Sustainable Livelihood Program Association (SLPA) in Barangay Datag, San Andres, Catanduanes started only on November 2022, they have displayed a strong foundation for their poultry enterprise to thrive.
The Sarimanok SLPA was formed through SLP's implementation of Executive Order No. 70 (EO 70) s. 2018, institutionalizing the Whole-of-the-Nation Approach to pave the way for collective participation and action in harmonizing government development efforts and services to support, facilitate and pursue the country's peace agenda.
The eligible individuals and/or families in conflict-affected and -vulnerable communities like Barangay Datag were created into an association. Sarimanok SLPA received the Php 300,000.00 livelihood grant as a start-up for their identified livelihood or enterprise.
According to Rose Ann Manlangit, 20 years old, president of Sarimanok SLPA, the 20-member association chose the 45-day-broiler as their business since most of the members have already existing poultry and livestock.
For the members, being part of the association was a big help for their families and daily subsistence.
"Gusto ko nga pong sumali po talaga para din po sana po matulungan po ako ng SLP na katulad nga po sa pag me-maintenance ko po ng gamot kasi nga po mayroon nga po akong sakit na Epilepsy po," Mark Kevin Manlangit, member of Sarimanok SLPA said.
(I want to join so that SLP can help people like me who have maintenance medication for Epilepsy.)
Meanwhile, for Razel Nazareno, secretary of the association, the livelihood is a great assistance, especially in times of emergency.
"Malaking tulong kasi kung noong nagkasakit ang isa sa mga anak ko, hindi na ako nahirapan na maghanap pa ng para sa pampagamot kasi ginamit ko muna yung naging kita ko," she explained.
(It [livelihood] is a big help because when one of my children is sick, I don't need to find the money for the medication since I can already use the earnings from the business.)
CHALLENGES IN STARTING THE ASSOCIATION
Starting a business is very crucial, especially for a newly formed association like Sarimanok.
Rose Ann cited that one of their main problems is the sudden death of their broilers due to changing weather conditions.
She also added that they have difficulty in finding sure buyers of their chickens. In resolving the issues, the association is planning to attend training to avoid the increased mortality risks of broiler chickens.
As to finding sure buyers, the association devised a strategy to sell the chickens.
"Naghahanap po kami nin buyer individually then pag naubos na po 'yong sakuyang manok itututuyo ko su sa member ko na kung igwa pa sinda ning stock tanganing gabos po maka-dispose," Rose Ann explained.
(We looked for buyers individually, then once my stocks are exhausted I would refer the buyer to another member who still has chickens; so that all members will have the opportunity to sell the chickens.)
NEWLY OPENED DOORS THROUGH SARIMANOK
One of the opportunities provided for the members is the chance to socialize with other community members.
"Pag sinabing babae, ang nasa isip agad ng ibang tao, taga-laba, taga-luto, taga-linis, tagapag-alaga ng mga bata," Razel stated.
(When people mentioned women, the first thing that comes to the mind of others is someone who washes clothes, cooks food, cleans the house, and takes care of the children.)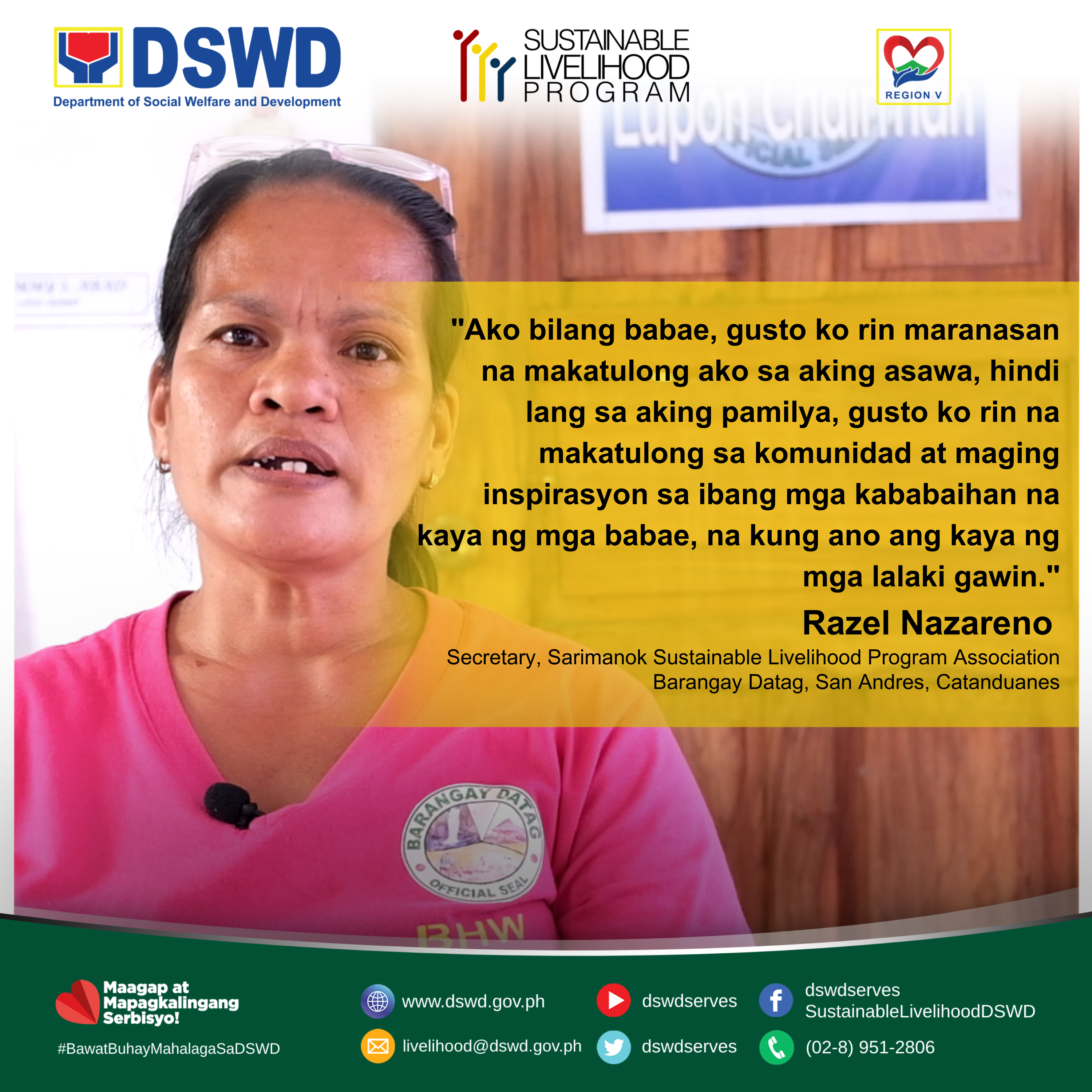 "Pero ako bilang babae, gusto ko rin maranasan na makatulong ako sa aking asawa, hindi lang sa aking pamilya, gusto ko rin na makatulong sa komunidad at maging inspirasyon sa ibang mga kababaihan na kaya ng mga babae, na kung ano ang kaya ng mga lalaki gawin," she continued.
(For me, as a woman, I want to experience helping my husband, not only my family, but I also want to help the community and give inspiration to fellow women, wherein what men can do is also possible for women.)
On the other hand, Mark Kevin saw livelihood as a learning opportunity.
"Natutulungan po akong mabigyan ng oportunidad para nga po matuto magalaga kasi nga po sa tulad ko nga pong estudyante na ngayong lang po ako nakaranas mag-alaga ng mga sisiw," he noted.
(The livelihood helped me how to take care of the chickens, especially for a student like me who is a first-timer in broiler production.)
A unique feature to ensure the well-built foundation of the association is open communication among the members. The members maintain a group chat wherein they can raise their problems, suggestions or comments.
"So diit lang na problema open po ako as president, open po ako na iaccept kung ano 'yong mga suggestion, kung ano 'yong nahihiling nindang dapat na i-improve kasi 'yon po 'yong pinaka-important, 'yong communication," Rose Ann explained.
(Even a small problem, as a president, I am open to accepting any suggestions and whatever they see that they can improve because good communication is the most important.)
Each journey always starts with a single step. Even though Sarimanok was only formed in 2022 as long as there is a unified vision, careful planning, thorough implementation and effective communication, the single step may turn into a thousand steps.
As Henry Ford, an American industrialist said, coming together is beginning; keeping together is progress; working together is success.