Sparking an endless chain reaction of change from a volunteer's perspective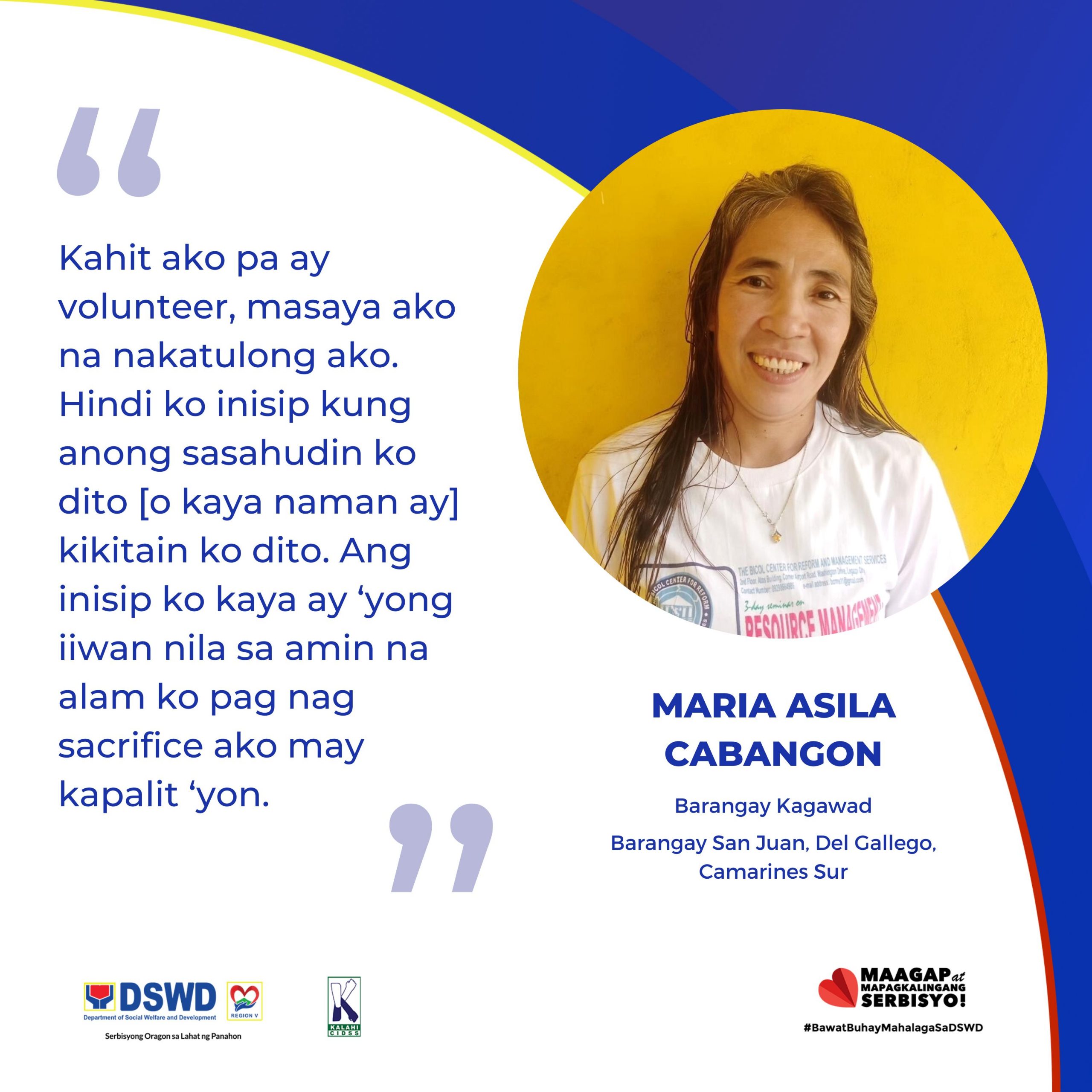 Humble beginnings sometimes turn out to be the greatest success stories. Who would have thought that her simple act of kindness and a deep-seated desire to give back to the community as a volunteer would have such an impact on her life?
Moreover, this woman proved that having a kind heart can lead to many beautiful things.
Maria Asila Cabangon, a 50-year-old barangay councilor from Barangay San Juan, Del Gallego, Camarines Sur, was once a community volunteer supporting and participating in various projects and causes in their barangay.
After considering the circumstances of their barangay, she convinced herself to serve as the Barangay Sub-Project Management Committee (BSPMC) chairperson during the Makamasang Tugon in 2011, in the hope to start change and attend to the needs of the barangay.
The projects during that time include nine (9) units of a level 1 water system and concrete open roads which are still able being used today. The processing center and evacuation center were also added to their projects under the Kapit-Bisig Laban sa Kahirapan-Comprehensive and Integrated Delivery of Social Services National Community-Driven Development Program (KALAHI-CIDSS NCDDP) back in 2014.
Maria enjoyed volunteering because it allowed her to give back to the community free of charge which for her was very rewarding. However, at first, her husband did not understood well the concept of volunteerism owing to the errands that needed to be done as a volunteer, such as attending meetings and training in various locations that inevitably took several days. For that reason, she explained the situation and why they had to go through it.
"Kaya kami dinadaan sa mga ganyan para maranasan namin kung gaano kahirap at matutunan namin ang pamamaraan. At mabuti ang pinaghihirapan [na proyekto] kasi [ito ay] iniingatan," she said.
(We are put through such things so that we can experience how hard it is and learn the method. Also, it is good when a project is born out of a great deal of work because it is taken care of.)
She further stated that she fought hard through it. Thus, when dishonesty issues from other community members arose, she did not tolerate the actions of her co-members that will affect the project as well as the community. Since her intention was solely to help their community, she wants to show this to her fellow volunteers so that they do the same.
"Kung iniisip ko yung pansarili ko na kapakanan nung time na ako ang namumuno, baka yung bahay ko matagal na konkreto. Pero hindi ko [ito] ginawa dahil para 'yan sa barangay namin at malaking tulong para sa ikakaunlad ng barangay," she added.
(If I had thought about my own welfare when I was in charge, maybe my house would have been concrete for a long time. But I did not do it because that was for our barangay and a big help for its development.)
Fortunately, that issue only happened initially and the subsequent project implementations were without a hitch. As a result of the improvements made in their barangay, people's lives have also gotten better, especially for women in their area.
"Dati ang mga babae sa bahay lang, [pero] ngayon may pinagkakakitaan [na]," she stated
(Women used to stay at home, but now they are earning a living.)
Maria considers KALAHI-CIDSS as one of the turning points of her life. Throughout her journey as a community volunteer, she learned to do a lot of things she never thought she could, developed her interpersonal skills, and was even recognized twice after sharing her testimonies. She also acknowledged the support of their barangay which inspired her to take an active role in volunteering.
It was Maria's passion for volunteer work that earned the trust of the community. This led to their encouragement for her to run for office and her subsequent election as one of the barangay councilors. Maria also mentioned that if she were not serving as a barangay councilor right now, she would have kept her position as BSPMC. But despite her current position, she constantly makes an effort to assist the volunteers, especially when a seminar or meeting is being held.
Nothing feels more rewarding than being remembered for having a kind heart. For volunteers like Maria, the most important thing in life is not how much money or what you can acquire, it is about the difference you make.
Although it is true that money can bring happiness, it is crucial to remember that the happiness is just but fleeting, it is never permanent. Genuine happiness continues to take the upper hand over happiness brought on by wealth, and this was true for Maria.
"Kahit ako pa ay volunteer, masaya ako na nakatulong ako. Hindi ko inisip kung anong sasahudin ko dito [o kaya naman ay] kikitain ko dito. Ang iniisip ko kaya ay 'yong iiwan nila sa amin na alam ko pag nag sacrifice ako may kapalit 'yon," Maria pridefully uttered.
(Despite being a volunteer, I am grateful that I can help. I did not consider how much I would get paid or how much money I would make from it. What I considered was what they will leave us with as I know that if I put in the effort, it will be rewarded.)
Any act of kindness, no matter how small, has the potential to turn someone's life around. May stories like Maria's inspire everyone to find each day as an opportunity to practice compassion and spark an endless ripple of change.
Written by: Io Frenzy Bautista