Stories of survival: Hope amidst disasters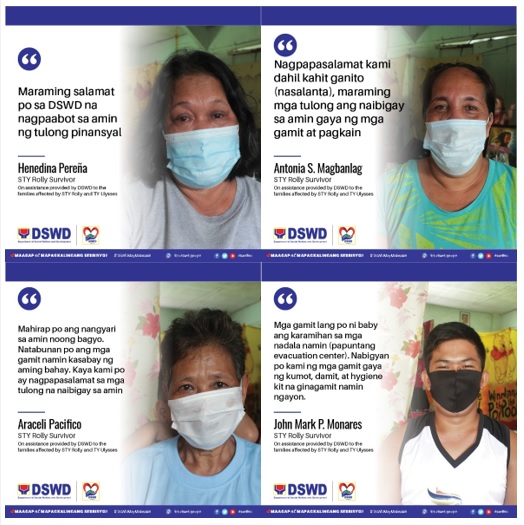 In November 1, 2020, the Bicol Region was hit by super typhoon Rolly, the year's strongest typhoon. It affected 561,916 families with 2,411,850 individuals, left 300,103 partially damaged and 67,180 totally damaged houses, and caused 24 deaths, 27 individuals injured, and 4 missing.
Bicolanos are known for their resilience, fit for their Oragon identity. They have the ability to build back after disasters, whether hydrometeorological, biological, or geophysical in nature. However, Bicolano's Oragon resilience was challenged by typhoons including super typhoon (STY) Rolly, the strongest typhoon in 2020. Immediately after the onslaught of STY Rolly, the Department of Social Welfare and Development (DSWD) conducted assessment to affected families to determine their needs. The agency, headed by Secretary Rolando Joselito Bautista and DSWD V Regional Director Arnel B. Garcia delivered Family Food Packs (FFPs) and Non-food Items (NFIs) to most affected population in Catanduanes and Albay. This year's overlapping disasters proved that government intervention plays a significant role in developing resilient communities.
Disasters during a pandemic
According to the Bureau of Local Employment (BLE) of the Department of Labor and Employment (DOLE), the number of displaced workers as of May 2020 has reached 2,757,640. Among the industries affected include those in the informal sector such as wholesale and retail, accommodation and food businesses, manufacturing, transportation, support services, and even education, among others.
John Mark Monares is among the employees who lost their job due to the pandemic. John Mark used to work as a security guard in Metro Manila. During the implementation Enhanced Community Quarantine, John Mark was laid off and was stranded for six months because of strict travel ban. "Anim na buwan po akong na-stranded doon (sa Maynila), yung ipon ko po muna ang ginamit ko na pang-gastos", said Monares. He and his common-law wife have started building their home in San Francisco, Guinobatan, Albay. During the onslaught of super typhoon Rolly, more than 200 houses were buried, including that of Monares. "Nakapag-pasimula pa lang po nung bahay, bale, mayroon na pong asintada (frame) kaso, natabunan na", he added. Monares, like most evacuees was not able to salvage any household item and clothes. Most of their belongings now were either donations or relief items. "Nabigyan po kami ng mga gamit gaya ng kumot (sleeping kit) at hygiene kit. 'Yun na po ang ginagamit namin ngayon". Today, Monares and his family shares a room at Marcial O. Rañola Memorial School with three other families who survived the lahar flow.
Surviving 2020's strongest typhoon
Super typhoon Rolly was the first category 5 tropical cyclone to ever make landfall in the Bicol Region. By practice, residents base their preparedness actions on historical data and past experiences rather than probabilistic forecasts. In the case of barangay San Francisco, the residents were not expecting high-level flooding let alone, lahar flow.
Araceli Pacifico, one of the survivors, planned to go to work before the typhoon. "Mainit pa kasi noon, papasok pa sana ako kaso, sabi ng asawa ko, wag na." Araceli works as a housemaid at a nearby barangay. In the morning of November 1, Araceli was preparing breakfast for her son and husband when flood water started to sweep the area, followed by lahar flow. Araceli managed to put his son on top of a table. She, on the other hand, was no longer able to avoid the lahar rapidly flowing towards her direction. Half of her body was buried. "Akala ko, wala na", Araceli said thinking that she may not survive. "Mabuti, yung asawa ko, hindi ako binitawan. Gumapang ako hanggang sa nakatayo", she added. Araceli and her family spent the entire day and night seeking shelter at a shop with nothing but only the clothes they were wearing. Despite her experience, Araceli is thankful that her family is safe, and that help were extended immediately. Araceli was one of the beneficiaries of cash assistance under Assistance to Individuals in Crisis Situations (AICS). She, along with other evacuees also received relief goods, sleeping kits, and hygiene kits from DSWD. They also received modular tents from the International Organization for Migration (IOM), one of DSWD's partners in humanitarian response.
Combating the impacts of disaster  
Disasters have psychosocial impacts on its survivors. Although less visible than physical injury, structural damage, and material loss, recovering from emotional effects of disasters take longer time. According to a research conducted by Neria, Y., Nandi, A., and Galea S. (2016), disaster survivors and direct victims have higher risk of Post-traumatic Stress Disorder (PTSD). Among the most common mental health issues observed in disaster affected population are adjustment disorder, PTSD, depression, anxiety disorder, non-specific somatic symptoms, and substance abuse (Math, S.B., Nirmala, M.C., Moirangthem, S., and Kumar, N., 2015).
Some of the survivors said that after the typhoon, they have been experiencing trouble sleeping. An evacuee from Guinobatan, Albay said "hirap ako makatulog, minsan alas-dose pa lang gising na ako." Her family is among those who did not evacuate before the typhoon. "Naaalala ko yung nangyari noong bagyo, kapag malakas ang ulan, kinakabahan na ako", she added.
Aside from food and non-food items, DSWD also provides psychological intervention to survivors. This aims to lessen the emotional burden effects and to help them cope with the changes caused by the disaster.
Take-aways from the disaster
Monares, along with other evacuees have not experienced lahar flow in their area until STY Rolly. Based on their stories, parts of San Francisco would often experience flooding during typhoon seasons. However, flood water would only reach ankle to knee-level. "Unang beses pa lang itong nangyari sa amin, dati baha lang pero walang lahar na kasama", said Antonia Magbanlag, Monares' mother. Antonia's family are among those who did not transfer to evacuation centers before the typhoon. After the disaster, Antonia and other evacuees saw the value of pre-emptive evacuation. She said that should a similar situation arise, they will evacuate instantly to avoid battling for their lives during a calamity. The evacuees no longer want to return to their homes in fear of experiencing lahar flow again. Antonia, along with other evacuees, expressed their willingness to be relocated. "Kahit saan, basta sigurado (na ligtas), mahirap yung lagi mong iisipin kung ligtas ka ba sa bahay mo", said Antonia. To them, the possible relocation site's distance from their previous home no longer matter as long as it is safe for their family to live in. Indeed, home is not a place, it is people. ###