The Tandang Sora of Patitinan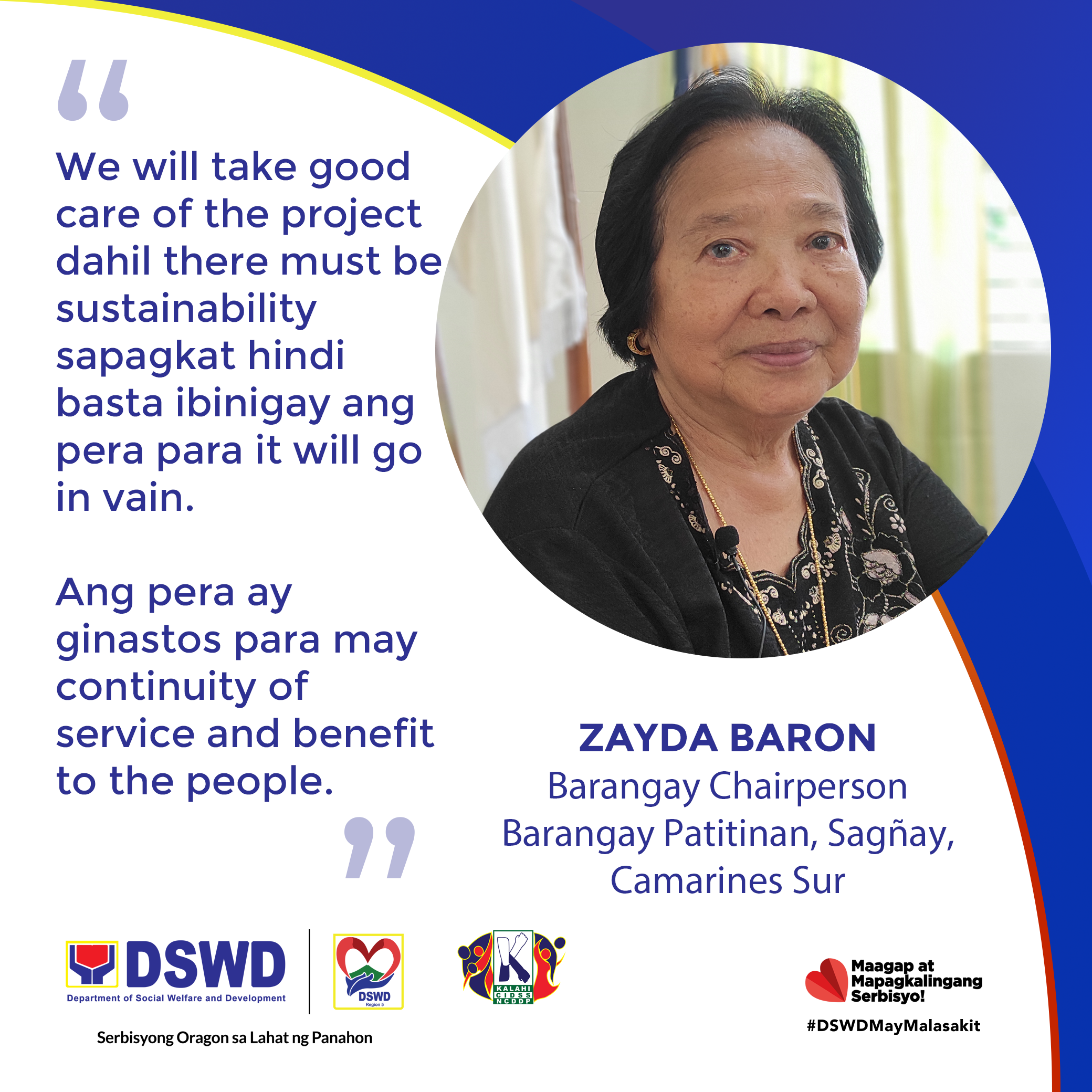 Melchora Aquino, Josefa Llanes Escoda, and Gabriela Silang are some of the Filipino women who are known for their heroic acts and bravery.
Melchora Aquino, popularly known as Tandang Sora, helped Katipuneros by providing them food and treating the wounded. Gabriela Silang is a warrior who led the revolt against the Spaniards while Josefa Llanes Escoda is a social worker and suffragette who provided food, medicines, and clothes for war prisoners, children, and women during the World War II.
At present, we have modern-day heroines who gave their time and effort to strengthen the Bayanihan spirit in communities through the Department of Social Welfare and Development Kapit-Bisig Laban sa Kahirapan – Comprehensive and Integrated Delivery of Social Services (DSWD KALAHI-CIDSS).
In Sagñay, Camarines Sur, Zayda Baron is known for uplifting the community of Patitinan by imparting the principles of the program.
KNOWING ZAYDA BARON
At the side of the road with a long pile of tiger grass being dried by villagers, you will see 88-year-old Zayda Baron on her wheelchair, clad with a radiant smile.
Zayda, a retired teacher, lived in the United States of America for 40 years with her husband, Senen Francisco Baron and their four (4) children. But in 2000, she along with her husband flew back home in Barangay Patitinan to spend their retirement days at the Baron's ancestral home.
Since the couple did not want to spend their retirement by staying only in the four walls of their home, they continued their philanthropic activities with the community that they have already started when they were still in America.
Zayda shares her knowledge and insights as a teacher to Sagñay day care workers to ensure that they are equipped with skills for the development of young children while Senen served as a community volunteer who oversees the implementation of community projects of DSWD KALAHI-CIDSS until his death
on September 21, 2021.
Though she doesn't have a family beside her anymore, you will not see her loneliness as her home is bustling with villagers doing day-to-day developmental pursuits.
Back in 2010, Zayda ran for public office and was elected as barangay chairperson of Patitinan with a dream to boost the development of her beloved community.
Through the years, she and the community had established linkages with government agencies and private institutions, one of these is DSWD KALAHICIDSS.
WITH THE VILLAGE
When the program first arrived in the community in 2009, people doubted its sustainability. But as the program progressed, their impression changed.
"Hindi gaya ng ibang project naibigay after that [wala na], there is a saying na sa ngayon lang bukas wala na pero sa KALAHI-CIDSS napakinabangan for everlasting," Zayda said.
(Other projects only existed for a short time, there is a saying, 'here today, gone tomorrow', but for KALAHI-CIDSS, the benefits are everlasting.)
With a strong desire for growth, Barangay Patitinan implemented four (4) subprojects under DSWD KALAHI CIDSS, namely Level II Water System, Flood Control Dike, Cash-for-Work, and Retrofitting of Quarantine Facility.
After completing the sub-projects, the barangay local government unit made sure that the sub-projects were well-maintained and monitored by the Operation and Maintenance (O&M) group.
These actions were evident based on the results of Sustainability Evaluation Test (SET), an evaluation tool that uses indicators to assess the organizational and institutional component, financial management system, and physical or technical O&M condition of the sub-project.
"We will take good care of the project dahil sa there must be sustainability sapagkat hindi basta ibinigay ang pera para it will go in vain; ang pera ay ginastos para may continuity of service and benefit to the people," she explained.
(We will take good care of the project because there must be sustainability. The money was not provided just to go in vain. The money was used for the continuity of service and benefit to the people.)
Zayda found ways to solicit funds from her friends in America and other agencies to enhance or upgrade the sub-projects. She is also willing to disburse money from her own pockets if needed by the community for the sub-projects.
"Kung makatulong ka sa nangangailangan ng tulong, malaking grasya iyon and that makes me happy," she said.
(If you helped people who are in need, it is a huge grace and that makes me happy.)
Like Tandang Sora, Zayda Baron is a heroine who showed her compassionate heart for the ones in need and for the community.