Transcending love of a mother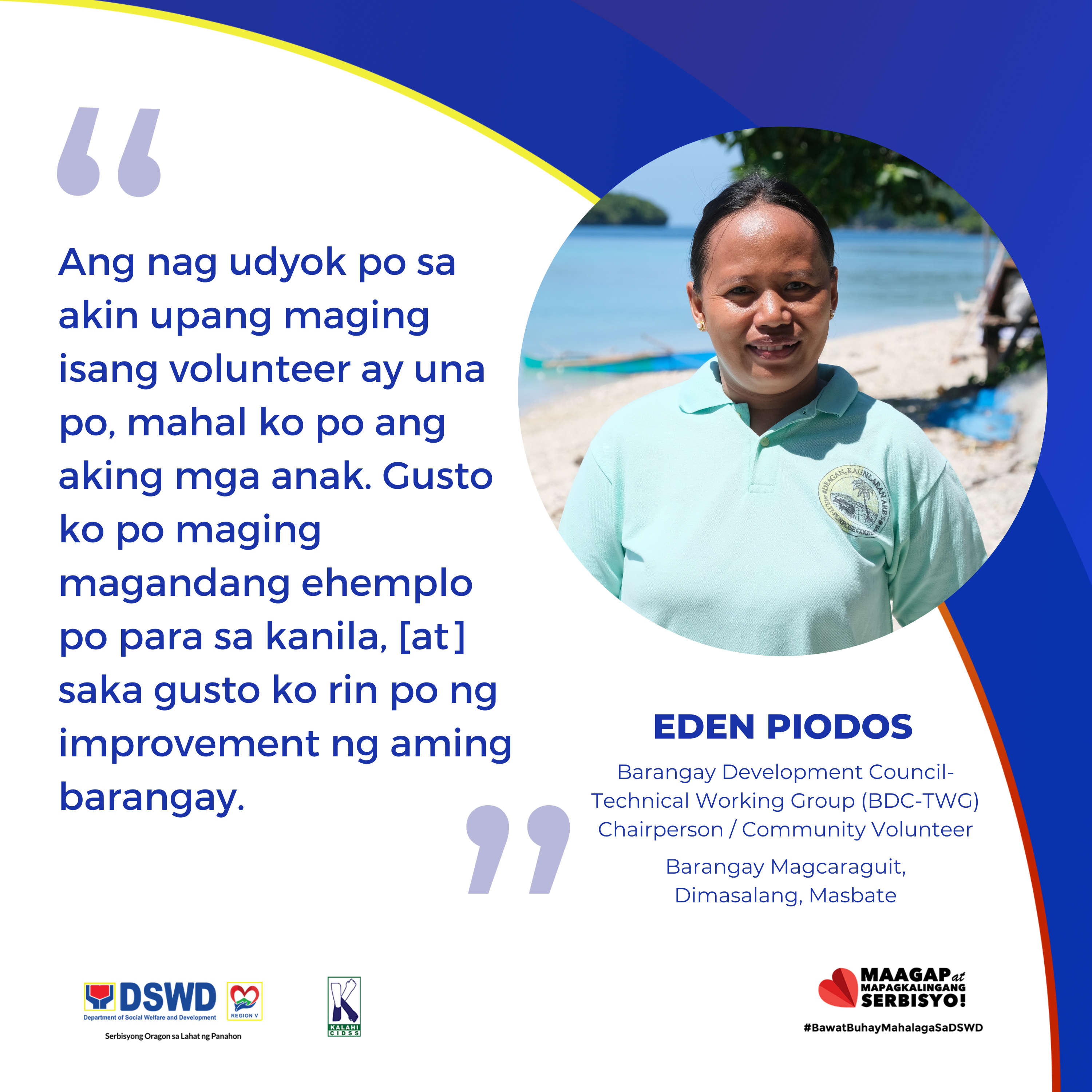 Every parent's dream is to be a good example to their children. This is the aspiration that urged Eden Piodos, 35 years old, a resident of Barangay Magcaraguit in Dimasalang, Masbate to join as a community volunteer that makes a difference.
When she started as a community volunteer of the Department of Social Welfare and Development Kapit-Bisig Laban sa Kahirapan – Comprehensive and Integrated Delivery of Social Services (DSWD KALAHI-CIDSS) in 2016, she used her abundant love for her four (4) children as a motivation to improve her community.
"Gusto ko po maging magandang ehemplo po para sa kanila [at] saka gusto ko rin po ng improvement ng aming barangay," she gladly stated.
(I want to be a good example for them and I want to improve my community.)
Being a volunteer, Eden started as a bookkeeper wherein she learned how to appreciate her community, the value of the fund provided to their community to implement community-identified interventions, and solidarity in her village.
"Natutunan ko po kung paano pahalagahan po yung aming barangay, yung pera pong naka-allocate sa aming barangay, saka yung pagkakaroon po ng unity ng mga tao po sa aming barangay," Eden explained.
(I learned how to appreciate our village, the fund allocated to our community, and having unity among our community members.)
RESPONDING TO COMMUNITY NEEDS
Barangay Magcaraguit is an island barangay of Dimasalang with motorboat as the only means of transportation. Usually, it takes 25-40 minutes to reach the barangay depending on the weather condition.
Behind the island's picturesque shoreline and glistening blue saltwater, the community has also faced a number of development issues, particularly on accessibility.
According to Diofilan Babas, 42 years old, barangay chairperson of Magcaraguit, most of the students found it difficult to walk going to their elementary school due to poor trail conditions. Usually, it took the students 1 hour and 30 minutes for a 3-kilometer trek.
"Basang-basa na nga sa pawis tapos kung tag-ulan pa po putikan pa yung mga shoes or tsinelas, yung mga uniforms nila [estudyante]," Eden described.
(The students were already full of sweat and when it rains, their shoes or slippers as well as their uniforms were covered in mud.)
She also added that the terrain was also difficult to thread because of the loosely packed ground.
To resolve the identified problem, the community identified and implemented the construction of pathway sub-project through KALAHI-CIDSS with a project cost of Php 2,932,681.25 benefiting 127 households.
In 2020, the community faced even greater challenges due to the Coronavirus Disease (COVID-19) pandemic.
To help the affected community members at the height of the pandemic, the barangay provided hygiene kits to 276 families as well as procured mobile tents, medical tools and supplies, personal protective equipment, hygiene kits, amenities, cleaning supplies, and communication device for their existing temporary quarantine facility amounting to Php 731,509.69 funded under the KALAHI-CIDSS Disaster Response Operations Procedure (DROP) 2020.
Under the National Community-Driven Development Program – Additional Financing (NCDDP–AF) modality, the community also decided to further improve the accessibility of the residents through the concreting of pathway amounting to Php 428,468.02 funded by program and local government units.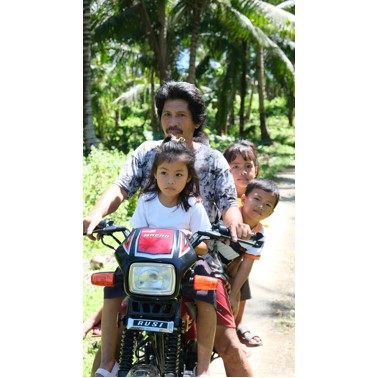 Planning and implementing sub-projects are not an easy feat, especially for an island community.
Eden recounted that the weather has an immense impact during their implementation.
"Pag-malaki po yung alon tapos maulan nang malakas, malakas yung hangin, delikado po para doon sa mga bangka na maghahakot po nung mga materyales," she recalled.
(When there are huge waves, strong rain, and wind, it is risky for a boat to transport the materials.)
Despite the challenges, Eden and her co-volunteers used their strong resolve to overcome such difficulties.
"Tinatatagan po naming yung loob namin [community volunteers] para malagpasan lahat lahat sa pamamagitan po ng pagkakaroon ng unity po sa aming team," she said.
(Emboldened by unity among team members, we were able to succeed through the problems.)
BEYOND THE RESPONSE
Chairperson Diofilan witnessed the changes in his community using the Community-Driven Development (CDD) process.
"Ang kinaganda naman nito sa community-driven [development], kasi nga yung transparency makikita natin, yung accountability nandiyan, yung responsibility ng bawat members, bawat leader dito," he explained.
(What makes Community-Driven Development refined is because we can see that transparency and accountability are evident, the responsibility of each member and leader is also present.)
Outside the execution of interventions, Eden also expressed her excitement as she has observed that more community members show interest in becoming a volunteer.
"Mas ganado po sila maging volunteers kasi nakita na nila po yung proof ng pinaghirapan namin," she described.
(The community members are enthusiastic to be a volunteer because they saw the proof of their diligence.)
Moreover, the volunteer is still astonished that she was able to overcome a mountain of impossibilities in leading the sub-project implementation.
"…may mga bagay na hindi ko suka't akalain na kaya ko palang gawin gaya po nung…yung pagtatrabaho nang walang bayad tapos yung iisipin ko yung kapakanan ng karamihan or yung mga kasamahan ko po sa barangay, instead na yung family ko lang yung dapat iisipin ko," she said.
(…there were instances that until now, I cannot still believe that I can do it such as rendering service without pay and thinking of the welfare of the majority or my fellow community members, besides my family.)
Like every mother, Eden also wants what is best for her children, especially the village surrounding them. As the popular saying goes, "It takes a village to raise a child", but it also takes a society to enrich a community and create a better future.