Turnover of Japanese Rice through DSWD for Mayon Eruption Affected Families in Albay Province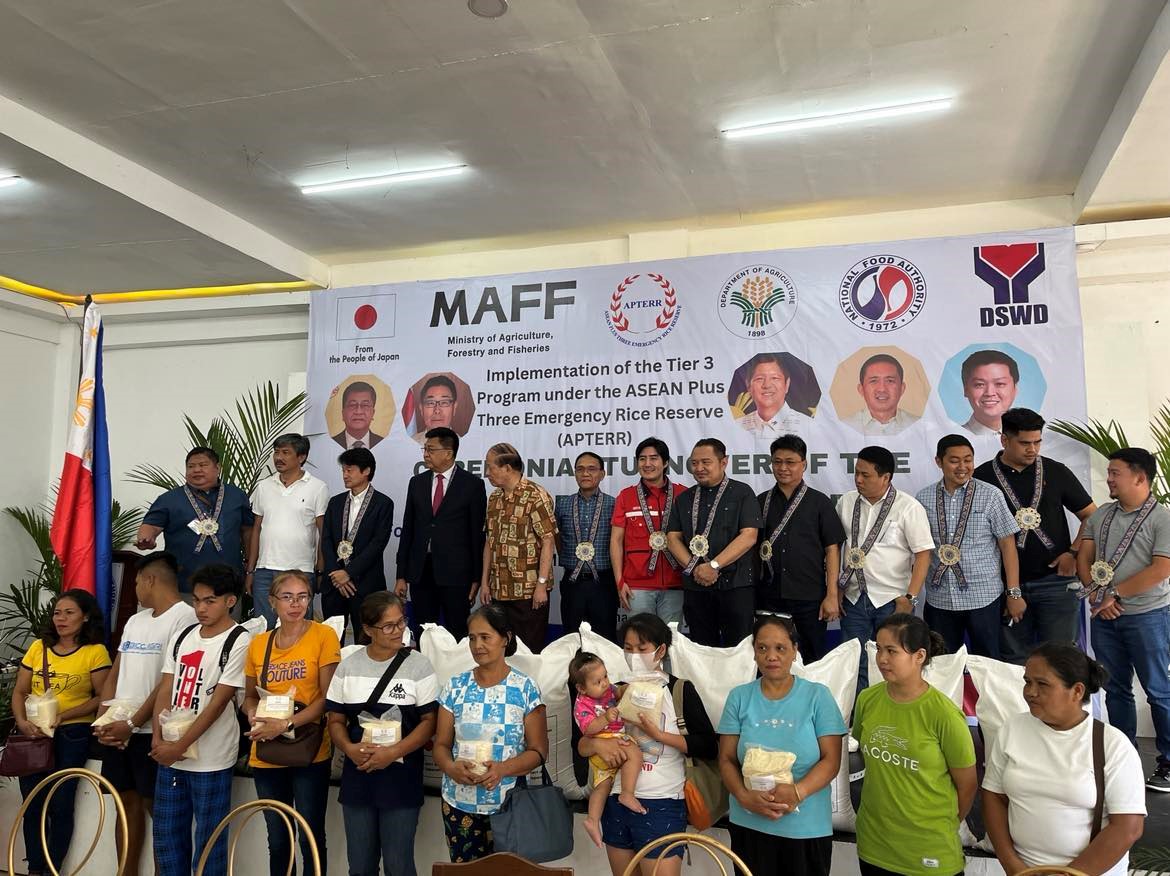 Japan Donates 300 Metric Tons of Rice through DSWD to Aid Mayon Volcano Evacuees in Albay Province.
Camalig, Albay – The Ministry of Agriculture, Forestry, and Fisheries of Japan (MAFF-Japan) organized a ceremonial turnover of the donated 300 metric tons of milled rice. This significant donation aims to provide the much-needed relief assistance to families affected by the recent eruption of Mayon Volcano in Albay Province today (August 17).
The event, held as part of the Tier 3 Program under the ASEAN Plus Three Emergency Rice Reserve (APTERR), also marked the official launch and implementation of the program.
Japan's generous contribution is equivalent to an astounding 10,000 bags, with each bag containing 30 kilograms of rice.
Director Michael Cristopher Mathay, Director of the Disaster Response Management Group (DRMG) at the Department of Social Welfare and Development (DSWD), emphasized the holistic approach needed to address calamities.
He praised the spirit of collaboration enshrined in the APTERR agreement, recognizing the necessity of international cooperation in facing such disaster threats.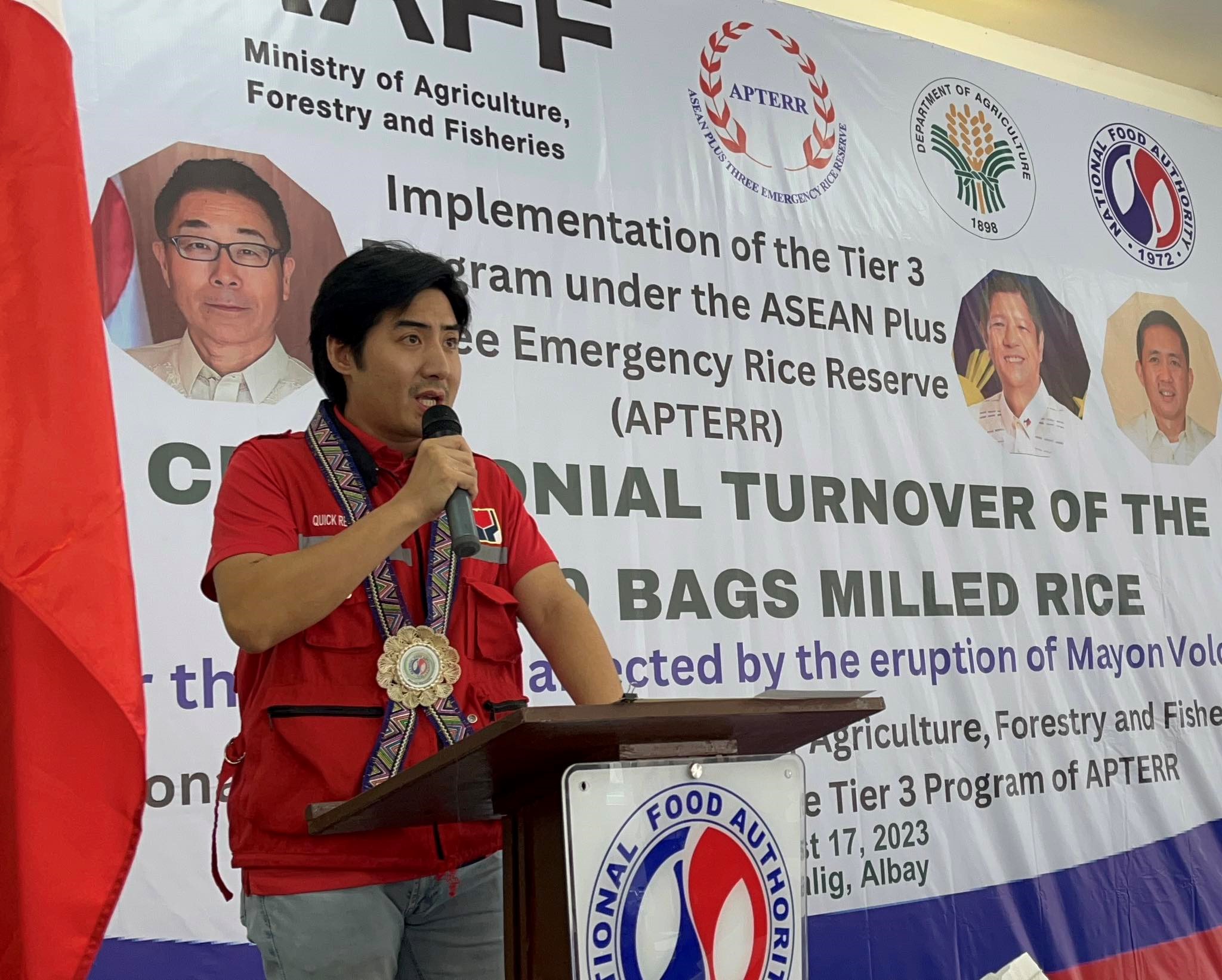 "The Philippine government, especially the DSWD, whose mandate is to provide immediate assistance to those affected by disasters, finds comfort in Japan's continuous life-saving interventions. This donation ensures that the necessary nutritious support will reach the most vulnerable during these uncertain times," he added.
The distribution of these rice bags will involve multiple stakeholders, including the DSWD, the National Food Authority, and affected local government units such as Daraga, Camalig, Guinobatan, Tabaco City, Malilipot, Sto. Domingo, and Ligao City.
Distinguished attendees, including representatives from Japan and APTERR, graced the ceremony: Nihei Daisuke, Minister for Economic Affairs at the Embassy of Japan in the Philippines; Choomjet Karnjanakesorn, General Manager of APTERR; Mr. Akinori Ando, Japanese Expert, APTER Secretariat and Representative.
Also present were Osmundo R. Guinto Jr., Acting Regional Director of Region V National Food Authority; Domingo F. Panganiban, Senior Undersecretary at the Department of Agriculture; Albay Governor Grex B. Lagman, and the Chief Executives of the affected LGUs.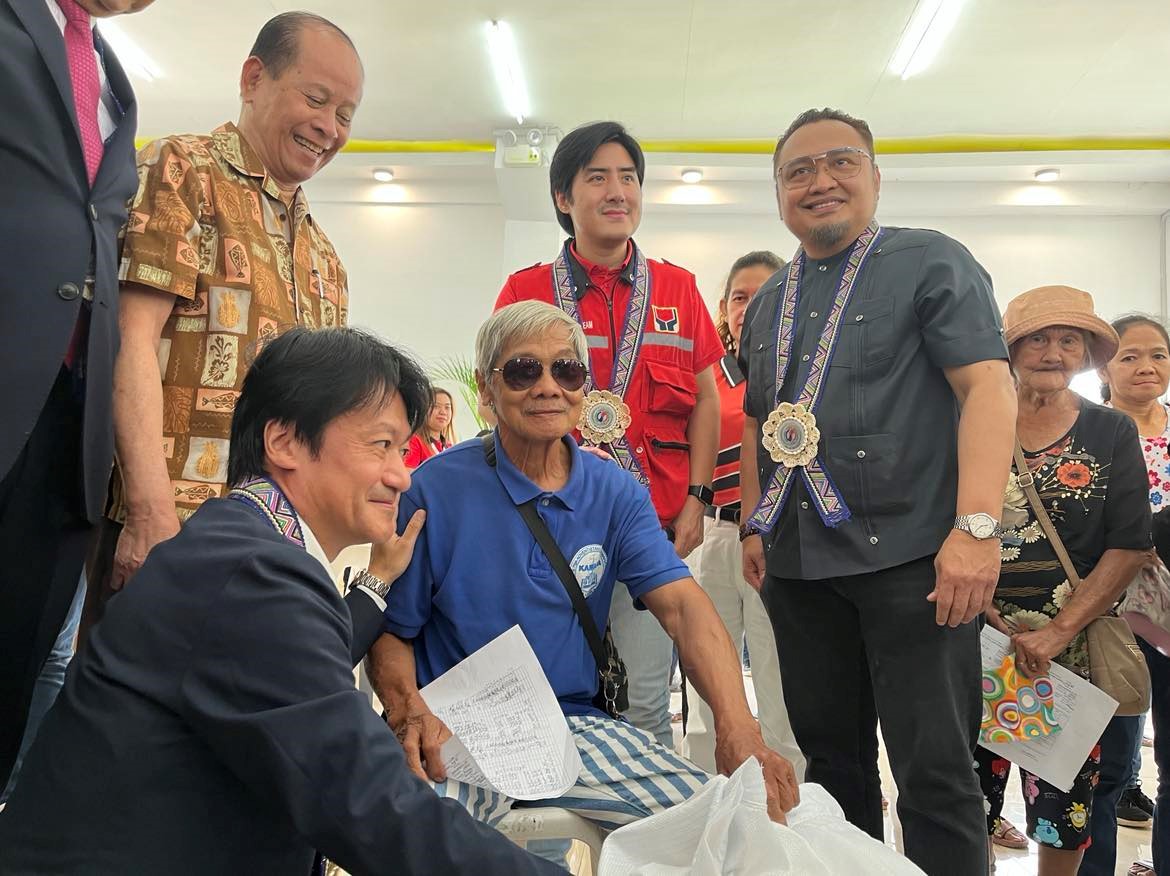 Currently, 5,550 sacks of rice have been initially delivered from NFA Valenzuela, with ongoing delivery to DSWD Field Office V. The donated rice is stored in the DSWD FO V Regional Warehouse in Barangay Bogtong, Legaspi City, Albay, and is ready to be distributed to affected LGUs.
DSWD FO V Regional Director Norman Laurio, through its Disaster Response Management Division (DRDM), ordered a meeting with City/Municipal Social Welfare and Development Officers tomorrow to discuss the distribution plan of rice per evacuation centers to ensure that everyone will receive the rice donated by the people of Japan.
This is in accordance with Secretary Rex Gatchalian's commitment to the Bicolanos that all affected families with receive all their needed assistance from the agency.
As of 17 August 2023 at 8AM, Alert Level 3 is maintained over Mayon Volcano, which means that it is currently in a relatively high level of unrest and hazardous eruption within weeks or even days could still be possible. ###