Volunteers, LGUs to participate in the CDD Congress in Naga City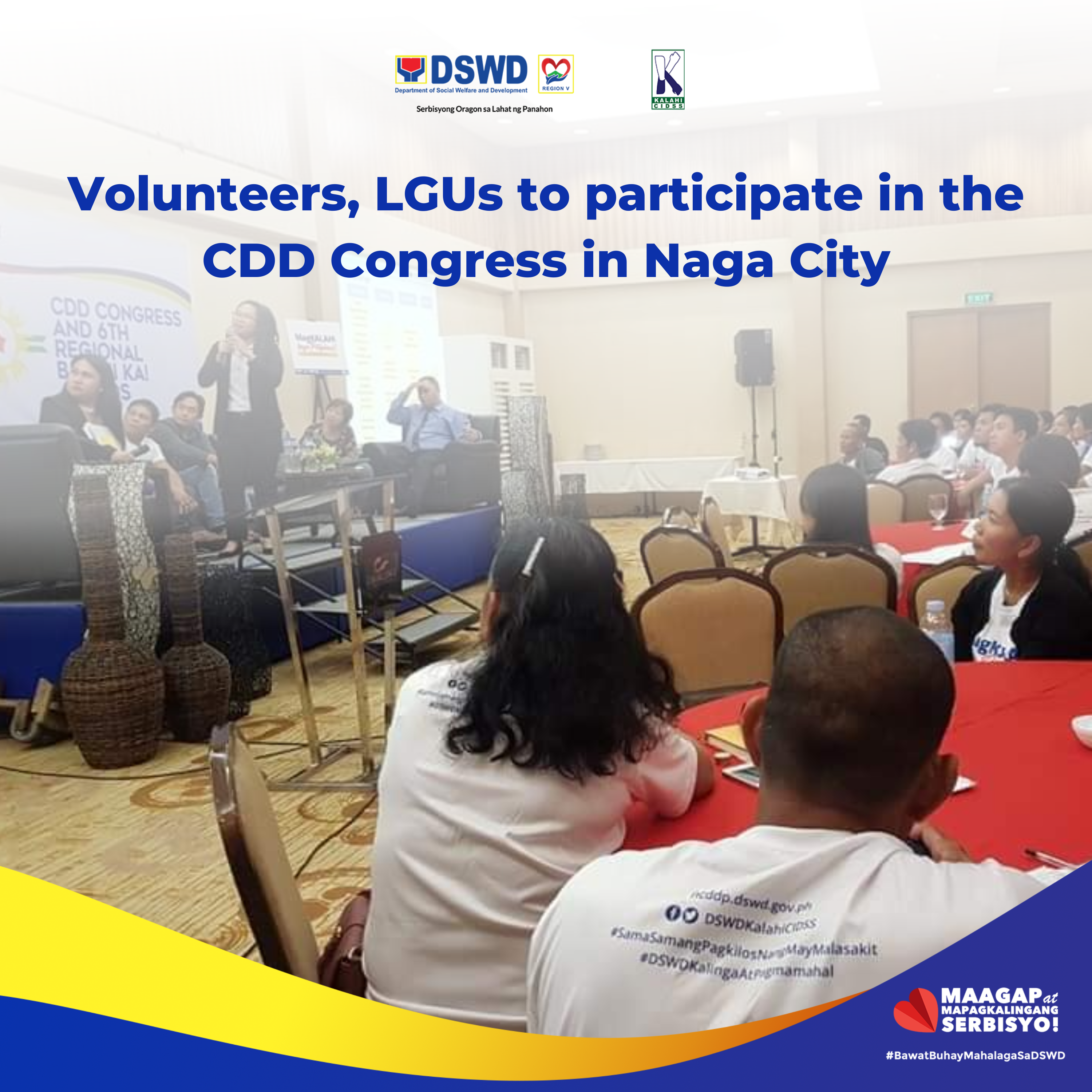 At least 280 participants composed of community volunteers, local chief executives, Local Government Unit (LGU) officials and Area Coordinating Team (ACT) members of Bicol Region will participate in the Community-Driven Development (CDD) Congress at Villa Caceres, Naga City, Camarines Sur from August 9 to August 10, 2023.
The event hosted by the Department of Social Welfare and Development (DSWD) Field Office V through the Kapit-Bisig Laban sa Kahirapan – Comprehensive and Integrated Delivery of Social Services (KALAHI-CIDSS) aims to have an active sharing of learnings, knowledge and successes in the implementation of CDD approach.
Regional Director Norman S. Laurio said that the event will serve as a platform for stakeholders to impart their insights and engage in discussions to further improve the implementation of KALAHI-CIDSS.
"The CDD Congress will be a celebration of innovations, ideas, good practices and collaboration as we strengthen the support for the institutionalization of CDD," he explained.
The event will be a multi-dimensional platform with its expansive array of panel discussions, keynote addresses, interactive exhibits and workshops. The attendees will be divided into three (3) breakout sessions:
Community Volunteers – Knowledge Sharing on Basic Advocacy Skills and Creative Arts Workshop;
Municipal/City Mayors and LGU officials – Forum on Sustainability and CDD Institutionalization; and
ACT members – Knowledge Sharing on Mobile Video Production and Editing.
After the breakout sessions, DSWD KALAHI-CIDSS will also honor exemplary community volunteers, groups and partners during the 9th Regional BayanI Ka! Awards.
Since 2014, BayanI Ka! Awards is a knowledge management initiative that recognizes the innovation and good practices of outstanding stakeholders. It also encourages the mobilization of the support and resources needed to ensure the success of the CDD strategy.
ABOUT DSWD KALAHI-CIDSS
DSWD KALAHI-CIDSS is a poverty alleviation program that uses the Community-Driven Development (CDD) approach that helps communities in poor municipalities to identify challenges along poverty, make informed decisions and gives control of resources to address local poverty.
Currently, there are five (5) modalities namely, National Community-Driven Development Program – Additional Financing (NCDDP – AF), PAyapa at MAsaganang PamayaNAn (PAMANA), Balik-Probinsya, Kapangyarihan at Kaunlaran sa Barangay (KKB) Cash for Work, Bagong Pag-asa (BP2) Program and Philippine Multisectoral Nutrition Project (PMNP) being implemented in 97 municipalities or cities of Bicol Region.