Women of San Jose uplifted through volunteerism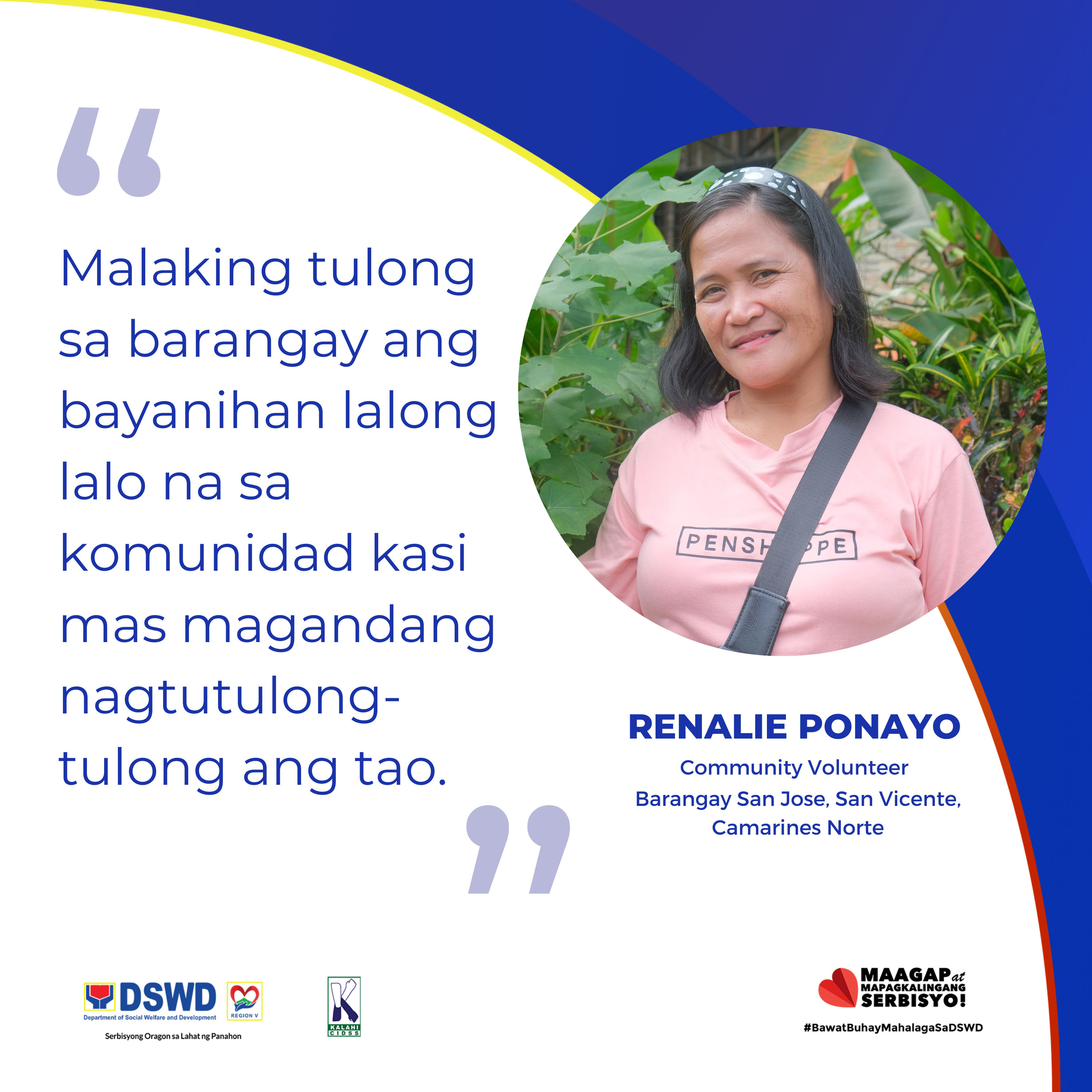 A woman has the capacity to produce, foster, and transform. Through volunteerism, Renalie Ponayo, 47, a community volunteer and Leony Labanairi, 52, a barangay councilor of Barangay San Jose, San Vicente, Camarines Norte have transcended in creating development changes in the community.
Both Renalie and Leony started as community volunteers of Kapit-Bisig Laban sa Kahirapan – Comprehensive and Integrated Delivery of Social Services (KALAHI-CIDSS) in 2012.
When Renalie first started her volunteer work, she was only a sixth-grade graduate but due to her involvement in the community, she was inspired to continue her studies.
Currently, she is in the eleventh grade under the Alternative Learning System (ALS).
According to Renalie, despite her various responsibilities as a mother and a student, she chose to remain as a volunteer to share her knowledge and skills to her co-volunteers and she also wants to gain more experience.
As a Procurement volunteer, she recalled that there are instances where they find it difficult to serve request for quotations (RFQs) because they would often face ill-tempered suppliers. Regardless of the challenges, the Procurement team were able to conduct their activities smoothly.
Renalie also said that even her husband is very supportive of her role and even encouraged her to fulfill her obligations.
Through the program, she learned the importance of cooperation and self-discipline.
"Malaking tulong sa barangay ang bayanihan lalong lalo na sa komunidad kasi mas magandang nagtutulong-tulong ang tao," she explained.
(Bayanihan is a huge help in communities especially here in San Jose because it is more wonderful when everyone lends a hand.)
On the other hand, Leony Labanairi, 52, expanded her capabilities from a community volunteer into a barangay councilor.
Together with Renalie and other members of Barangay Development Council – Technical Working Group (BDC-TWG), they handled the sub-project implementation of Rest and Relief Facility with a total project cost of Php 7,777,000.00 which caters to many household beneficiaries in the municipality during the Coronavirus disease (COVID-19) pandemic.
According to Leony, women are empowered through volunteerism. She said that whenever the barangay local government unit (BLGU) calls for a meeting or an assembly, mothers do not have any second thoughts to attend the activities and they would instruct their children to continue the household chores before leaving.
"Mahalaga magampanan naming ang pagiging volunteer…masaya kahit mahirap," she stated.
(The important part is we performed the duties of a volunteer…it is exciting even though it is challenging.)
Leony noted that through Community-Driven Development (CDD), people can freely express what the community needs.
"Naging positibo kami na makipagtulungan sa mga gawain sa barangay, naging aktibo kami," she concluded.
(Many people gained a positive outlook in assisting the barangay to initiate community actions and we became more active.)
Just like Ding who gave the enchanting white stone to Narda to transform into the superheroine Darna, a community volunteer can also transform through their earned powers because of strong resolve, support system, and love for service.
"Nagkaroon kami ng power," Renalie Ponayo cheerfully stated.
(We gained power.)